How to Clone Yourself and Other Objects in a Picture Without Photoshop
Photography is one of the most loved activities in the world. People love capturing special moments, and clicking pictures of themselves as well as their loved ones. Some people even pursue it as their full-time career and make a name for themselves.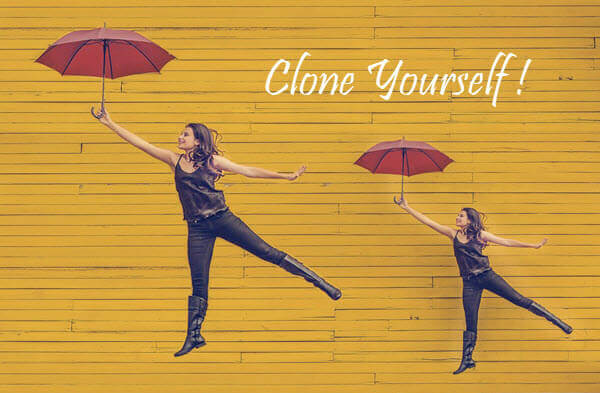 Though for most people photography simply means taking photographs using either their dedicated cameras or their smartphones, many photographers like to tinker around, with the images they capture, in fun and unique ways. Cloning existing objects in a photo is one such editing activity that many photographers love to experiment with. They duplicate existing objects in the photos, to create their replicas in the same photo, and create unique style images.
If you too tinker around with photos like this, or are interested in trying it out after reading about it, then this article will surely help you. In this post, we will tell you about several powerful clone photo editors that allow you to clone yourself in a photo or duplicate an object in photo in fun ways to create unique results.
Method 1. How to Clone Yourself and Existing Objects in a Photo
Jihosoft Photo Eraser is a very powerful photo editing tool that allows you to achieve object cloning in images very easily. You don't need to be a professional to operate this software to create such eye-catching images. It is very simple and easy to use as we show in the below steps. Before we dive deeper into how one can use this software to duplicate a person/an object in a picture, let's first take a look at the UI of this software. Understanding the layout of the software will help us use it much easily and confidently in the future.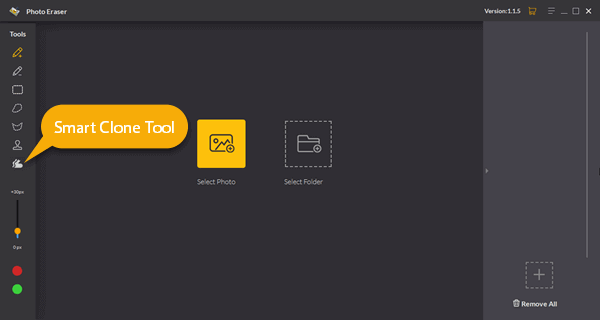 As can be seen from the image above, the software has a simple and minimalistic layout with all the tools neatly arranged on the left toolbar. All the tools can be easily understood according to the vivid icons. You can find more details about every tool in this Jihosoft Photo Eraser User Guide.
The central pane is where the editing process of an image takes place. There are 2 buttons in the central part. One allows users to import a single photo, whereas the second allows you to import a folder full of photos for bulk editing. By the way, you can use the Add Photos button at the bottom right corner to add one or several photos at any time even when you are editing photos. All the imported images are shown as thumbnails in the rightmost pane. And the selected one will show up in full view in the central pane.
Since we have understood the layout of the application, now let's try and understand how to clone yourself in a photo. The process is very simple. Just follow the steps mentioned below.
Step 1: Import Photo
Import the image, to be edited, into the application. As we mentioned before, use the button present in the central pane to do so.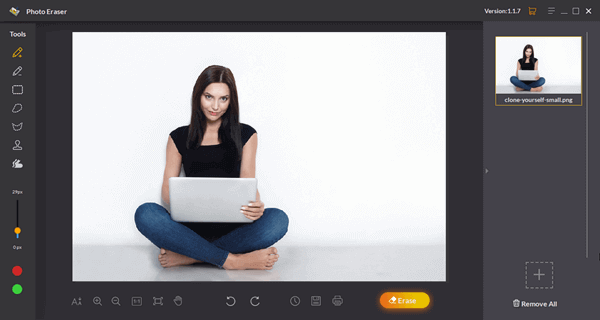 Step 2: Select Person/Object to Clone
Now Select the Selection Brush Tool first from the left toolbar. Now the pointer will turn into a solid red circle, and you just simply need to brush over the object to specify what you need to clone.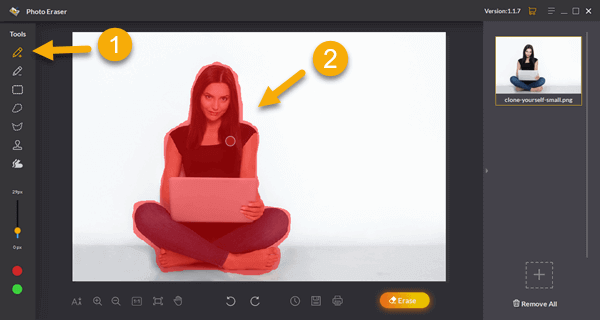 Step 3: Start Cloning and Move the Cloned Object
Then select the Smart Clone Tool from the left toolbar. Once the cloning tool has been selected, you can drag and drop the object that you want to duplicate to any area of the photo. You can repeatedly perform the "drag and drop" action to fine tune the position of the duplicated object.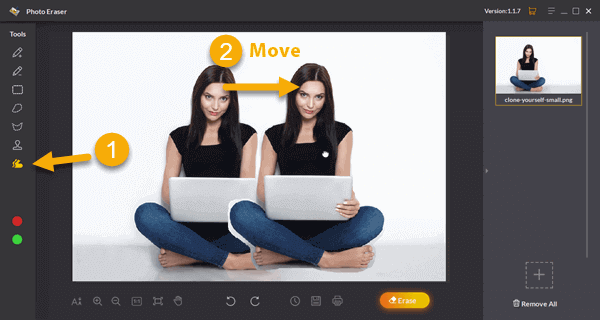 Step 4: Complete the Process
After you find the right place to put the duplicated object, click the Erase button in the lower right. Then the program will smartly analyze the area to be cloned, and replicate its pixels to the new area creating another instance of the cloned object.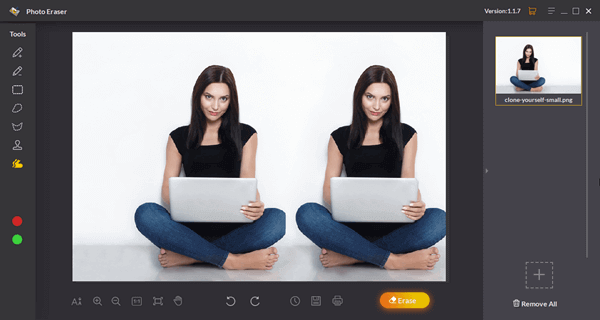 So as you can see from the above steps, cloning an object in a photo with Jihosoft Photo Eraser is extremely easy and anyone can do it with no real photo-editing skills required at all. Just import, mark the area and clone the object. Using the power of this easy-to-use software, you can create unique and fun images as above.
Additional Features of Jihosoft Photo Eraser
Apart from cloning person and object in photos, as explained above, there are many other amazing features that this application offers to its users. Here are some of its additional features:
The application allows its users to repair damaged buildings and objects in photos.
The application provides a feature to remove censored parts as well as any unwanted objects like persons, watermarks, logos, emojis, stickers and other kinds of stuff from photos.
It also allows the users to reduce the wrinkles and skin blemishes on photos of themselves and their friends & family.
It can be used to do restoration of old photos by removing the scratches of the old images.
Method 2. How to Duplicate a Person in a Picture
Have you ever seen that same person appears in one photo multiple times? What's even cooler is that this person is in a couple of different poses. Simply speaking, it's a result of merging multiple photos together. The photographer takes several photos of a scene while the same person makes different poses within the scene. These photos are then combined together into one composite photo.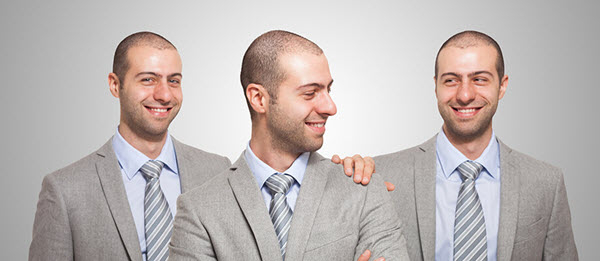 It is simple to make this "same person in one photo multiple times" effect. All you need is a clone photo editor and multiple pictures that have the same subject with different poses or in different positions. After that, you just leave it up to the editor to join them into one cloning photo.
In this method, we will explain how to clone yourself in a photo with this editor called MultiView-Inpaint.
Step 1. Load all the photos that you have taken into Inpaint. Please remember to import the first photo, and then add the others.

Step 2: Choose the first photo from the list. You can move the cursor so as to see what is under this area of the first photo. Then hold the left button of the mouse to erase the foreground photo and reveal what lies under it. Just keep doing this until the person/object you want to clone is completely visible.

Step 3: Choose another photo from the left side and repeat Step 2 until all of the persons/objects you want to duplicate appear on the photo.
Method 3. How to Clone Yourself in a Picture Without Photoshop
You can clone yourself in a photo using a cloning photo app if you don't have any photo editing software like Photoshop or even don't have a computer on hand. There are lots of options available for Android and iPhone smartphones.
DMD Clone is one of the cloning photo apps available on the Google Play Store that we found to work best. It is now a free download app with limited time. You can also get it on the App Store, but it costs you $0.99 there.
As a fully automated cloning camera app, DMD Clone does not require any manual adjustment. And all you need to do is shooting your subject. You should take a minimum of three photos and this app features up to seven ones. The app also has built-in stabilization; therefore, you don't have to stand still when shooting the photos. Below is the whole process of how to duplicate a person for your reference:
Step 1. Download DMD Clone from the Google Play Store/App Store.
Step 2. Use the app to take some pictures, and please make sure that the person or the object doesn't overlap. Once a picture is captured, a shadow of the previous one will be visible, which makes it convenient for you to align the following shots.

Step 3. when the photos are combined together into one photo, you can choose any of the objects to remove or keep. After you are done, just save it to your phone. And of course, you can share it on social networks too.
Verdicts
Jihosoft Photo Eraser is a powerful photo editing tool that provides its users with many amazing features. And the best part about it that unlike many other similar software packages, is that there is no complex learning curve for using this software. It is very easy to operate and in a few tries, anyone can start utilizing its powerful capabilities to produce exciting and amazing photographs.
The application is available for Windows operating systems now, so the majority of the users are covered. It is also not heavy on resources and can run on even budget laptops and desktops.
The application costs only a one time fee for the lifetime license and updates for that price. For all the features and lifetime license, the fee is pretty minimal. You won't be disappointed with your purchase. And if you still aren't convinced, there is a trial version available, which you can use to try out all the features without limitation before you think about buying.
Also, in this article, we recommend two other methods which can be used to clone yourself in a picture without Photoshop. You can select the best one that suits your need. Just comment below and show us your edited results.