How to Swap Face in Photo With Another Face
Have you ever been surprised by seeing someone (known to you) standing beside a famous celebrity in a picture? If yes, then you must have also been surprised after knowing that the picture was not real and it was just a result of the creativity made using the face-swapping feature. Apart from the purpose of making fun, sometimes it might also be a need to swap face in a photo if the face is not looking as good as you want.
There are many ways to change face in photo with another face including the use of advanced graphic design software like Photoshop and use of a free face swap app as well. Below I have put a light on both of these two methods.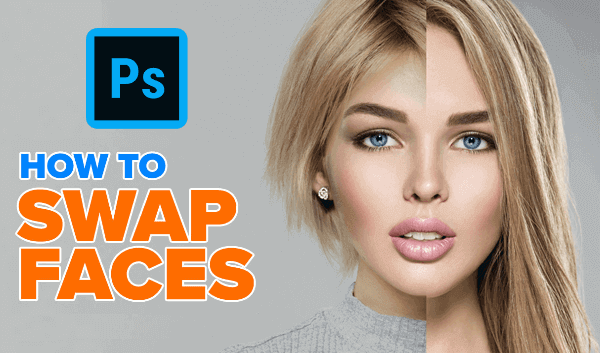 Method 1. How To Replace Face In Photo With Photoshop
Adobe Photoshop, which also can be considered as a face swap PC software, comes with the relevant tools used to change face on photo with another face. You should follow the steps given below in order to accomplish this task:
First, launch Photoshop on your computer and open or load the image from which you want to pick the face.
Select the face in the photo using the "Lasso" tool.

Now go to Select > Feather using the menu bar and set the Feather Radius as 5 pixels for the selected area.
Copy the selected area by pressing the "Ctrl+C" keys in your keyboard.
Now, you have to open or load the image in which you want to paste the selected face.
Paste the selected face into the recently opened photo by pressing "Ctrl+V" keys on the keyboard.

At last, use "Move Tool" to move the pasted face to position it in the right place and make use of the "Free Transform" tool in order to rotate and resize the face so that it may look perfect. That's it.
If there some facial blemishes on your photos, you may want to remove the skin blemishes from the photos before swapping face. Then you must make use of this easy-to-use Photo Eraser editor, which is a Photoshop alternative to erase unwanted objects from pictures. Besides, it can also help users repair old damaged photos by removing scratches.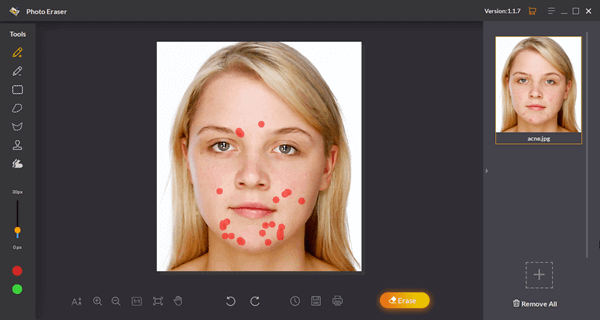 Method 2. Put Your Face On Another Picture Using Face Swap App
As the heading indicates, you can also use a "Replace Face in Photo" app. There are so many face swap apps free available out there for you to make use of. Below we have listed the 8 best ones out of them:
#1 Face Blender
Face Blender is a free face swap Android app which you can easily download from the Google Play Store and install it on your Android device/phone. It offers several templates that you can put your face on. All you have to do is just click a picture of yours and select a template on which you want to blend your face. Face Blender is a very easy-to-use app and you will not have a hard time to figure out all the functionalities offered by it.
#2 Microsoft Face Swap
Face Swap developed by Microsoft is another popular face swap app which you can use to copy face from one picture and paste it into another one. You just have to upload both of the source and destination images to get them processed by the app automatically. The better part of this app is that it helps you swap several faces in a photo, and it detects faces in the photo and places new faces over them. The app also offers you some free stock images to choose from, if you don't want to use your own image.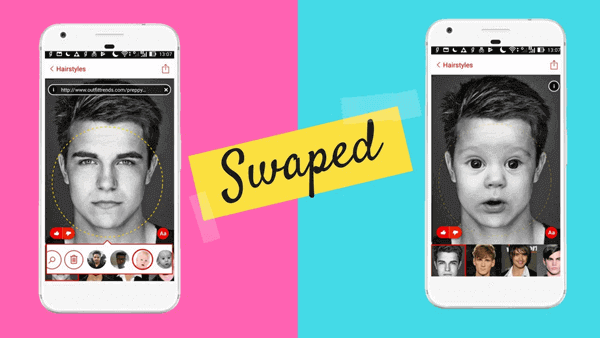 #3 MSQRD
MSQRD is available for both Android and iOS mobile phones and supports different languages like English, French, Chinese, Japanese, Spanish, Italian and more. Along with the pictures, the app also allows you to record selfie videos with various funny emoji masks and effects applied in real-time, so that you can have a face swap live video. Moreover, you can use this app to change your facial display by a mask of popular characters, for example, Harry Potter, Tony Stark, Leonardo DiCaprio and so forth.
It is absolutely fun and easy to use this app. You can easily share your funny and mischievous recordings with others through WhatsApp, Facebook, and Instagram using the options available in the app.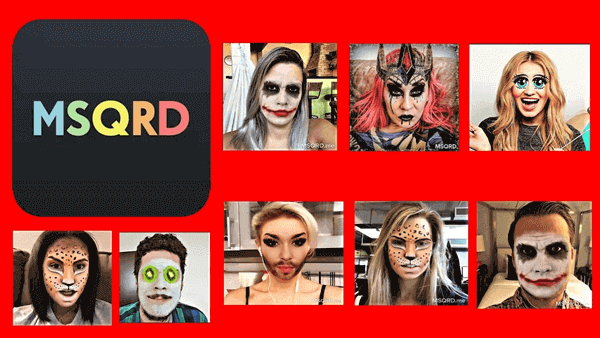 #4 Snapchat
Snapchat is another face swap app which you can use to swap your face with another face in your picture or video. If you want to keep these pictures/videos on your phone, you can save Snapchat videos and photos with this method. Here we also show you how to do face swap on Snapchat. Just follow the steps given below:
First, launch and install the Snapchat app on your Android/iOS device.
Start the front camera and look into the screen in order to be able to make your face displayed on the screen.
Now tap on your face and wait until white mesh lines appear on it.
Swipe left in order to get the "face swap option". with this option, you can easily replace your face with anyone else's face.
At last, save the picture using the available Save button (circle) at the bottom.
#5 Face Swap Booth
If you need a face changer app which comes with an extra variety of features apart from just simple face swap functionality, you can go with the Face Swap Booth which is available for both Android and iPhone devices. Using this amazing app, you can also swap even a particular part or feature of the face apart from swapping the whole face. Moreover, in Face Swap Booth, you can swap multiple faces together unlike other face swap apps in which you can't work with more than two faces together.
#6 Cupace – Cut and Paste Face Photo
Cupace is another Android face swap app which you can use for manual extraction of the face from a picture and then paste it on as many other pictures as you want. The swap functionality, in this app, works in three simple steps:
Cut the face from a picture.
Choose an image whose face is to be replaced.
Finally, paste the cut face on the selected image.
Once you are done with your swapping process, you can easily share your picture on social media platforms using the options available in the app.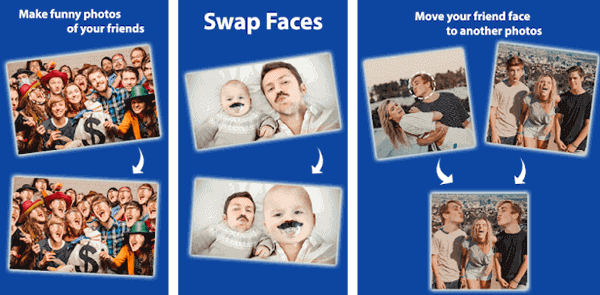 #7 MRRMRR
The app offers four kinds of alterations to be applied on your face: emoji, masks, effects, and filters. It facilitates the feature of real-time tracking of the face, which means it provides users with real-time masks and filters. Besides, it also offers several unique varieties, for instance, cat ears, soda cap, sunburn, anime, etc.
By using this app, you can take a photo as well as a video with the mask on. After put your face on another picture, you can easily share your picture with others by using the social media sharing buttons available within the app.
8) Face Swap
This photo face swap app is not only a simple face swap app to swap faces from two photos but also a photo editing app with a decent number of editing tools. Apart from swapping faces, you can perform various editing operations like cropping, color correction, adding a sticker, etc., using this app.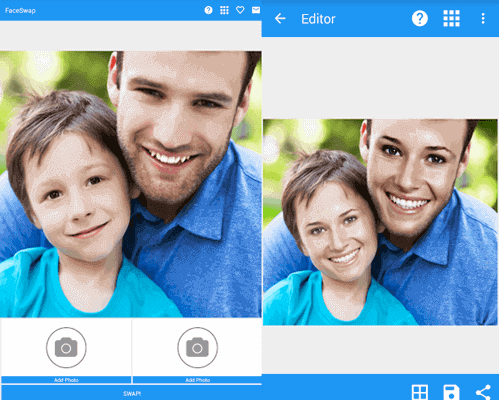 Final Words
There are times when you have captured a group photo of a number of persons (say 5) and the facial expression of one person out of those five is not as perfect as want in the picture. In such cases also, you may like to swap the face of that person using Photoshop or any face swap app. Both of the above-mentioned methods to change face in a photo with another face are good to go with. Photoshop and Cupace require manual photo editing skills, and MSQRD is a good app for its masks. Also, MRRMRR is the best app for real-time filters and masks. Just have a try and tell us which face swap app do you like the best!