Photo Scratch Remover: Make Old Photos Look New Again
Photos play an important role in our life. They actually save our life's precious moments and helps us to cherish them even we get older. Due to technological advancement, now we capture digital images via cameras and mostly via smartphones. But, in older days no digital images were present. For centuries, these cameras used to capture images on the negative films and used to get converted to physically touchable photos.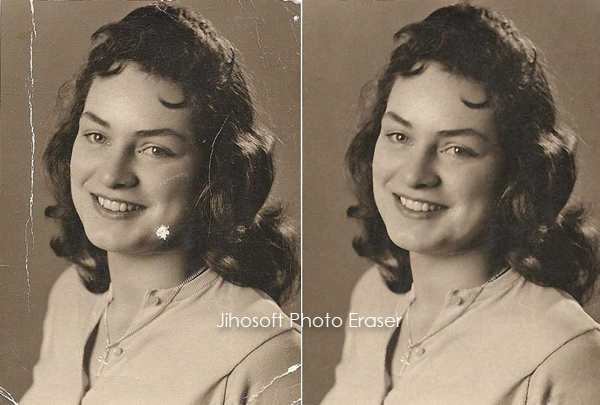 It may happen that you have some images of your father or mother, your grandfather or grandmother and even your older generations. But, due to misplacement and not handled properly, these rare images may get worn out, and your precious moments may get distorted.
As this seems a common problem to many of you out there, we have brought a simple and effective solution for you. Well, if you cannot make your old photos look fresh physically, we can help make this digitally. How? let's check out:
Best Tool to Restore old photos
This process of recovering of old photos is termed to be – "the restoration of old photos." As this is done digitally via software, so, finding a great and effective one is a tiresome issue. We have seen a lot of photo retouching apps, software and websites on the web, but finding an old photo retouching software is quite rare.
To make things simpler for you, we have brought the Jihosoft Photo Eraser. It lets you restore your old images with its wide range of editing tools.
First of all, you need to have the digital copy of your old photo, and then you have to use the software. With the editing tools, you need to mark out the worn-out parts of your photo and get things processed to make the image a fresh one, again.
The software particularly helps you to remove wrinkles, scratches, stains, torn-out parts, and other distortions from your old pictures one by one. This tool also helps to remove watermark, logos and other unwanted stuffs from pictures. It is an all-around performer in the photo editing department. It is advised to users to use the software's functions wisely and remove all the glitches of your old image in an ordered fashion.
Three tools you should know before retouching the old photos:
Selection Brush – It helps you select the unwanted stuff by simply painting over it. You can change the size of the brush tool according to your needs.
Fix the Selection – With this option, you can make a more precise selection by removing the extra selected parts from the selection area.
Red Mask – Normally the selected area that you want to remove from the image gets masked with red color. This mask tells the program which object should be erased from your image.

Complete Guide to Restore Old Photo:
Opening the software for the first time you'll notice a short flash tutorial that is given in the software, giving a quick overview of using it effectively. It will look somewhat like this:
Download the Jihosoft Photo Eraser from download button above. And then install it on your PC.
First of all, after opening the software, you need to import the old image that you want to edit from your computer. Well, the picture can be of any size, format or resolution, anything can be fixed with this Photo Eraser.
Selecting the worn-out part from your old image is very easy. You just need to use the Selection Brush tool to select the torn or worn-out area or lines that you want to remove or restore. After selecting it, the area will be covered with Red Mask automatically. This indicates you want to restore that part or object from your old image.

Click on the Erase button, and the worn-out part gets restored from the image magically without affecting the background. It may take a bit time for restoration but after that you will get a clear yet perfect image without any lines, marks or torn-out places in the image itself.

The old damaged image will turn into a fully restored image that bears no scractches, stains, marks or blemishes. The software will not alter any color of the image or make it dull, also will not compress the image to make it small or blurred.
But as expected this software will be able to restore any old image or any image that is torn or has marks or lines on it. Just upload the digital image copy follow the above steps and get a brand new version of your old image. In order to get a great restoration of your old image keep this following tips in your mind always:
Tips:
Always try to restore different types of marks or lines or torn-out parts one by one by selecting and just tapping the 'Erase' button at the bottom right. This makes the image perfect and no distortion or noise affects the image. Do not make a mess, and just group your restoration parts and try to restore them one by one. Trying to restore different parts all at once may result in the distortion of the image.
It may happen that a single part of the image may have two different marks or lines, then try to remove the one that is above and is small, never ever try to remove both of them all at once. This may create multiple distorted layers over the image.
As each selection and restoration process of your old image is unique, every time you will get some different results after you apply the 'Erase' option.
Here were the processes and the tips that you need to follow to restore your old image. Well, images are something that are closed to our heart. This Jihosoft Photo Eraser is a masterpiece in both removing unwanted objects from photos and restoring your old images to make them look good again.
So, from now on do not ever throw your old image, instead restore and keep it in your disk and cherish your beautiful moments as the years passes on. Well, spending a few bucks to have this all-round software will surely be a future-proof investment. Go and download the Jihosoft Photo Eraser now!!!