Best Photo Editor for Blemishes: Remove Pimples, Acne from Photos
We all love taking photos and selfies with the best camera apps or even with professional cameras, and sharing them to social media. We all like to look our best in such selfie photos. But if there are some natural skin imperfections on the face, it can sometimes ruin an otherwise perfect photo.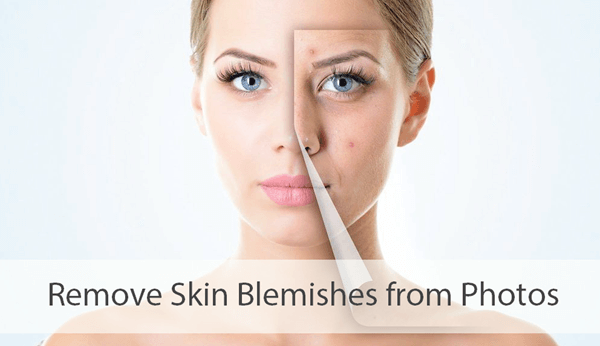 We all know that as one grows older some skin blemishes start to appear on the face. Similarly, many youngsters, especially teens, face the issue of pimples or acne. All these can ruin a photo and even dishearten a person, forcing him/her to not share the image with their friends and family, or not smile any more in front of the camera.
If you too get disappointed when looking at your images due to some skin imperfections and ask "How do I remove blemishes on my face from photos?", then cheer up. In this post, we will share some tips on how you can fix your photo by erasing pimples, acne and other skin blemishes from your face in a photo. It will help you look like a model in the images so that you can then confidently share your images with your friends and family. If you also want to remove wrinkles from pictures, or remove beard and mustache from photos, just go to the right place to find out how.
Excited? Great! Let's begin.
The Best Skin Blemish Remover Software
Jihosoft Photo Eraser, the best photo editor for blemishes, is a very powerful and easy-to-use photo editing software to remove blemishes from photos, including pimples, acne, blackheads, freckles, pigmented spots, scars and more. The process is very simple but effective. Just once click will make you look like a model.
Before we begin, let's talk about the software first. This software is a desktop photo editor available for both Windows and Mac computers. It works on all types of hardware – old & new, and is not very resource hungry.
After you run the software, you will find that it has a very pleasant and easy to use UI. All the tools are neatly arranged in the left sidebar. The central panel has 2 buttons – one opens a single image for editing and the other opens all the images inside a folder for batch editing. The rightmost panel shows all your imported images as thumbnails.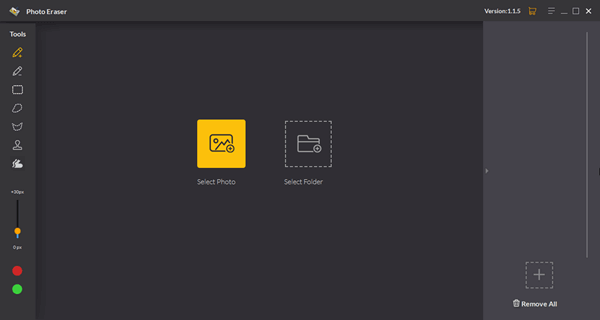 The above image shows a pictorial representation of the UI you will see when you open the application. All the tools, present in the left sidebar, have been labeled for easy understanding and access. You can also learn more details about how to use these tools respectively in this user guide of Jihosoft Photo Eraser.
How to Remove Acne, Pimples, and Skin Blemishes from Photos
Now let's read the below tutorial and learn how to use this software to remove skin blemishes from portrait photos. Just never let a blemish ruin your selfies and portraits.
Step 1: Click on the Select Photo button in the central pane to open the photo selector. Find the image to be edited and open it in the application.

Step 2: Click the Selection Brush tool from the left sidebar. Brush over the acne or pimples on the image. The area you brush will be covered by red color to tell you what you have selected. You can change the size of the brush from the vertical slider present in the left sidebar below all the tools. Use it for precise selection of the area.

Step 3: After the selection is done, just click on the Erase button in the bottom toolbar. Now let the application, and its underlying algorithms, do its magic. For those stubborn blemishes, you may need to perform multiple clicks to totally erase them. After that, you will get a perfect result like the picture shown below.

Once this skin blemish remover software finishes processing, you will see that it has helped you edit all the pimples, acne and other facial blemishes out of the face in your portrait photo. Your precious photo is now fixed and ready to be shared with anyone.
Apart from helping you get rid of acne and other facial blemishes in pictures, there are a few more outstanding features that this software offers to its users. For instance, it can be used to remove undesired objects from photos, and repair broken building in photos. And you can even use the tool to restore damaged old pictures as well, as we all have many old black and white images that have developed scratches. You can scan them to create digital copies with the scratches remain, and then import them into this program to erase the scratched areas and make them look new again.
Final Thoughts
This blemish remover software, as you have seen, is very powerful and full of useful features. It allows regular users to enhance their images and helps them always look their best in ways they could only dream of before, and the best part is that you don't need to be a professional or a techie. Any regular user, with basic computer skills, can use and operate this software with ease.
The software costs only a small amount of money for a lifetime license to use the software on any system. It also comes with lifetime free software updates and support. So if you are looking for the best photo editor for blemishes, then this is a very good buy.
If you are not sure about buying, you can also try the free trial to check if the software is good enough for your usage and requirements, as this program lets you edit your photos before purchase. But we can say that you won't be disappointed.