2 Different Ways to Remove Unwanted Objects from Photos
Photography has been one of the most loved activities of the people all around the world. A decade back, not everyone could afford it as it required expensive equipments. However, with the launch of smartphones and their ever improving cameras, people now have an option. With smartphones now available at every price point, and their cameras getting significantly better with each year, everyone can now enjoy the pleasures of photography.
Although taking a photo is now very easy for everyone, getting a great image can still be tricky. Many times, we get an image that has an unwanted object present. This can happen at tourist places where the great shots of a historical monument may get spoiled by the presence on other tourists or vehicles or maybe both.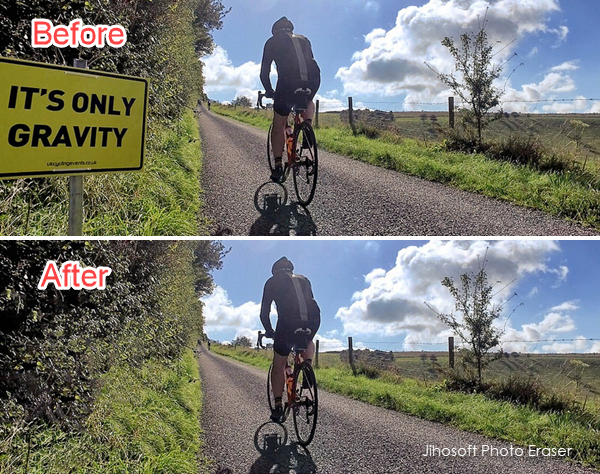 Such images, however, can be edited and improved by using certain special softwares that erase these unwanted objects from the images by cloning other existing objects in the image. Using this process, these special softwares and apps cleverly remove the object to be deleted.
In this article, we will talk about one such great software and go though how it works.
Jihosoft Photo Eraser Makes Your Photos Perfect!
Jihosoft Photo Eraser is a specialized tool which allows users to remove unwanted objects from their pictures. The software algorithm that works behind to scene to accomplish this is very smart and powerful and gives extraordinary results more often than not. This application is available for Windows now and can be downloaded from the download button given below.
Before we dive deeper into how we can use this software to remove unwanted objects from photos, let's first take a look at the overall layout of the application and all its tools. You will know what these tools actually mean respectively from this Photo Eraser User Guide.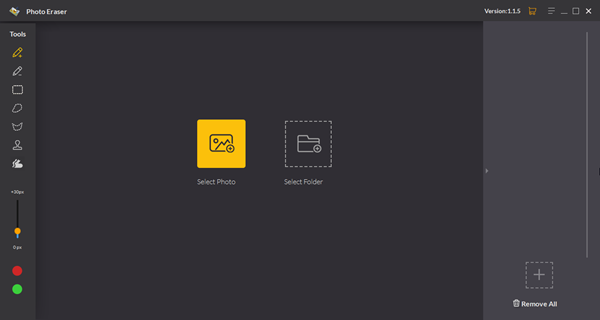 After installation of the program, you are greeted with the main UI of the application, which is quite clean and minimalistic. All the tools have been neatly arranged on a bar on the left side for easy access to the user. The central pane has 2 buttons allowing users to import a single photo or an entire album folder respectively. All the imported photos will be shown as thumbnails in the rightmost pane as you can see in the pictures below.
Method 1. Eraser Objects from Photos Intelligently
Now, since we have taken a look at the user interface of the application, we can shift our focus on its working and how we can use this tool to edit out unwanted objects from our images.
Step 1: Import the image
The first step is to import the image, we want to edit, into the application. We can do this by clicking on the Select Photo button in the central panel. If we wish to import multiple photos stored in a folder, we can use the second button to select the folder and import all the photos present in it. Once the photo has been imported, it will show in the central pane for editing, and its thumbnail will be shown in the right pane.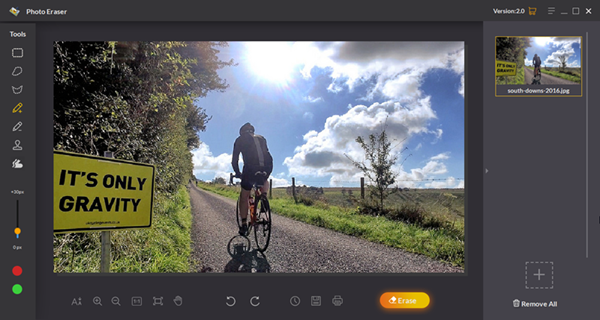 Step 2: Select the area you want to remove
Now that the images has been imported into the software, we need to tell the software what area needs to be removed. For this we use the selection tool available on the left panel.
There are plenty of selection tools and any one can be used depending on the situation. Rectangular tool, lasso tool etc are all very powerful selection tools, but in most scenarios the brush tool is the one we need to use. It allows us to precisely select the objects in the photo that we want to erase.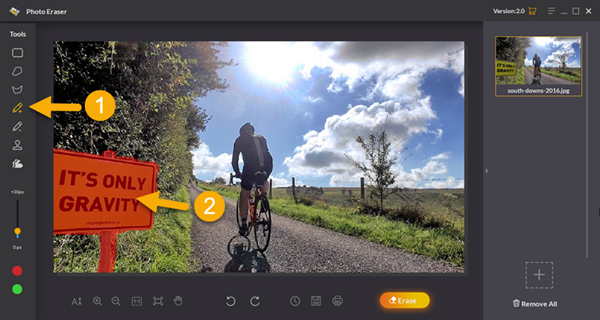 When you brush over the object to be removed, it gets covered by a translucent red ink. This allows the users to clearly see what area has been marked so that adjustments, if necessary, can be made. If you want to adjust the red-ink area, you can apply the Fix the Selection Tool, which is under the Selection Brush Tool.
Step 3: Erase with one click
The final step is very simple. All you need to do is click the Erase button at the bottom bar. It is present to the right side on the toolbar.
When you click this button, the powerful algorithms of the software work their magic behind and deliver a stunning result that is devoid of the object you wanted removed. It works quite flawlessly in most scenarios.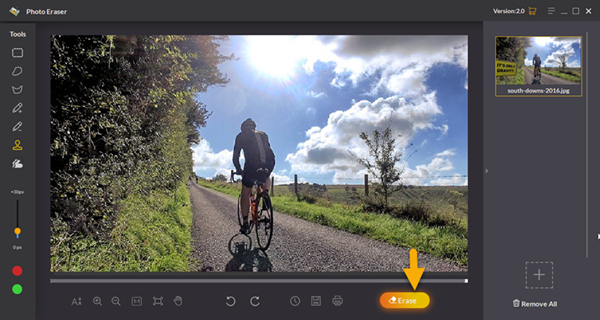 Method 2: Edit Unwanted Object Out of Picture with Sampling Stamp Tool Accurately
In this Photo Eraser, there is a built-in Sampling Stamp Tool which is as same as the one in Photoshop. Photos are made up of tiny pixels and the stamp tool can duplicate them. Sampling Stamp Tool is designed to remove undesired elements from an image and replace them with another piece. Hence, you can also use this tool to manually replicates the pixels around the unwanted object to delete it completely from the image without using the Eraser button.
To use this smart tool to edit something out of a photo is as simple as these steps below.
Step 1. After you import a picture into the program, you firstly have to choose this stamp tool from the left panel. The size of the stamp brush can be adjusted from 1px to 200px.
Step 2. Then move the cursor over the area where you want to clone, and then Alt+click (Windows). At this time, the cursor will change to a target: click the exact spot to define it as the clone source.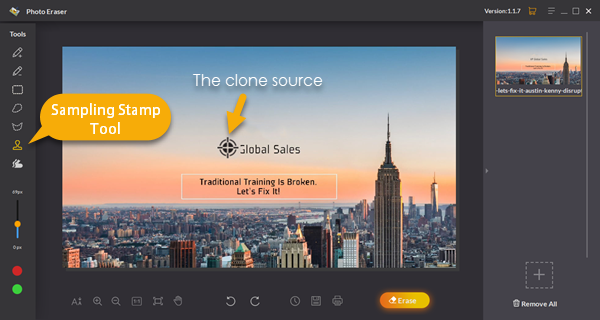 Step 3. Now it's time to edit the unwanted objects out of your picture. Simply click and drag over the area you want to erase and you will see the unwanted area is to be covered by the clone source. Just play around with different stamp brush sizes and try editing different areas of your photo until you learn the ropes of it.
Additional Features of Jihosoft Photo Eraser
Apart from the removal of unwanted object from the photos, as explained above, there are other features as well, that this application is good at.
Here are some of its amazing features:
Remove annoying watermarks, logos, date stamps, stickers, texts and etc from a picture.
Retouch blemishes on people's faces, including wrinkles, acne, pimples and beard.
Restore black and white damaged photos.
Clone yourself in the photo to make it an unique image.
What other features that you hope to appear in this software? Let us know in the comment section.
Final Thoughts
If you are someone who has such images, having unwanted objects, and are looking for a solution to this problem, then this software is great for you. It has been designed from the ground up to offer such unique and powerful features to the users. It offers great quality results which match the results that you can obtain from higher end and expensive applications.
And the best part is that unlike many other such professional tools, you will get a lifetime access to it after you upgrade it to a pro version. No monthly commitments. Pay once and use forever. And did we mention that the future updates are free as well.
Jihosoft Photo Eraser is a really powerful tool and you will not go wrong with it. And it you are still not convinced, try out the free trial yourself. We are sure you will love it.