How To Change Hair Color In Photo With or Without Photoshop
We often like to change our hair hairstyle in order to have a fresh look and instant attention at some special occasions. We all want to look attractive at all times, don't we? However, changing hairstyle is so easy, while changing hair color is not. What if the new hair color doesn't suit you? Then how about changing the hair color in a photo of yourself first to see how you will look with different hair colors?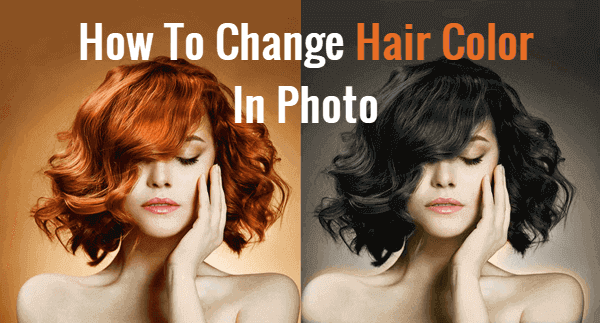 If you are wondering how to change hair color in photos, then you are here on the right page. Below we have explained the process with the use of Photoshop and some hair color apps for Android and iPhone. So just keep reading to know how to edit hair color in photo.
Part 1. How to Change Hair Color in Photoshop
Step 1: First, launch Photoshop and open the picture in which you want to change the hair color.
Step 2: Find and click on the "New Adjustment Layer" icon at the bottom part of the layer palette. After that, from the various options available in the list of layers, choose "Hue/Saturation".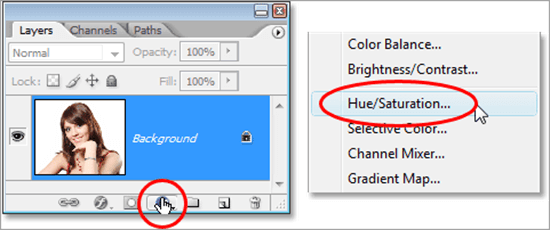 Step 3: Then a new dialogue box for Hue/Saturation will be opened in front of you. There you will see the "colorize" option. On the left side of it, there is a checkbox that you have to click in order to activate the option. Once activating this option, your whole picture will get colorized with red color.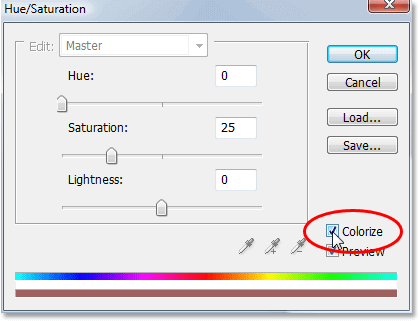 Step 4: Then move the Hue slider left or right in order to set the color that you want for the hair in your picture. Though this will colorize the whole photo, don't worry, it will be fixed in the next steps. While dragging or moving the slider, keep an eye on the hair in the picture so that you can stop at the point when you are in the right shade of color.
Step 5: Once you are done with finalizing the color for the hair, it is time to set the intensity of color. This can be done with the use of the Saturation slider provided just below the Hue slider. You will need to move the slider left or right in order to adjust the perfect saturation.
Step 6: After you have successfully found and set the perfect color and color intensity for the hair, click on the "OK" button to exit the Hue/Saturation dialogue box. But it is to be noted that the color that we have applied has been applied to the whole picture, not only to the hair. As we have mentioned before, it will be fixed later in this process of changing hair color in the photo.
Step 7: You will notice that there is a layer mask on the Hue/Saturation layer in your layer palette. This mask is added automatically by Photoshop. You have to fill this layer mask with black color by pressing "Ctrl+Backspace" on Windows and "Command+Delete" on Mac. And it will make the colorizing effect disappear from the entire picture.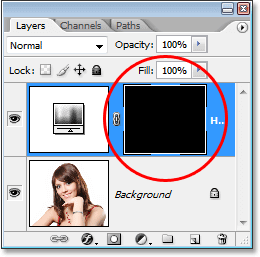 Step 8: Then on the layer mask, use the "Brush" tool to paint the hair area with white color. After that, only the hair will be applied the effect of the Hue/Saturation layer. Thus you will be able to fix the issue of having red color on the entire picture.
(Note: While painting over the hair in your picture, you may need to increase or decrease the size of the brush tool in order to paint precisely over the required area. You can increase and decrease its size by pressing the Right Bracket and Left Bracket keys respectively from your keyboard. Moreover, you can soften the brush edge by holding down the "Shift" key and pressing the left bracket from the keyboard.)
Step 9: Once you are done with colorizing the hair without affecting the rest of the area in your picture, it is time to perform the task of fine-tuning that color-effect. In order to do this, you need to alter the blend mode from "Normal" to "Soft Light" or "Color". The option for blend mode is available at the top left corner in the layer palette. You can also fine-tune the color effect by lowering the adjustment layer's opacity, say 50%, until the results are satisfactory. And, it's finally done.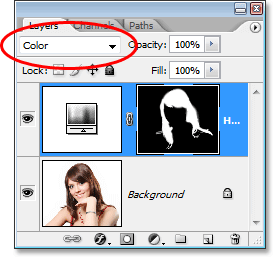 Part 2. How to Change Hair Color to Other Colors
Thus you can follow all the steps mentioned above in order to change hair color in your photos. In case, you are not happy with the output and want to go back to change the color again in Photoshop, it is very easy. Just follow the steps mentioned below:
Step 1: First, you need to go to your layer palette again and double click on the thumbnail of the Hue/Saturation Layer.
Step 2: Then the dialogue box of Hue/Saturation will appear again in front of you. From the dialogue box, just make alterations or changes in the color and intensity by simply dragging or moving the Hue & Saturation sliders left or right.
Step 3: Moreover, you can also make an alteration in the blend mode, and adjust the opacity of the adjustment layer.
Thus by following all these steps, it becomes very easy to change the color of hair again in Photoshop without going back in the process.
Part 3. Mobile Apps to Change Hair Color in Photo
There are also available some mobile applications that you can use on your Android and iOS devices with a purpose to edit hairstyle and change hair color in your photos. Some popular hair color changer apps are mentioned below:
#1 YouCam Makeup
Available: Android, iOS, free to use
It is a powerful virtual hair color app that you can use to change hair color in your picture on Android, as well as on iPhone. The app makes use of augmented reality for you to take live image and try on any new hair color. With the use of this app, you can also try different makeup looks for your picture. There are also some fun filters for selfies that can be used for sharing perfect selfies to social media platforms.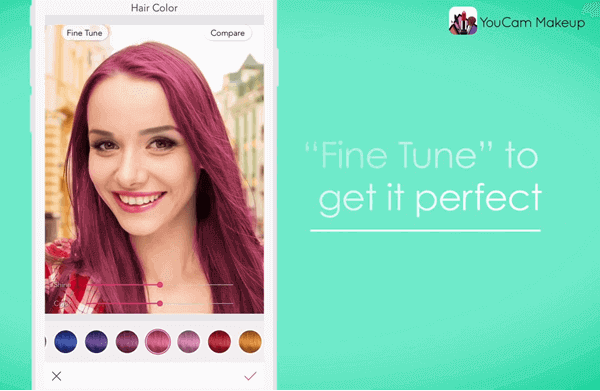 However, the free version of YouCam Makeup has some ads and will add a watermark on your saved photos. Thankfully, you can make use of the Jihosoft Photo Eraser software to remove watermark and logo from photos without spoiling the image background.
#2 Hair Style Salon
Available: iOS
Hair Style Salon facilitates the hairstyle as well as hair color in your pictures. The app offers you various tabs meant for hair color, style, etc. There are also various categories like short, long, curly, etc. After selecting the desired option, any color of your choice can also be applied to the hair. Yes, the app offers the feature for voting as well, so you can further present your picture for voting. You can use this app for free if you just need to use the color tool. But when you want to try new hairstyles with this app, you will have to pay $2.99 per week.
#3 Hair Color
Available: iOS
This app is mainly used for changing hair color in real-time while taking selfies. There are no ads in the app and the color palettes are free to use. But there are some in-app purchases offered by it.
You can use its live camera option for taking selfies. As mentioned earlier also, you can try different colors for your hair in real-time while taking a selfie. There are even more than fifty shades of color that you can try to figure out which one of them suits you best. Mainly, you need to follow the steps given below:
Step 1. First, install the app on your iOS device, and then launch the application.
Step 2. Then face the camera, and select the color-shade of your choice. You can also use the vertical bars to increase or decrease the color intensity and depth so as to have a better result.
Step 3. Finally, in order to save the picture and share it with others, you need to take a screenshot because the app doesn't provide any way for you to save pictures.
#4 Hairstyle Makeover
Available: iOS, free to use
With this user-friendly Hairstyle Makeover app, you can change the hair color as well as the hairstyle in your picture. The app offers you various types of hairstyles. After selecting the desired hairstyle, you will be allowed to adjust its size as per your requirement. But you should know that you can't change the color without changing the hairstyle. That can be considered as the drawback of this app. However, everything else is fine.
There are many other options that you can use to get the most out of your editing process. The app offers various interesting effects to choose from. Tint or Hue of the hair color can also be changed easily. In addition, more editing options like crop, cut, blur, etc are there for making use of. If you also want to apply more makeup effects on your photos, you can try these photo makeup editor apps.
#5 Hair Color Booth
Available: iOS, $0.99
Another iOS application for changing hair color in your photos is Hair Color Booth that you can think of using. There is no ad in the app but some in-app purchases are offered by it for accessing more colors. The app facilitates you a large range of shades and color along with other relevant features that are generally available in such apps. In order to apply colors, you will have to make use of gestures and fingers. There is an option for controlling smoothness. Moreover, the options to adjust the saturation and strength for the strokes are also available in the application.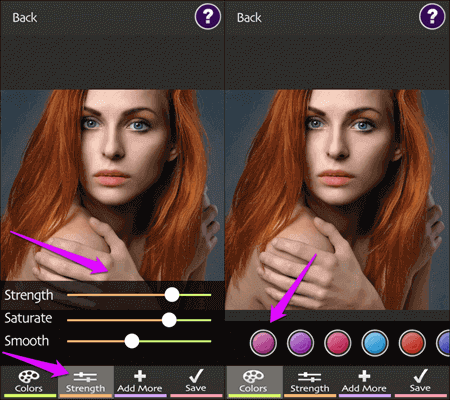 #6 Style My hair
Available: iOS, free and without ads
It is considered to be a very flexible hair color changing app produced from L'Oreal Professional Paris. The app makes use of YouCam makeup technology and offers a large number of color palettes that you can choose from. For instance, Ombre, Sombre, and Grow out, etc. Moreover, there is also the option that can show you the before/after shot.
#7 Hair Color Dye
Available: iOS
This iOS app offers a large variety of color styles. And, you can also apply a color of your choice. Moreover, you can also neon blue stripe with this app. Each color can be painted individually. And, the hair area that needs to be edited can be selected. But sometimes it becomes very difficult to select the area precisely. One more thing that you should know is that you will need to watch an advertisement before you can save your edited photo successfully.
#8 Hair Color Changer
Available: iOS, free to use
When it comes to the portion of hair that can be colored, Hair Color Changer offers better control as compared to others. The pictures can be moved here and there and the options for zoom in/zoom out are also available. In order to apply colors, you will have to make use of gestures.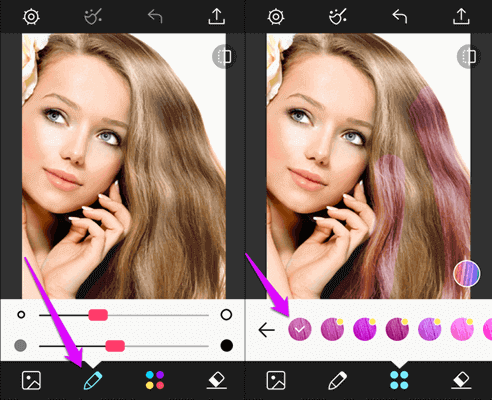 To try different hair colors, you can capture a new photo or make use of an existing picture available in your gallery. And there are some in-app purchases that you can use to get more colors and shades offered by the app. You can follow the steps given below in order to change the hair color in your photos with the use of this iOS hair color changer app:
Step 1. First, open the app and select any picture from your gallery or capture a new picture if you want. Then, choose the Pencil icon.
Step 2. You can decrease or increase the tip-size with the use of an upper horizontal slider. And the darkness can be adjusted with the use of the lower slider.
Step 3. Now, it is time to start painting over the hair area in your picture. Here you will need to make use of your fingers and thus you will be able to figure out the best color that will be perfect for your picture.
Step 4. Finally, you can save the picture. And, that's it.
Final Words
Everyone likes to look charming and novelty in his or her photos posted on social media sites like Instagram. Hence there has emerged a huge demand for the tools that can make our photos look special by swapping face, changing hair color in pictures, and others. All of the hair color editor tools mentioned above are the hand-picked tools that you can consider and select any one or two of them that can fulfill your needs and expectations.