8 Best Photo Makeup Editor Apps to Add Makeup to Photos
Today is the age of smartphones and anything good or bad goes viral in a really quick time. Especially, the impact of social networking sites is so huge that everyone wants to flaunt a beautiful profile picture. Therefore, people tend to get conscious of the profile pictures and images they post on social media sites like Twitter, Facebook, Instagram, etc. Also, many times we click a stunning picture but a tiny pimple pops up to spoil your entire image. We also know that no face is perfect as there are always some flaws either in the skin tone, facial curves or features.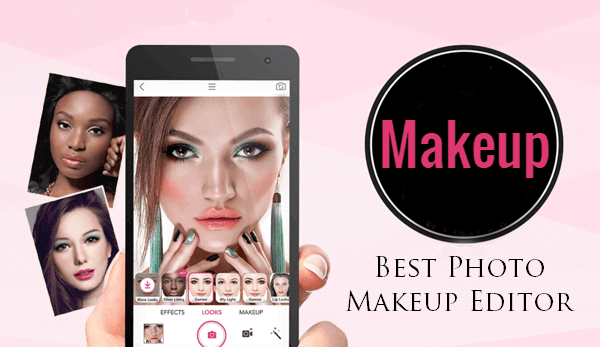 This can be frustrating but you need not to worry as there are tons of apps available on App Store and Google Play Store that can refine your photos in a jiffy and present you perfectly on the social media portals. With the below Photo Makeup Apps, you can remove all facial flaws from your photos with ease.
These online face makeup editor contain so many features and options that you can perfectly remove the dark patch below your eyes, a nagging pimple, dark spots and almost anything that can spoil your beautiful selfie.
Also, each app is different when it comes to customization of facial attributes and features. Therefore, you need to verify the worth of an app before actually using it to edit your photos. Today we are presenting some of the best makeup editing apps that are compatible with Android and iPhone. Let us see these apps in detail:
#1 Airbrush – Easy Photo Editor
Airbrush is a photo makeup app which can cover most of the blemishes from your face. It has a bunch of skin color brushes that allows you to portray your picture in the most beautiful way. Moreover, you get wrinkle remover, teeth whitener, elegant filters and a lot more with this app.
It specializes in making your face spotless and you can actually compare your photo before and after editing on this app. You also get a detailed demonstration of each of the tools so that you master the art of editing selfies.
This awesome app is available for both Android and iPhone users and might be the reason for the flawless pictures of your favorite celebrity on social media.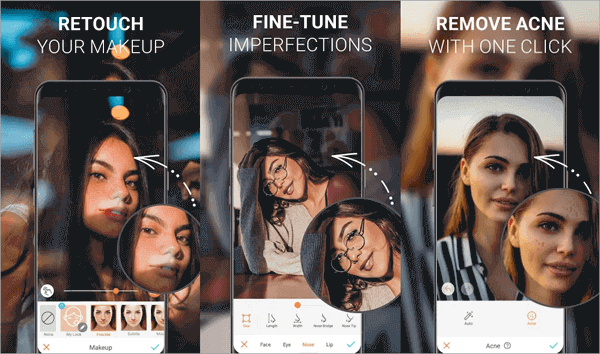 #2 YouCam Makeup – Make Dull Pictures Stunning
We all crave for the glamorous looks which we often see on the beautiful faces of models, actors, and actresses. We do not know how they can achieve that in real but you can certainly flaunt your glamour on the social media with the help of YouCam makeup editor app, which is available for both iPhone and Android phone users.
On YouCam you can either make your selfie look naturally stunning or you can add dramatic effects like huge eyelashes and dark lipstick to let your friends see your lighter side. You can also choose from the collection of preset looks that make your face perfect without any efforts.
YouCam also has its own camera app for your phone that allows you to select different makeup looks before actually clicking a selfie. Moreover, you can also modify these pictures after clicking which makes it much more effective than other face editing apps.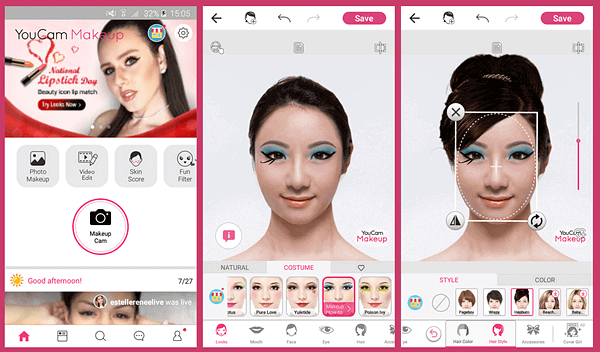 #3 VSCO – Look Artistically Beautiful
If you are not looking for makeup editor app in particular, then VSCO is a great app that has a lot of built-in features and photo editing tools that can make your look seamlessly stunning. It also has a lot of filters that give a perfect look and texture to your face and features.
Also, you can customize your image by changing the contrast, highlights, shadows, and other aspects in a convenient way when you use this app. It is very easy to start using this app as you just have to create an account, add your photos to it and start editing. This app can be downloaded from the App Store and Google Play Store as well.
#4 Facetune2 – Edited Your Selfie on the Go!
Some individuals just cannot use an online face makeup editor, just because it requires a lot of precision and skill. However, Facetune2 is the perfect photo makeup editor online free for such people because of its live-editing features.
This is the best beauty and makeup editing app that is developed specifically for editing your face, as it enables you to whiten teeth in photos, remove facial blemishes, change the shape of your facial features, upgrade your makeup and much more while taking pictures with its camera. You can also change these features after clicking the selfies.
Both Android and iPhone users can download this app to experience the incredible magic of Facetune2. And the app is available in both the free version which have the usual ads and popups, and the paid version which requires a $5.99 one-time payment.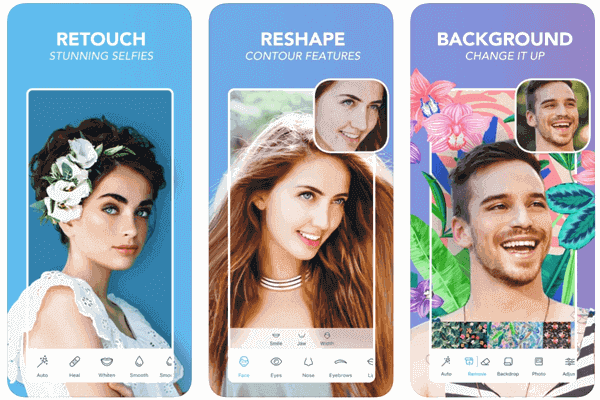 #5 Perfect365 – One-Tap Makeover
Perfect365 is a online photo editor app for makeup and hair. It offers a more natural makeup look than most apps, and has 20 more different makeup templates for its users. You can use this app to makeup, touch-up, and enhance your facial pictures, as it is really useful for enhancing skin color, and whitening teeth and so forth. After you finish editing your photo, you can instantly share it through Facebook, Twitter and other social platforms since this app also integrated with lots of social networking platforms.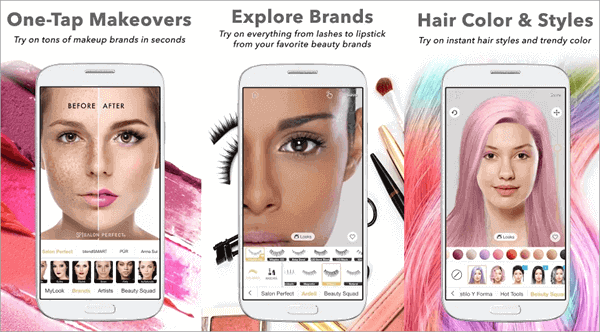 #6 Makeup Plus – Your Virtual Makeup Artist
Much like the Facetune2, Makeup Plus will allow you edit your face and make your photos look more pretty or handsome. The best part of this app is that it also work as a perfect virtual makeup try-on app. Therefore, you are able to give yourself a full virtual makeup from lipstick, eyelashes,brows to glitter and hair color, etc with this hair and makeup photo editor. Moreover, you can try on real lip products and other cosmetic products from all your favorite brands, and you can even purchase your beloved one through the app if you are satisfied with the try-on.
This application is absolutely free for all the users, and all you need to do is to download this photo face makeup app from Google Play store or App Store.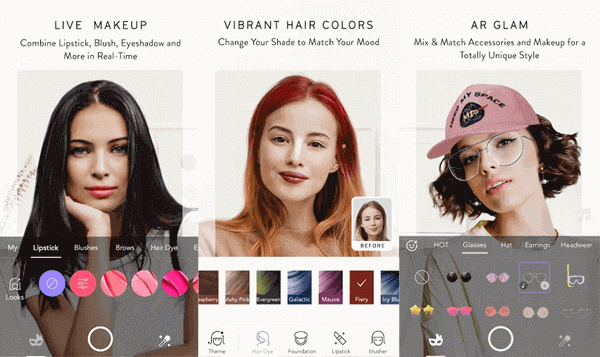 #7 InstaFace Makeup – Beauty Camera Makeup
InstaFace Makeup use its smart recognition technology to make your makeup precisely and naturally fit, and take your selfie snappy camera with motion stickers and beauty effects. This app comes with many amazing makeup effects, and is really good at adding makeup to your pictures and editing hair in photos.
Just download this online photo editor makeup and hair to see how powerful it is. After that, you can share the perfect pictures to social network to get more likes.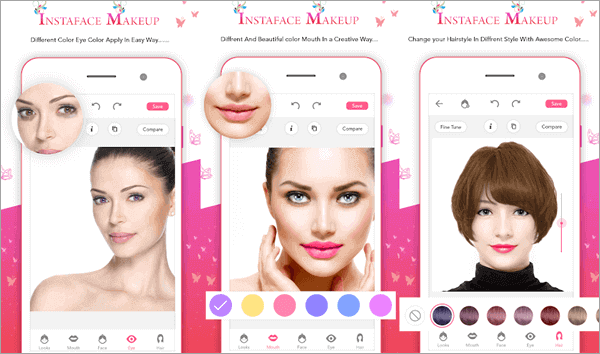 Some photo makeup apps only let you add makeup to your photo without fixing the blemishes on your face. Then Jihosoft Photo Eraser is a blemish remover that you need. This computer-based photo editing software makes it easy to remove facial flaws like wrinkles, pimples, acne in your photos. It also helps you perfectly erase people/objects or remove censored parts in your photos.
The software's built-in erase tool removes unwanted features in the background of the photo. Whether it's skin blemish, power wire, street sign, watermark or whatever – just outline it and remove it from your photo.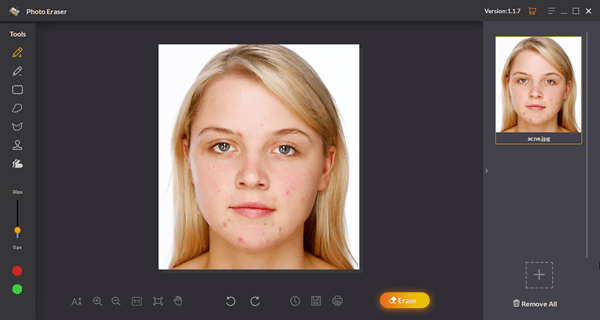 Bottom Line:
These were some of the best makeup editing apps available for Android and iPhone users to add makeup to photos. Some of them redefine your facial attributes whereas some of them are more focused on making your pictures naturally beautiful. Most of these apps also come with their own camera apps which allow you to snap selfies like a professional.
Hair and makeup photo editor apps are easily available on the internet today but you will have to analyze them according to your editing requirements and interests. Let us know which of these apps appealed the most to you and also let us know if you have used a stunning photo makeup app which is not mentioned in this list.