How to Make Blurry Pictures Clear With These 6 Tools
People capture a lot of photos especially if you are a photo geek, and even though you might not be one of them, it might happen that some photos that you have captured might look blurry or out of focus. This is a common problem for many people whether you are a novice or a pro or a DSLR photographer or a smartphone photographer. Unlike the action to blur photo background purposely, this kind of mistake sometimes makes a pretty image even dull as well. Even though we do take care while shooting a photo, there may be camera shakes, vibrations, or even insufficient focus. These all can create a blurry image that ruins the clarity of the photograph.
You might be able to fix this problem with a reshoot, but it isn't possible always. And it may happen that the best moment might be a rare shot that cannot be restored back. So, in those situations, you should know how to unblur a picture that has been blurred.

This task might sound a bit difficult. But thanks to the modern day technology that can solve most of our difficult problems instantly, lots of editing software can help us sharpen a blurry image, although that sharpening process may cause the addition of "noise" (random-looking pixels) to the image.
But sometimes, even a moderately-blurred image can be considerably improved in terms of overall quality. There are a number of software tools, mobile applications and online tools that will let you sharpen your blurred out images. The results mostly depend on the tool that you are using as well as the level of blur is present in the image.
For your convenience, here we picked out some of the useful desktop software, online tools, and mobile applications for you to remove blur from a photo:
Part 1. Unblur Image Using Desktop Software
Photoshop
As we all know, Photoshop is the best photo editing software. It has also several tools which you can use to unblur images. Here we will tell you three different ways to achieve a sharper image from an initially blurry looking image by using Photoshop. Each method does things slightly differently and works better or worse in different scenarios. It's recommended to choose a suitable method according to your situation. Now check how to fix blurry pictures in Photoshop.
Using just the Photoshop:
Open your image in Photoshop.
Duplicate the background layer of the image and then select it.
Select Filter, Other and High Pass and then set them to 10%.
Lastly, you need to select the Blend Mode of the layer to Hard Light and then set the opacity until the image looks clear.

Using Photoshop Elements:
Open your image with the help of Photoshop Elements.
Select the Filters menu and then select the Enhance option.
Select the Unsharp Mask.
Now you just need to adjust both the Radius and the Amount until your image looks sharp.
If you have used a newer version of Adobe Photoshop, then you can also sharpen blurry image by using Photoshop's Shake Reduction option.
Just open your image in Photoshop.
Select the Filter, Sharpen and Shake Reduction options.
Now, just wait and see how Photoshop does its own magic and then preview the differences.

GIMP
If you do not have the heavy Photoshop software, you can use this free and light Photoshop alternative called GIMP. It is an excellent image editing software that has a lot of potentials.
Considering the fact that it is free to use, it is a very feature-packed application. It isn't quite as powerful as the Photoshop, but it's lightweight and free, and also does everything that most of us need it to do, including unblurring of images. Here is how to do that:
Simply open the image using GIMP.
Select the Blur/Sharpen option from the Toolbox.
Select the Sharpen and drag your mouse over the image to sharpen it all or just select a particular portion to sharpen just a part of it.

When you select the parts of the image that you want to make clear with GIMP, the program automatically does the job for you. You will be able to see the image dynamically get sharpened as you move your mouse over the image. This is an effective and easy way of fixing blurry photos.
Part 2. Fix Blurry Pictures Online Free
There are two powerful online tools that can easily unblur images online for free. One of these online tools is Fotor which is quite popular and helps you fix blurred image, and the other is Photo Sharpen which also does just that job.
Fotor is a great photo editing online tool that has a lot of features. Just use the Basic tools in the left menu, then the Basic in the second left menu. There's a Sharpen slider option, scaling blur down you can use it as a sharpener to fix your image.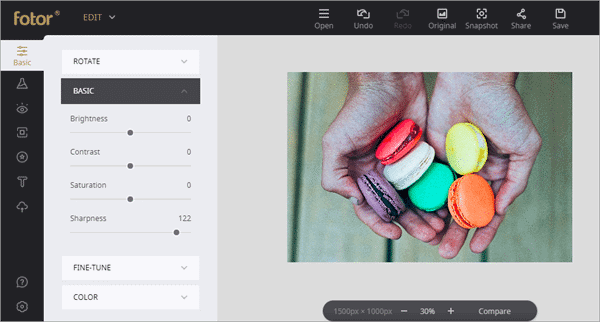 Photo Sharpen is not as powerful as Fotor, but it does do the job pretty well. It uses an algorithm to sharpen your images. You just have to upload your image and select the Sharpen button. The website does the rest and it will then show you a much sharper image as a result. You even tune the results for your satisfaction.
Part 3. How to Make Blurry Pictures Clear With Mobile Apps
There are a lot of mobile applications that help you to sharpen your images to fix blurry pictures on iPhone and Android, and we will name the best two of them here. They are all available both for Android and iOS platforms, so you can go to the corresponding app store to download the right one for your phone.
Snapseed
As one of the most popular photo editing tools made by Google, Snapseed is widely popular among its users. This is a superior photo editing app that lets you unblur a photo on iPhone and Android quickly. The steps are:
Open your image using the Snapseed app.
Select Details from the menu option.
Select Sharpen or Structure, then either unblur the image or increase the detailing using the structure option.

Both Sharpen and Structure features combine to create a lot of difference to a blurry image. You need to Sharpen the photo first and then try to remove as much blur as possible, and then finally use the Structure option to bring back the details of the image.
AfterFocus
With AfterFocus app, you can add photo blur to your images as well as fix your blurry photo. There are various filter effects in the app that offer you to create the most natural and realistic photo. For making a blurry picture clear on Android and iPhone, you need to select a focus area more precisely, and then the app does the rest.
The problem that arouses any blurry image is the fault of focusing the correct object which turns the whole image blurry instead of just the object. However, with this Fix Blurry Pictures app, you can achieve a more natural and professional output image.
Tip:
Find some unwanted objects appearing in the photo after making it clear? Try this Jihosoft Photo Eraser tool to remove unwanted objects from photos without spoiling the image background. All the stuff like tourists, watermarks, power lines, words and others can be erased from the photograph with this one-click image eraser software.
Conclusion
So here are some of the best ways that will help you fix the blurry images that you are facing trouble with. All of the ways are pretty simple and straight forward, only you have to use them properly according to your needs. We have included all kinds of methods for you so that you can fix your blurred image easily from any device that you own.
Most of the methods are free to use and so use all of them to find out which one of them gives you the best result and use them accordingly. From now on, we hope that all of your blurry images get handled properly and get fixed straightaway.
Related Articles