Top Double Exposure Editors to Make Double Exposure Photos For Free
Everyone likes to edit photos these days as it allows them to showcase their creative thinking and skills. Most of them do it as a hobby or to impress their friends on social media networks. However, many do it professionally to create social media posts or designs for their clients.
Though professional skills include a wide range of image editing and processing skills, there are many applications and software solutions that anyone can use to give special effects or to improve the quality of the images, for example, turn photos into anime drawings, add makeup to photos, and etc.
What is Double Exposure?
You might have seen some edited images that are two images blended into one. Unlike simply combine two photos into one, this effect is known as a Double Exposure. Usually, graphic designers use it to create a special image or composition. If you are not a graphic designer but still want to make double exposure photos then many mobile apps will help you achieve that seamlessly. Today we will look at some of the best double exposure apps and online tool for free:
Part 1. Best Double Exposure Photo Apps
If you are using an iPhone then you can utilize this Image Blender app to make use of the effect of double exposure. This double exposure photo editor enables you to create double and multi-exposure images quickly. The editing functions are easy to learn which makes it even better for the beginners. Moreover, adding textures and applying various filters to blend the images into each other become super easy with this app. Also, the effect of the filters can be adjusted by reducing or increasing the intensity to make the image look natural.
This app exports high-quality double exposure images and therefore you can use the edited images for different purposes with ease. You can click on this link above to download this app from App store.
Enlight is another iPhone photo editing app that allows you to create double exposure photographs skilfully. However, it is not a free application but the cost is reasonable and the various features make it worth its price. And it is limited just for the iOS users and therefore if you are an Android user then you will have to look for some other double exposure apps which we have listed below.
What makes this app special is its very quick way of creating a double exposure image and the user does not have to be a pro at photo editing skills. You can adjust the transparency of the foreground image to make the background image more prominent. After blending the images you can adjust the intensity level of the image and some cool effects and filters will give a special look to your final edited image.
Also, the multiple sharing options provided by this application can be used to share the edited images on different social media platforms. Therefore, you can certainly try out this app to make double exposure photos that are visually pleasing.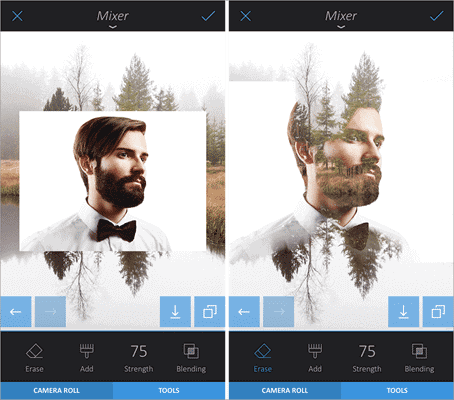 If you are looking for a free Android app that provides exceptional quality images containing double exposure effect then you can certainly try out BlendMe. This app allows you to create double exposure images of HD quality. Therefore, you need not worry about the quality of the final edited image.
By using this best double exposure app free you can blend up to four images at once and there are many other editing features in this app as well. Moreover, there are different tools in this application that allow you to experiment with your editing skills.
Snapseed is one of the most popular image editing apps of recent times. It is available on both App Store and Google Play Store which makes it ideal for both iPhone and Android phone users.
Developed by Google itself, this app has many features that are loved by both experts and first-time editors. For learning how to apply the effect of double exposure on your photos, you can have a look at one of the many tutorials provided in the app itself. This app is also free and contains many more editing features, such as HDR, healing, structure, brush, which make it one of the best photo editing apps ever.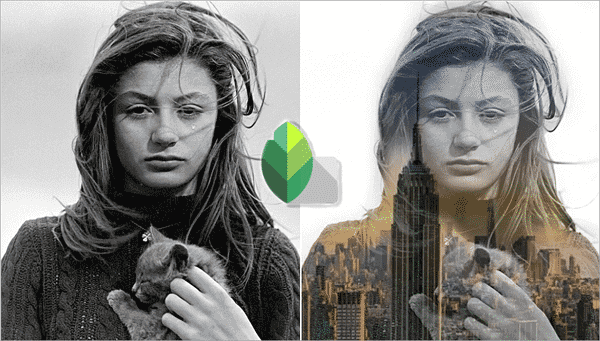 PhotoBlend is a free photo editing app for Android phone users. It has a powerful double exposure effect that enables you to integrate two pictures effortlessly into each other. The effects of this amazing photo editor are so balanced and effective that the edited pictures look like they have been edited in top desktop photo editors like Illustrator or Adobe Photoshop.
You can also avail a premium version of this app if you wish to enjoy more cool effects and filters in this app. However, the free version itself is good enough if you are only looking for a simple but useful double exposure photo app.
Blend 2 Pics is a free Android photo-editing app that is specially created for those individuals who want to create magical double exposure pictures. You can merge images and photos in multiple ways using this app. For example, the Bright Planet effect creates a special background that merges the images perfectly into each other. There are many more effects like this that allow you to make double exposure photos designed by you stand out exceptionally well.
However, some individuals can find a couple of basic editing features missing in this app. Other than that, this is a wonderful editing app since it has many cool filters, fonts and photo collage frames that can help you to create superbly blended images to impress your friends through social networking sites.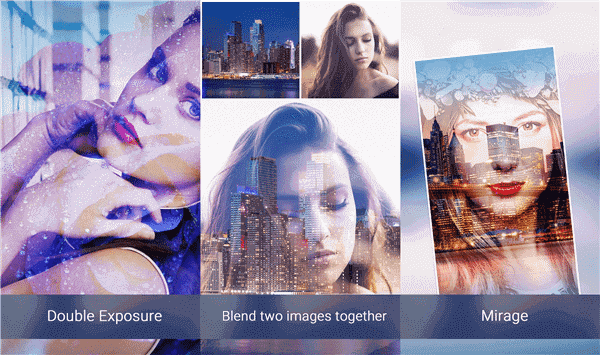 Part 2. How to Create Double Exposure Photos Online
There are lots of online photo editors offering the tools to make double exposure photos online. They are Pho.to, BeFunky, Fotor, Canva, PicMonkey and others. In this part, we will show you how to make double exposure pictures with PicMonkey.
Though PicMonkey doesn't provide its users a double exposure preset, making double exposure photos with this photo editing online tool is simple. To start using this tool, you need to create an free account to login into PicMonkey. If you upgrade to the royal version ($5 a month), you are able to access all of its awesome features. Now, let's begin.
Step 1. Pick two suitable photos to be blended together to make a double exposure. Among these two photos, at least one has high contrast, and comes with a dark background or a light foreground. This is not absolutely necessary, but it will be more convenient for you to adjust the blend mode in Step 4.
To crown the whole, make sure there is no any unwanted objects appearing on your images because they will spoil your images and make the double exposure photo look imperfect. To avoid this, you need this Photo Eraser software to remove unwanted stuff from photos. It can help you erase shadow, power line, watermark and even remove censor box from the image without spoiling the background of the image.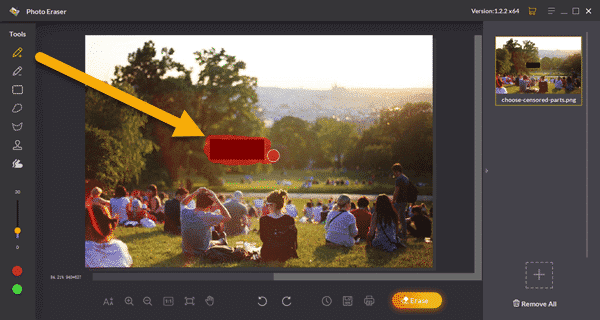 Step 2. From the PicMonkey homepage, open your base photo by clicking the Create button.
Step 3. Add your second image by going to the "Graphics" or "Textures" tab on the left of the editor and clicking "Add your own" at the top. It will enable you to add a new photo from your computer.
Step 4. Select the blend mode for your photo. No matter you choose Graphics or Textures, there will appear a drop-down menu labeled Blend Mode after you add the second photo. Different blend mode will blend two pictures together in different ways, so you need to scroll through them until you a look that you prefer.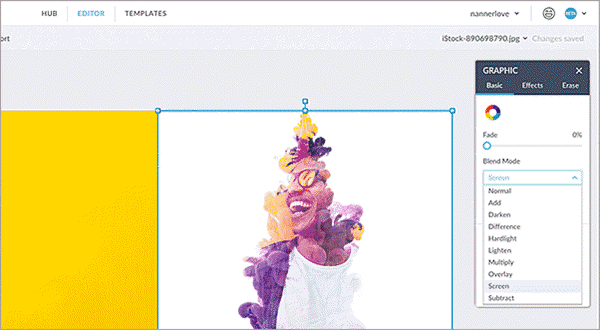 Step 5. After you have blended your photos together, you can adjust the strength, and hardness of the eraser so as to make the images beautifully melded together.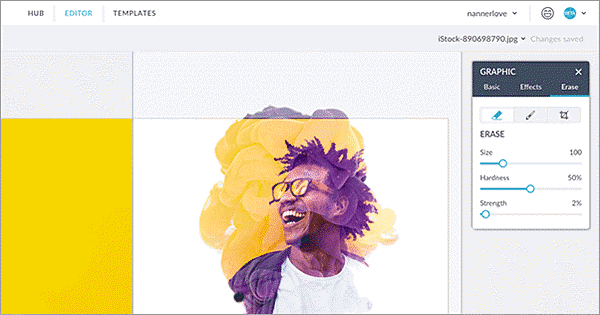 Final Words:
These were some of the best apps that you can use to create and experiment with the double exposure editing effect. Leave your feedback and suggestions in the comments section and let us know after you have tried then as well!