5 Best Free Audio MP3 Cutter Apps for Android Users
People often like to go for a few parts rather than going for a complete song. On such an occasion, they don't get an idea of how to cut and merge songs. Because no website allows downloading a certain part of the song, only a complete song. Moreover, to make a ringtone from song or use the song as a social media story, users need a quick music editing app for Android that is capable, fast and reliable as per the necessity. To tackle this situation, there are many MP3 Cutter and Joiner apps available on the Play Store which make the work of cutting, swapping and editing songs very easy.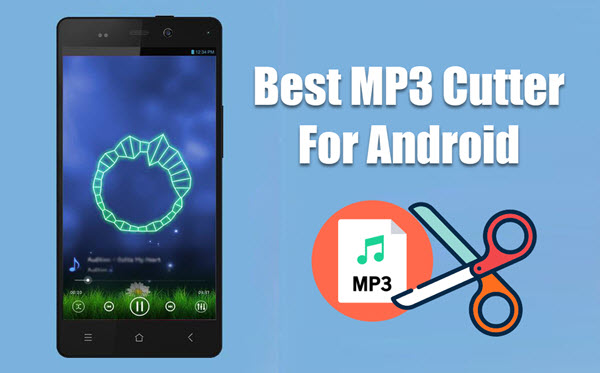 Here, we have listed the 5 best free MP3 cutter apps for Android users which render the cutting and editing services for free of cost. Now download the MP3 cutter APK and set your favourite part as your ringtone, alarm tone or even use it for any other purposes.
1. Timbre: Cut, Join, Convert Mp3 Audio & Mp4 Video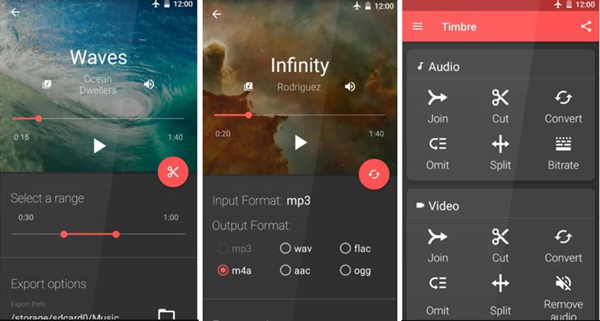 This app available easily on Play Store appears as the editor's choice and is highly compatible as an video and audio cutter app for Android phone. It renders a platform to users which can be used for various editing purposes easily. It has various functions like fast mode audio+video, and slow mode audio+video.
It both works as a video/MP3 cutter and joiner, and audio/video converter. It is also capable of converting video into audio or GIF. The best part of this audio MP3 cutter app is that all its services are provided to users for free. Moreover, it takes a small space of the device memory to work with.
Features of Timbre:
It uses FFmpeg library which is pretty popular and good to use.
The app works well with FFmpeg console and completes all the editing work easily and without hassle.
It compresses the output files without the loss of quality in audio or video.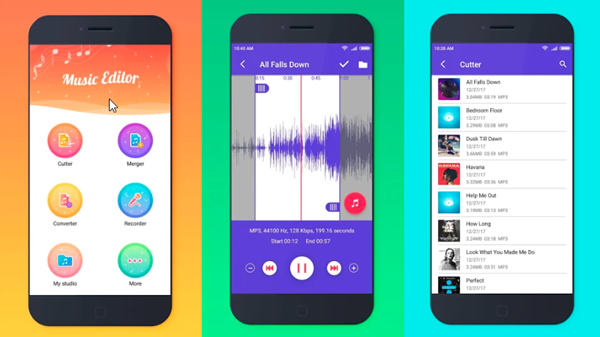 Music Editor provides complete tools for music editing. This MP3 cutter and joiner is a very powerful and recognized application for Android music editing. It is capable to merge two or more audio files into one. You can also convert the file format from one to another without any external application. MP3, AAC, WAV, MHA, etc., file formats are available on the Music Editor App. This music editing app for Android consists all the required features that are crucial in an MP3 editor application.
Features of Music Editor:
It has a simple and user-friendly interface.
It provides fast processing without any interruption.
It provides users with an option to change the speed of audio, it converts video to music, split audio file, and also reverse it.
It has an intuitive and perfect design for audio editing.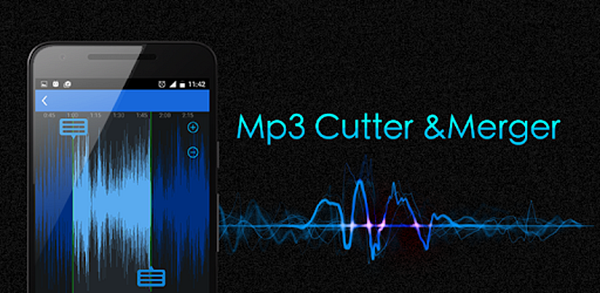 MP3 Cutter is an efficient tool for audio editing. It is a simple editor with the user-friendly interface. It makes this job of music file editing very easy and reliable. You can easily merge two or more audio files using this application.
Features of MP3 Cutter:
It accesses all the audio and mp3 files from the phone's memory and SD card automatically.
Its simple user interface attracts people to use it.
It consists of an integrated mp3 player which helps the users to play the audio before cutting it or making any changes.
It saves the file to SD card directly.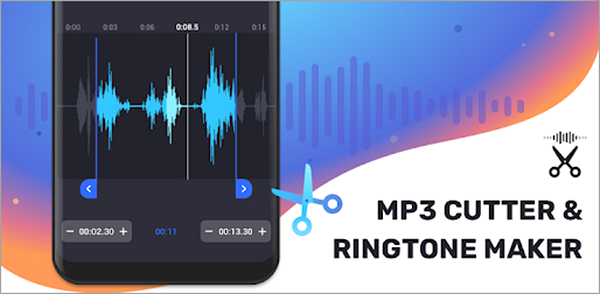 It is considered as one of the best audio MP3 cutter apps available on Google Play Store. It makes the MP3 cutting and making if ringtone very easy and fast. You can make your MP3 ringtones and alarm tones using its featured tools. This app is versatile with its features, and it allows users to record live audio and edit it as per they want. It enables the conversion of audio formats like mp3, WAV, AAC, AMR, etc. Furthermore, it is a wonderful alarm tone and notification tone creator.
Features of Mp3 Cutter and Ringtone Maker:
User's guide is available for easy access.
The app graphics are simple and has easy-to-switch buttons to record audio or music for editing.
It supports live recording and editing.
You can also delete the created tone.
It provides the users with an optional touch interface.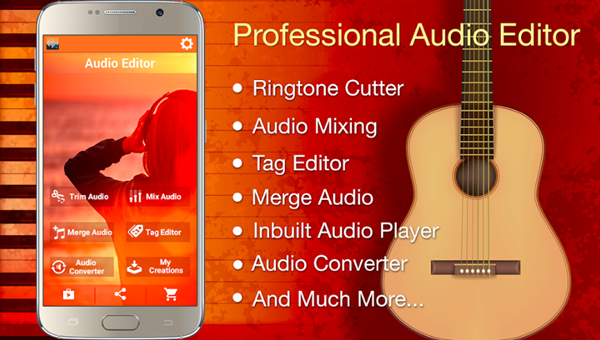 This application has a complete package of tools for audio editing. You can easily trim audio with additional effects. Moreover, as a highly powerful and superior music editor, it enables users to merge two or more audio files and mix them. You can also change the metadata fields of the audio file with this application. It is also useful for the conversion of music files from one to another format.
Traits of Audio Mp3 Cutter Mix Converter and Ringtone Maker:
It enables audio mixing and ringtone making.
It has inbuilt metadata editor.
It renders fast and secured processing.
It has an intuitive and modern UI.
Tip: Recover Deleted Audio MP3 from Android
While you are cutting and merging MP3 files on your Android, it may happen that your audio file may be deleted by accident. But as you wish, deleted data can be recovered on Android, including the audios. To achieve that goal, you have to use this Android Phone Recovery software to scan your phone for that lost data, and then recover the deleted audios on Android with one click.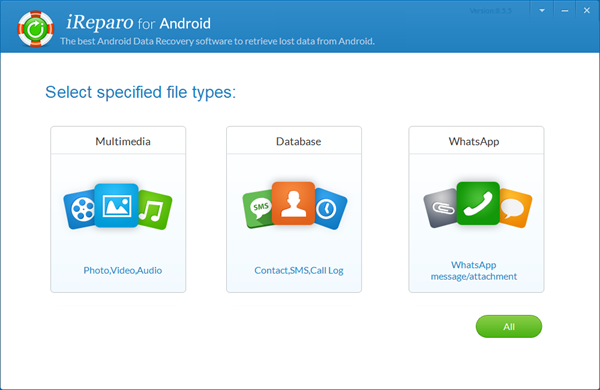 Conclusion
Here, you have seen the best MP3 cutter apps for Android that are available on the market. But at the end, it all comes down to your needs and personal choices. What may seem the best audio cutter for you, may not seem the same to other. Take a go at every app and determined which one is the best. All are free of cost. All these applications have a simple GUI and work well with all types of audio formats. You can enjoy music editing on your Android smartphone using these versatile apps. Find out which one is best for you.