10 Best Meme Generator Apps to Make Memes on Android
With the wide use of social media apps and sites like Snapchat, Reditt, and Imgur, memes have been the most trending humor source on the internet. Almost every person who uses the internet knows about the term meme and what meme stand for. Memes have moved away from political or cultural topics to focus more on pop-culture references and sarcastic life observations, which makes memes themselves relatable, funny, and easier to be spread like wildfire across the network. People use their profiles to spread specific popular memes and they go viral in no time. And you can also increase your followers in this way.
Tip: You are able to know who had viewed your WhatsApp profile with these tricks.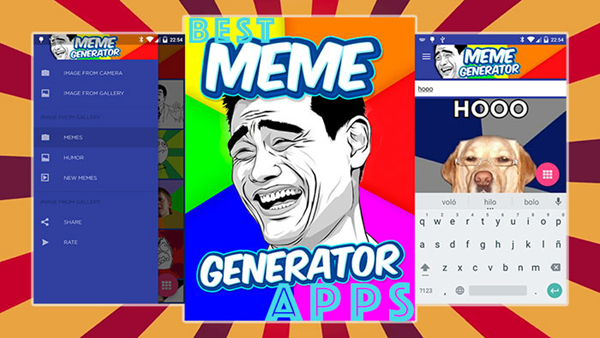 If you are a meme lover, why not create your won ones or make a meme with your own picture? With the help of these meme generating apps you will find how easy it is to create memes without watermark. Even there is a watermark on the meme, you can easily remove the watermark from any photo by using this trick.
1. Mematic
It's a free app that you can download from your Play Store. It lets you create high-quality memes from a large collection of integrated categories, or you can use your phone's camera to capture something and turn it into a meme. In other words, you can create memes with your own pictures. You can have all of its features for free and share with your friends.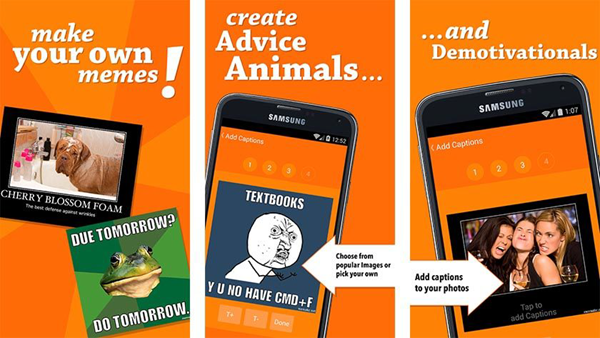 2. Memes Generator and Creator
This app is also free and available on Play Store. It allows you to create memes and captions on the pre-downloaded 500 images or you can use your own images from the gallery. There are also a lot of options for you to edit your meme with effects and captions. Once you've made the meme, you can share your work instantly and directly to your social media, like Imgur, Facebook and etc. However, this is an offline app, so that you won't be able to download extra images from the internet directly through the app.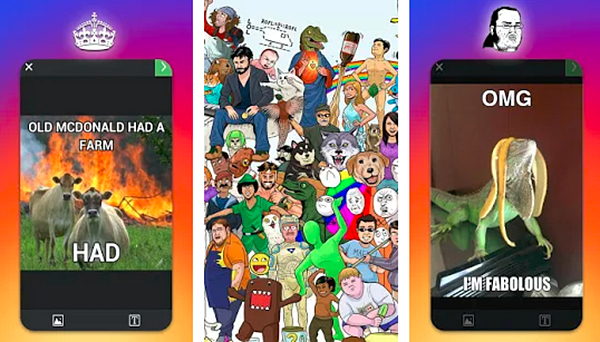 3. GATM Meme Generator
This Android meme generator with no watermark has some unique features as well. The best part is that it gets updated daily and you can download or browse thousands of memes online through it. You can also create your own with your personalized images. This app gives you watermark free results so that you can place one of your own watermarks or share it as it is. You will be able to share your laugh directly with your friends through this app.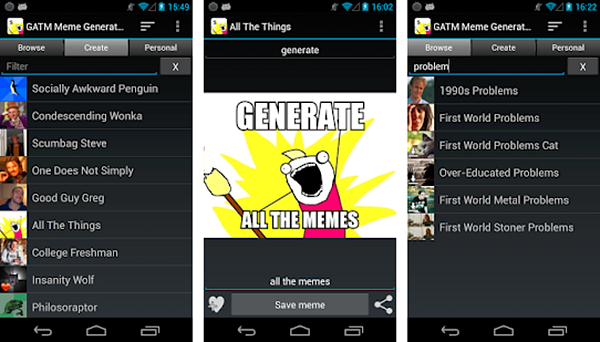 4. Meme Generator
Yet another good app to create your own memes. This app comes with 700 high-quality memes with examples. It also has a lot of extra features that you can use, such as fonts, color, theme, and stickers. You just have to select one image and then start creating or you can select a pre-made meme and customize it with your own-made captions. It also lets you create complex memes with more than one caption. This app also lets you make your own meme without any watermark.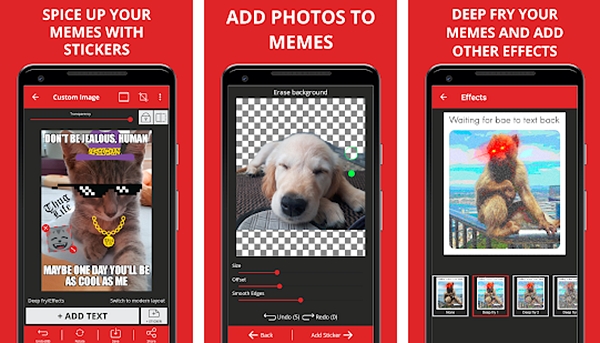 5. Meme Creator by Gentoozero
This app is also a very good one which lets you choose sample meme from its gallery of 600 pre-made memes. It is also free from watermarks. The app has 20 types of different fonts to choose and you can select images from your own phone gallery too. It is great for creating small comic series. A very useful app that lets you share your meme directly to your social media account as well.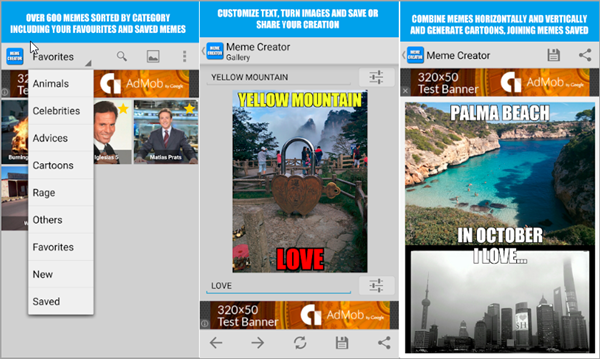 6. MemeDroid
One of the very famous apps on the Play Store. This app is like a search engine for memes, because you can search and download any meme from the list of thousands of awesome memes. They update the app's data on a daily basis so that you can see what coming new and fresh. You can either download an online meme or you can create your own ones from hundreds of templates that the app provides.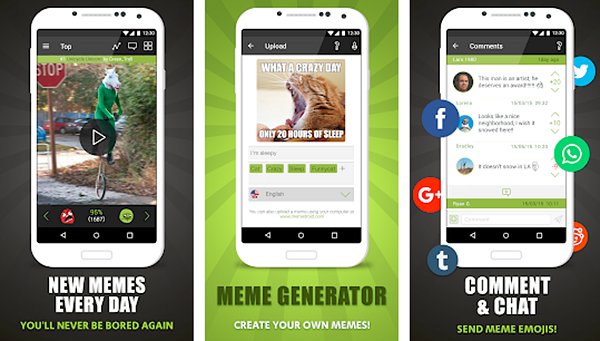 7. Meme Creator by Top Dogs Developer
This is also a very famous app on Play Store. It's full of quality features that you can avail. It gives you the liberty to create a meme of the image from your gallery and add its feature to your image. For example, you can add frames, or pre-made faces, colors, or fonts and many more. Like the other apps, you can download a lot of templates online through this app and also share your final result with your friends on any social media app you want.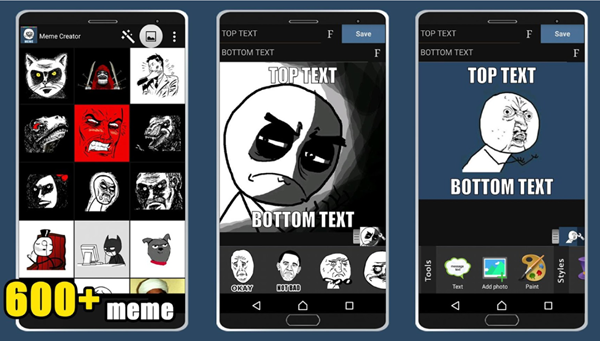 8. Video and GIF Memes
This one here is a little different from the others, as it lets you create video and Gif memes as well. This app comes with so many features and still, you can also download the preset gifs from its own search engine. You can add features to it like changing fonts and colors or adding different images. This one is also supporting the Instagram video share and you can share directly to your social media.
Tip: Best Methods to Add Animated Text to GIF with or without Photoshop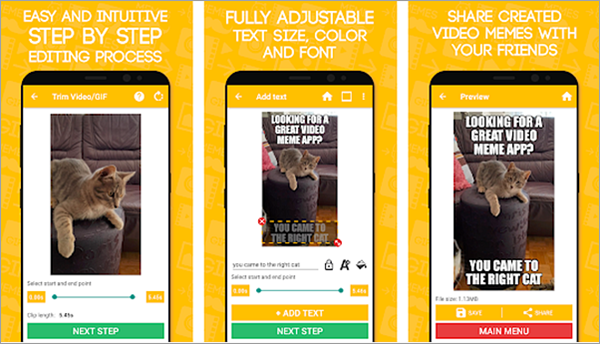 9. Thug Life Photo Maker Editor
This is the most simple app among the meme creator apps you can find in the Play Store. You just get the stickers, an edit option and a sharing option in this app. As its name suggests, this app lets you create thug life images and photos. Basically, you just edit your own clicked or downloaded images. This app comes with thug life stickers like glasses, neck chains, cigarettes etc. So you will not find any specific template images or faces for your memes. This means you have to use your own pictures to create memes.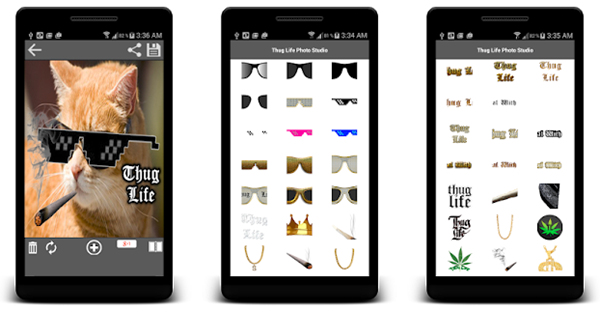 10. Instameme
Last but not least, Instameme is a free app that has the largest collection of 5000+ templates and lots of stickers, images, and faces. You can download the app from Play Store and you won't need any other app to add features to your memes. This comes with a lot of hilarious captions as well but if you want to write one of your own then you can customize it fully. You can even add your own gallery image and share the results with your friends. This is also a meme generator with no watermark.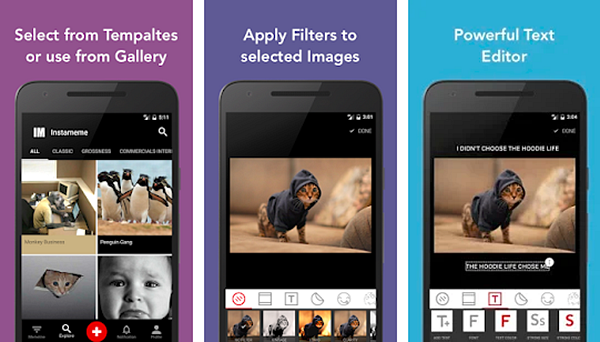 Note: After making your own memes, be sure to keep them safe on your Android phone in case of data lose. But if that happens, try to get them back with Android Phone Recovery which helps to recover deleted photos from Android internal storage.
Conclusion
All the above apps are selective and been tried for their specific features. You don't need to try them all. Just pick one which is suitable for your use of purpose. Some of the apps are have limited features but that doesn't mean they are useless. It all depends upon your needs. We also welcome your valuable opinions about some other meme generator apps for Android.