Best Mobile Location Tracker to Find Current Location By Phone Number
With the rise in technology, people have become highly digital. But, for the maintenance of digital life, one needs to check the security and safety tools for many utilities, especially when we are living in a world filled with unfamiliar numbers and annoying spam calls. With the new technology, we are not only able to trace unknown phone number when receiving regular calls from an unknown number, but also we can easily know the current location of mobile number by using online phone location tracker tools and apps if our phone was lost or stolen.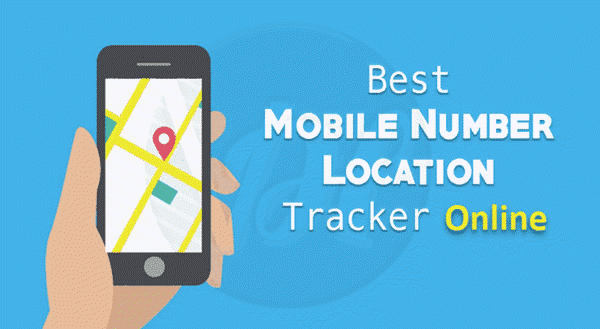 Hence, in this article, you will get complete information about the top three websites and three third-party apps to track a cell phone location online. Moreover, you can also get the location and other information about any other phone numbers using these websites and apps for free. Since you are getting this service for free so you can bring this service regular in use to know the authenticity of the people in your phone contacts. Furthermore, this will also save you from being pranked or tricked by anyone. However, if the phone number you want to trace was lost on your phone, then you have to get back the deleted or lost phone number first with this Android Phone Data Recovery software.
How Phone Number Location Tracking Works?
GPS has a wonderful feature known to very fewer people that it works even the phone is not connected to any network connectivity. Nowadays, all the handsets and mobile phones come with GPS feature for locating the phone. Basically, the phone location tracker websites and apps mentioned below make use of GPS to track the phone number locations. They obtain the GPS coordinates and gives the location of the phone number. Therefore, you can track any number no matter the device is offline or online.
GPS is also trackable through the WhatsApp and text messages. You can share your location to anybody while using them. It is really very useful in terms of security purposes. If you want to know where your child is going or is he/she safe or not then you can easily track their mobile phone location. There are many other utilities provided by these location trackers. You can enjoy unlimited tracking for free using the options given below.
Criteria for Location Tracking Software or Application
Before you go for a tracking tool for advanced security, you must check whether it is reliable or not. Tracking software is featured with many tools which will help you in many ways ensuring your privacy and security. In this section, we will discuss some of the essential criteria which a tracking software or application should possess.
It should enable the user to obtain the location of any phone number or device quickly and easily.
It should show the real-time location for vivid tracing.
Location history can easily be checked.
It should be capable of giving the information about the phone number.
The spam numbers and wrong number calls can be easily blocked.
There are also other additional features that come in tracking tools. Many tools come with geofencing and web filtering features as well. Nowadays, some tools are launched to check the activity of the child for smart parenting. Such software is developed with many features of blocking and controlling along with the tracking of location. Now, let's move towards the best websites and apps to trace mobile number current location online for free.
6 Location Tracking Website to Trace Mobile Number Current Location Online
Free Phone Tracer
Free Phone Tracer is a free website which you can use to find current location by phone number. You can create an account on this website or just simply track the mobile phone which you want. It has a very simple and hassle-free interface. You will get a search bar where you need to type in phone number and find the location of the phone number by tapping on "Find Now!". Then you will get the information about the device with that number you are searching for.
This tracking website can not only be used to track mobile phone numbers but also the landline numbers easily. The website is powered by McAfee Security so it is completely safe to browse and use.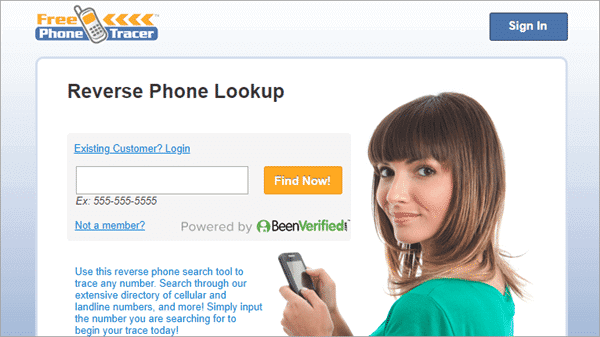 GPS Cell Phone Locator
GPS Cell Phone Locator also renders free tracking service for phone numbers. It is free to use. All you need is entering the country code and the mobile phone number which you want to track and then select "Search Phone Now" to get the results. It is a simple and straight website to be used for getting the location of any handset.
The interface of this website is user-friendly and intuitive. This website does not contain any phishing or redirecting links. You can safely browse this website and get the location of any phone number. Moreover, it is compatible with iOS, Android, Windows and Blackberry.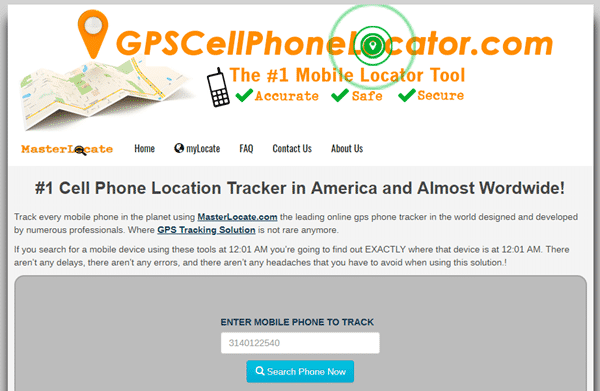 Online GPS Phone Tracker
Here comes another website to track the phone number online for free. Online GPS Phone Tracker is a phone tracking website which provides not only the location of the mobile number but also the name and other information related to the phone number owner. It is a versatile mobile number tracker online website which you can use to get all the information online free with no charges.
The interface of this website is clean and simple to be used. You just need to enter the mobile phone number, select the country name and SIM operator (optional) name, and then tap on "Search Now". It will scan the data and display it on the screen for you. However, to unblock the information you need to complete any one task popped up on the screen. Apart from mobile numbers, this website is very useful to locate the landline numbers as well.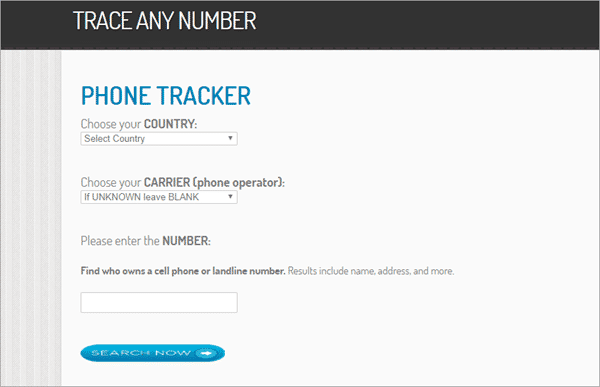 Free Cell Phone Lookups
If you want to track a phone number of someone you don't know, then this web service named Free Cell Phone Lookups is be of great help. You just simply need to enter the phone number you want to track online, and then specify the location of the phone owner. After you become a member of this service, then you are able to get a full report on the location of the mobile phone.
Buddy Locator
As a free online mobile number locator, Buddy Locator is one of the only certified GPS locator services available on the internet. It enables you to effortlessly find phone's current location by phone number. You don't have to sign up for an account to track a phone location, instead, you just simply need to choose the country which the phone is in, and type in the phone number to find its exact location.
The service works in nearly all the countries in the world, and it supports all kinds of smartphones and models, including leading smartphone brands like Samsung, Windows Phone, HTC, Huawei, LG, and Apple.
Whitepages
If you received an anonymous call, and don't have physical access to the mobile phone in question, you can still trace mobile number exact location by using a reverse phone lookup service. Whitepages is one of these services to track an anonymous caller.
Whitepages is also able to track the home address associated with the phone number. All you need to do is to enter the cell phone number in the provided input field. Though it can help you track a cell phone location online, Whitepages is not a real-time location tracking solution. Moreover, as the location information shared is limited, you will only get the general area that the phone originated from instead of knowing the exact address.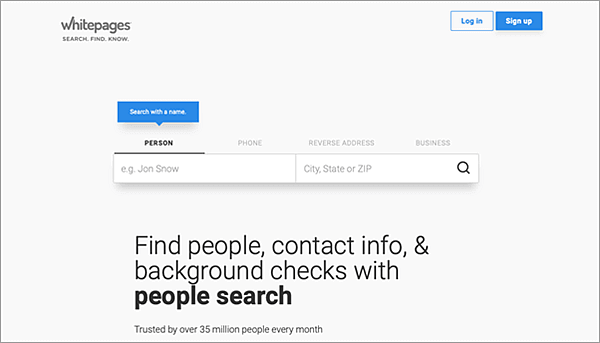 3 Third-Party Apps to Trace Mobile Number Exact Location
Truecaller
Truecaller is a popular mobile location tracker app used for getting information about the phone number. You can track the location and other information of any number using Truecaller. Truecaller has a mobile phone app which comes for both Android and iOS devices. As a versatile application for security purpose, this app can be used to find current location by phone number, detect the name and other information of the phone number user and block the spam number or any number you want. It is a perfect app which you can use to take only authentic calls and avoid malicious and spam calls.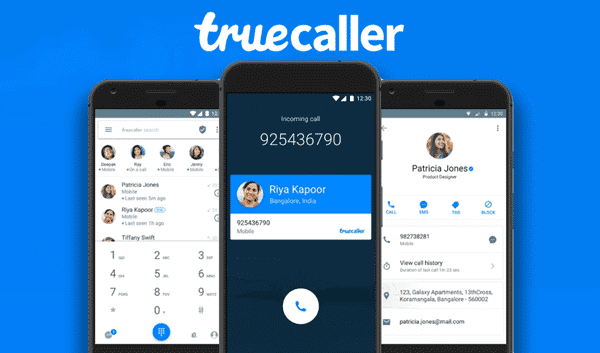 Mobile Number Tracker Pro
It is a perfectly designed tracking app which is widely used by iPhone users, and it also has an Android version for Android phone user. You can easily download and install Mobile Number Tracker Pro from iTunes and get started for finding the current location by phone number.
This application has a very clean, clear and user-friendly interface which helps the user to track the number easily from its database of numbers from more than 200 countries. You can also check for ISD and STD codes on this website to get the mobile number tracked. It runs in the background as well giving the notification of the competing of the tracking. Just download this app to enjoy the unlimited tracking of phone numbers on your phone for free. You need an internet connection for tracking the numbers on this application.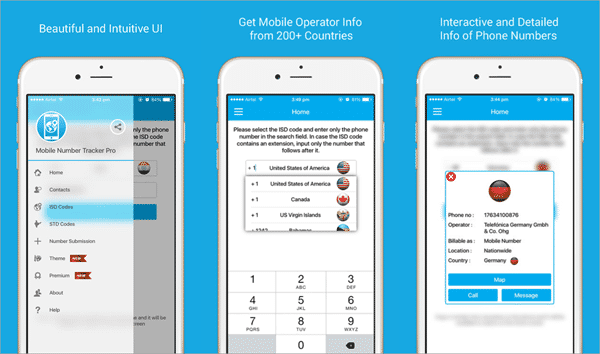 Mobile Number Locator
Mobile Number Locator is a free and wonderful application which you can download from the Google Play Store for your Android devices. With a simple and intuitive user interface and advanced tools, it is highly superior to get the tracking details of any number for free.
This app can also be used as a mobile number identifier which gives the details of the caller on an unknown incoming call. Moreover, you can search for any number and get the details of the owner along with the location. You can check for global mobile phone and landline codes on this website as well. With this app, you can easily trace mobile number exact location on map, because the result of the tracking comes with a 3D Google Map pointing to the exact location of the mobile phone which can be used to navigate the place easily. The best part of this application is that you can use this app even when your device is not connected to any internet service.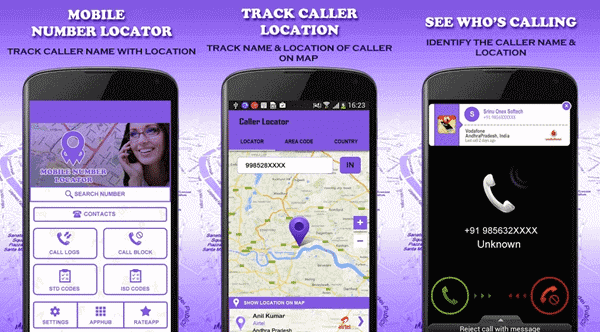 GPS Phone Tracker
Apps like GPS Phone Tracker are made for tracking people you know. This GPS Phone Tracker is great with tracking mobile phones with real-time results, even when the phone doesn't have internet connection.
Once you install the app on the phone, it will show you exactly where the phone is at all times. If the phone was lost, on the linked device, you are able to check where it was left behind. Or if the phone was stolen, you can share the phone location with law enforcement and ask them to take your phone back. Hence, GPS Phone Tracker is really a good option to find a lost or stolen phone and keep track of your partner. However, the app isn't discreet, and won't help you track a cell phone location anonymously.
In addition to finding phone location, this mobile number locator tool provides other useful features, including location sharing, movement tracking and emergency assistance.
Spyzie
Spyzie is both a security and parental control app that helps you track any gadget remotely without hacking. This mobile location tracker app not only allows you to track phone location from other remote device by accessing the phone's GPS, but also helps you lock the phone remotely and monitor the phone's data, including contact list, instant text messages, and internet use.
Final Words:
In this article, you have gone through the best and tested websites and third-party apps which can be used to track the phone number location in real-time online for free. Whether you are going to track your own lost mobile, or spy a hiding criminal, these tools can save your time and effort in any case to find the details and location of the number. You can use them easily and get the location tracked in a few seconds. Tracking mobile phone number is really quite easy! If you have any queries then write to us through the comments section.