Best 12 Hidden Camera Detector Apps for Android and iPhone
Nowadays, many spy cameras and the hidden cameras have been used for filming the private time of someone in hotel room, washroom, office, restaurant and many other places where people go very often. This violates the privacy of the person and sometimes creates very big problems for people. People try to check whether anyone is watching them or not, but this cannot be done manually as the culprit put all the efforts to hide the camera from human eyes.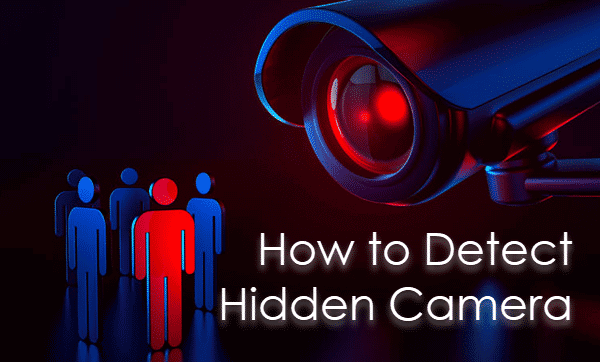 To prevent such situation, use your mobile phone to detect the camera nearby. You can do this by using a hidden camera detector app for iPhone and Android. It will definitely help you find out the hidden camera near you and keep yourself secured. In this article, you will get to know about the top 12 hidden camera detector apps which will help you detect the hidden camera at any public or private places outside your home. Now, go through this article thoroughly to know how to detect hidden camera with your mobile phone.
Tip: If you are facing any issue while using your phone camera, then you can try these 8 Solutions to Fix Camera Not Working on Android.
1. Anti-SPY Camera
Compatibility: Android
Anti-Spy Camera, developed by Softmatic Soft is an amazing app to detect hidden camera for Android users. It will automatically notify you if any camera ray gets detected. It is very simple to use this app and get your life secured from hidden camera recordings. It checks the presence of a magnetic field in the room to detect the camera. It is an easy app to use for the detection of the camera quickly.
2. Spy Camera Detector
Compatibility: Android
Spy camera detector makes very easy to locate the hidden elements in any place. You can feel secure in places like a hotel room, trial room, washroom, offices and other such places with this handy app. It has a powerful detector and system to get the activity of spy cameras or tools. It is featured with the infrared camera detector to get the camera presence in the room with your Android phone.
Compatibility: Android
You can detect any spy camera using this camera detector app for Android. It has a very clean, simple and intuitive interface. You can do the scanning of the area very fastly with this application. Apart from hidden cameras, you can also find out voice recorder or microphone using it. So, if you have this app, then don't hesitate to visit any place and feel secure after scanning. It is a trustworthy application which will definitely identify the presence of spy cam if any. You can use this application by downloading it from the Play Store and feel safe at places like a trial room, washroom or hotel room.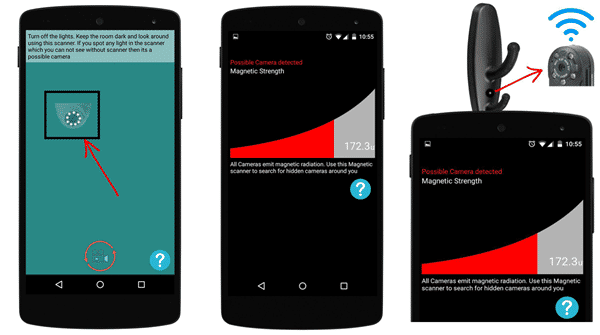 4. Real Hidden Cam Finder
Compatibility: Android
It is another popular hidden camera detector for Android users. It not only helps to detect the camera but also plays a role in the location. It is developed with a magnetic field detector which also finds out the hidden camera around the user. It also detects the presence of electronic devices emitting magnetic rays along with the cameras. You can avail all its tools and features for free.
5. Spy Camera Detector and Locator
Compatibility: Android
It is a very popular camera detector app developed by Soft Sols. It is featured with many advanced tools which make it capable to find out the hidden camera recording the user. It uses two different options to detect the camera. For Android users, any one of those two options is available for free to use. With its wonderful technology, it is capable to find out all those of cameras. You can go for the paid version for a more secure way for the detection of the hidden camera.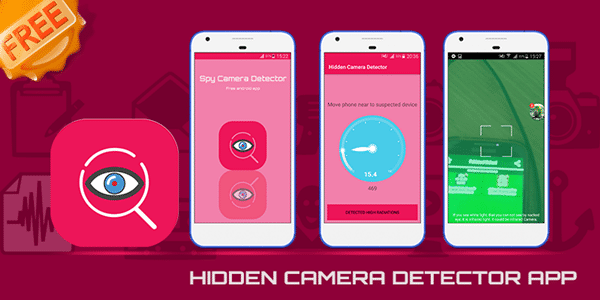 6. Spy Hidden Camera Detector
Compatibility: iOS
This is a free camera detector app, which only comes for iOS devices in both free and paid versions. Basically, it is featured with the magnetic and emf scanner tools which help it to detect the rays emitted from the camera and detect them. You need to scan your room or place wherever you are to check the spy or hidden camera. If your phone blinks or any other action shown by the smartphone like the flashlight gets automatically turn on then there is a hidden camera at that place. It is of great utility and a wonderful app for security.
Compatibility: iOS
iAmNotified is another powerful and popular application used for the detection of a hidden camera. However, it is not for free and you need to pay for start using it. This anti spy system gives complete security to the private lives of the user. Apart from the detection of snooping camera, it also notifies the user if someone else tries to unlock the mobile phone. It is a great app for the security of privacy, data, pictures, videos and other files of the mobile phone.
Compatibility: iOS
Here comes another app for iOS devices which can protect you from being spied or filmed at private places visited by different people regularly. It has a spy bug detector for finding out the presence of a hidden electronic device like microphone, recorder, camera, spy bugs, etc. However, for using it you need to buy its subscription. But, that money will not go waste for sure. It will secure your life from being spoiled for sure. All you need to do is to download and install the application and get yourself registered. Pay the amount and start scanning the place where you are feeling insecure. This app will definitely help you from being recorded unknowingly.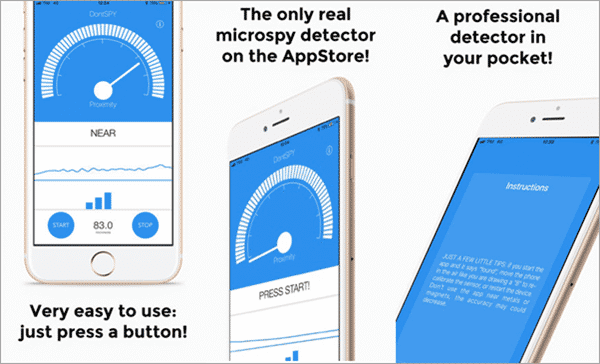 Compatibility: iOS
Now, let us go for this versatile camera detector app which is specialized in detecting the hidden camera. It uses the camera and flashlight of the smartphone to scan the room and check it out. 3D camera apps will be an aid to the scanning process for a fast and better scan. It is also supported by the GPS system to locate the suspected spy cameras. So, if you are visiting any public place and using its private spaces like washroom, trial room, etc., then you need not worry. Just install this app and scan the place using it.
Compatibility: iOS
As the name suggests, this app is used for the detection of paranormal activities around you. Since it detects the magnetic fields, so you can use it to detect the camera as well. However, it is mainly used for entertainment and fun making purpose i.e., to find ghosts. If you are interested in such things, then you can have an adventurous time with this app. It also enables the user to see frightening things like evil presence and ghosts to see using the application.
Compatibility: iOS, Android
Developed by Iteration Mobile, Radarbot has got many specialities to detect various types of cameras. It is featured with a GPS navigation system which can be used to track the camera option. You can easily detect a fixed speed camera, ANPR camera, traffic light, mobile camera and another such type of camera activity using this app. It comes with a complete package to be used for the detection of cameras. However, you need to go for a paid subscription for availing all its features and services. You can also configure your settings to get the app as desired.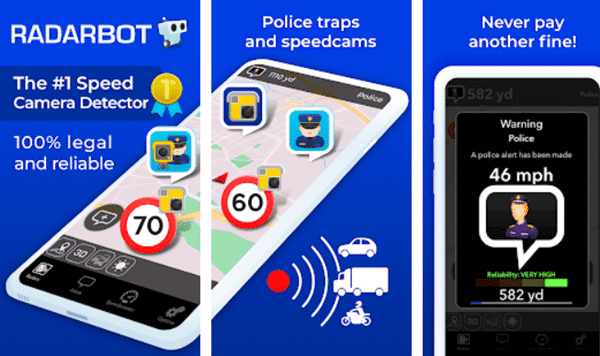 Compatibility: iOS, Android
This is a very powerful app for the detection of a hidden camera in private places. It works on the principle of detecting magnetic activity using its magnetic sensors and the presence of infrared rays to find out the camera. Ranging from a pinhole camera to infrared camera, all type of cameras can be detected by using this app. Use it smartly for proper detection and save yourself from a tragedy of being filmed. It has many features and modes which can help you to check all the probabilities of the camera. Scan the place using it and find yourself secured and safe.
Warm Tip:  Every time you need to recover the lost video files recorded by your phone camera, you can make use of this Jihosoft Android Phone Recovery to recover all the deleted videos, audios, photos, contacts, call history, messages and other documents from phone memory directly.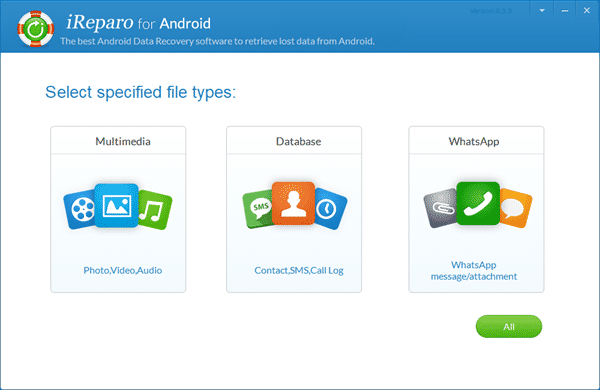 Conclusion:
You have seen various apps for hidden camera detection using mobile phones. These 12 best hidden camera detector apps are more useful for women for their security as such cameras are mainly found in the female washroom, trial room and other such places. These apps are completely trusted, tested and certified, so they will definitely detect the camera after scanning. You can rely on these apps for your security. It will protect you from being spied using any hidden electronic device. So, make sure to select any of these applications for ensuring your security at private places outside the home. If you have any question then kindly write it down in the comments section.