Best 8 Porn Blocking Apps for Android and iPhone
Since you are here, wishing to know about the top porn blocking apps for Android and iOS, you are some of the parents who worry about the kids and do not want to let porn contents on the website affect their lives. Then you are on the right track. Porn is an alarming problem. Since the evolution of the internet, porn is available to access easily by just passing the nominal restriction of age by anyone right now. According to a survey, porn sites have more viewers (visitors) than aggregate a number of Netflix, Amazon Prime viewers in a month. And 70% of among visitors are young boys, so it indeed requires attention.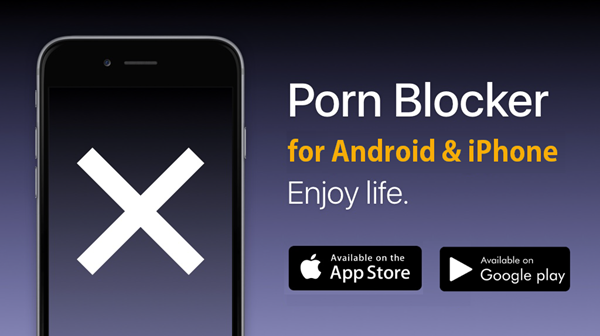 Researchers have said that there are several drawbacks of watching porn such as it can lead to less active brain cells and can damage someone's healthy sex life. If you do not watch porn or even your kids also don't watch it, but sometimes while using the internet, we get a popup of porn sites which seem inappropriate and disgusting when we are with our loved ones. There have been cases where these porn sites that pop up suddenly also contain viruses which can be harmful to your devices.
Tip: If you are using an Android and unfortunately lost data on it due to virus attack, please remember not to operate your phone anymore in case of data overwrite. Then use this Android Phone Recovery tool to recover deleted data from Android without backup. Last but not least, keep your phone from virus with the help of these Antivirus app for Android.
So we have made a roster of the best apps that block porn websites on Android and iOS.
Part 1. Block Websites on Android with Porn Blocker Apps for Android
#1 McAfee Safe Family: Limit Kids Screen Time & Control Apps
McAfee Safe Family is a parental control app which enables you to monitor your children's phone activities and it protects your kids from exposure to explicit digital content. It sets up a child lock that blocks explicit apps and inappropriate content. This porn blocking app prevents your kids from using their phones early in the morning or set limit accessibility late at night. It comes with 30 days free trial, so that you can try before buy.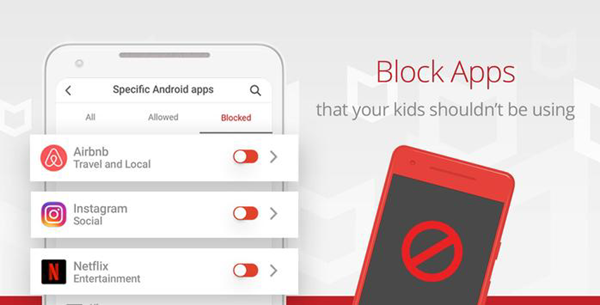 Features:
Real-time tracking of the device on live map.
Set daily time limit of screen time.
Block installation of inappropriate apps.
#2 FamiSafe Parental Control
FamiSafe is a special designed parental control app for kids' location tracking, geo-fencing, app usage monitoring and blocking apps, explicit content filtering, and screen time control. This web filter app for Android helps parents to keep an eye on their kids' online activities. Your kid can not uninstall this app without your permission as it uses Device Administrator permission to prevent it from uninstalling. FamiSafe is also available for iOS users.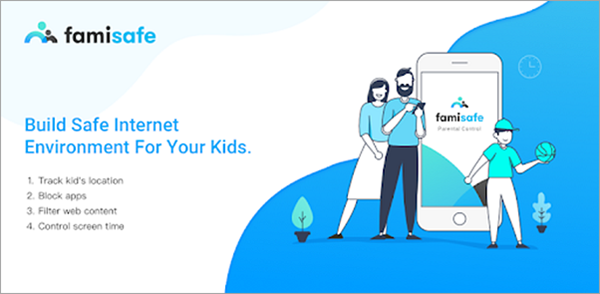 Features:
Web browser monitoring.
Flexible remote control & personalization settings.
Inappropriate app blocker.
Screen time tracking and control.
#3 BlockSite – Block Distracting Apps & Sites
BlockSite helps you stay focused and prevent you from using distracting app, and it also block inappropriate sites from opening on your Android phone. In this process, BlockSite receives and analyzes aggregated de-identified information about your usage of data and internet surfing. It's not only to explicit sites & apps, you can get control and block your social media apps to which you are addicted too, and so that you won't wrongly download videos or photos from Instagram that may contain inappropriate contents.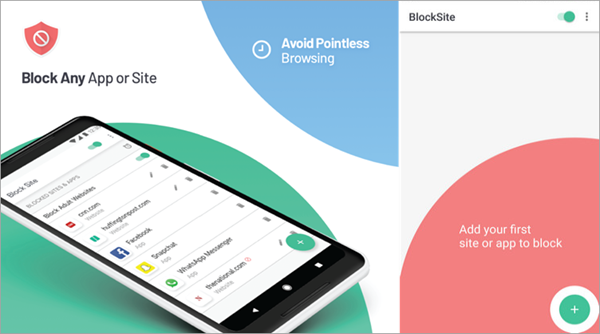 Features:
Block distracting apps.
Block inappropriate sites.
Block adult apps and websites.
Scheduled or permanent blocking inappropriate contents.
#4 Porn Blocker (Safe Surfer)
Porn Blocker (Safe Surfer) app runs silently in the background and blocks adult content on all most of the browsers like Safari, Chrome, Firefox, Opera etc. Just click "Get Protected" in the app and then close the app, and start using all your preferred Android browsers and apps. Your Android phone will be protected and the app will remain in place even after the phone is switched off/rebooted. It serves safe and ethical Internet surfing that helps families thrive.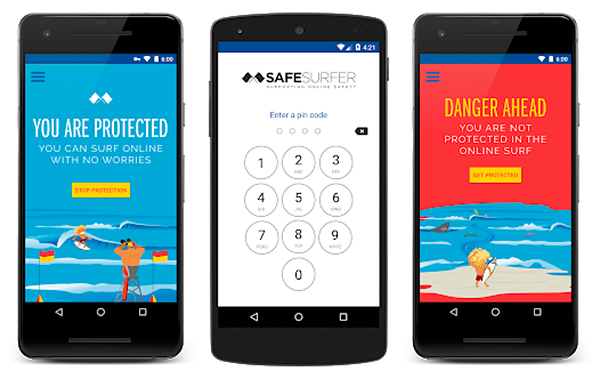 Features:
It has of automatic porn blocking.
Access to blocked content via PIN code only.
It provides patented SafeSurfer technology.
Part 2. Block Inappropriate Websites on iPhone with iOS Porn Blocking Apps
Some of the above mentioned apps are also available for iOS devices such as FamiSafe and McAfee Safe Family. So you can choose one of them or any from the below-given list.
#1 xBlock Porn Blocker
It is a highly recommended porn blocking app rated 4.7 on App Store. If you are addicted to porn or you want to protect your kids from this then this is one of the best apps for porn blocking on your iPhone/iPad. What's more, you can set passcode with this app, so that no one can close it without password.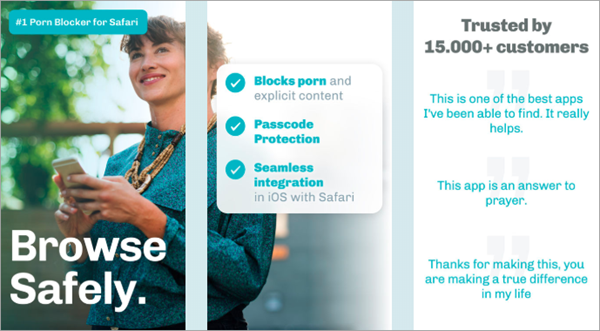 Features:
Seamlessly integrated with your Safari browser.
Automatic hide explicit content (it also blocks such images from Tumblr, Pinterest, Reddit).
Passcode feature.
#2 Porn & Ad Blocker
It is best for parents to make sure their kids are browsing web safely. It blocks explicit web contents and most of the ad popups including the porn ad popups. This supports Safari browser.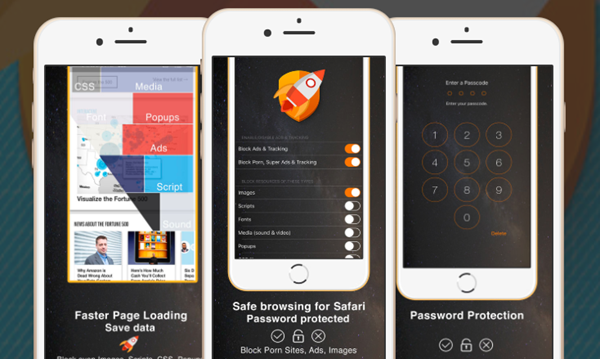 Features:
Automatic block explicit and inappropriate contents.
It supports Safari.
Password protection enabled.
#3 Porn Blocker Pro
Its easy interface and easy to customized features have already gained trust of lots of people specially parents. It works with just a single tap to block adult content. You can also block particular keywords with this app.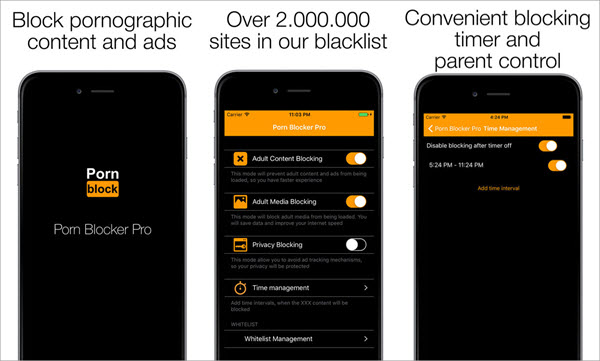 Features:
Block porn with a single tap.
Can block specific keywords.
Automatic web filter.
Support safari.
#4 Shield Porn Blocker
This is a smart adult content blocker from xBlock and it is available on the subscription costing $2.99 per month and $24.99 per year. It automatically detects porn and blocks it from your kids. It is listed last among the 8 best porn blocking apps, but still it is one of the must have apps.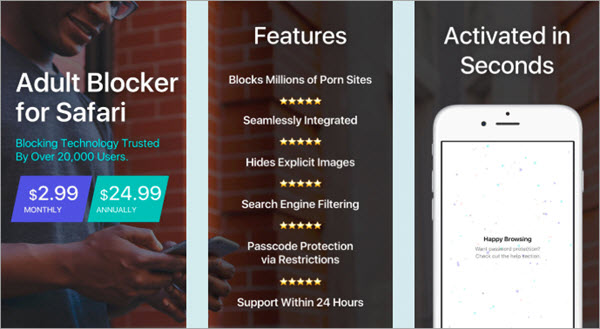 Features:
Passcode protected.
Works fine with Safari.
Easy to use and can block millions of porn sites.
Add inappropriate websites to the blacklist within Restrictions.
Final Words
This is an era of the technology and internet and as we know porn industry is taking over the young generation in its web, then it's our ethical duty to save our next generation from this moral cancer. So take necessary steps and use these top best apps to block porn websites in Android and iPhone. Finally, please feel free to contact us if you need any help regarding these porn blocking apps. Give your valuable feedback in the comment box.