How to Save Android Text Messages to Micro-SD Card
"My internal memory has almost been used up, and I think this has something to do with my text messages. I was wondering if there is a way to save them to my micro sd card? Any help would be greatly appreciated."
By default, Android phones save text messages on the small internal memory. Suppose that the internal memory has been used up and there is no more space for any new messages. What should you do? Don't fret. Here is a good news for you. Jihosoft now offers a nice solution, Android SMS Transfer (Android SMS Transfer for Mac). It is a powerful and simple-to-use Android app that lets you transfer and save text messages to SD card effortless.
Detail Steps to Backup Text Messages to SD Card on Android
Step 1: Install the App on Your Android Phone
Download the free trial version of Android SMS Transfer, and decompress the installation package. Transfer the .apk file to your Android phone and install the app on Android.
Step 2: Transfer Text Messages on Android to SD Card
Run this Android SMS Backup, you will have two options: Backup SMS and Restore SMS. To save your text messages to SD card or SIM card, click the "Backup SMS" to continue.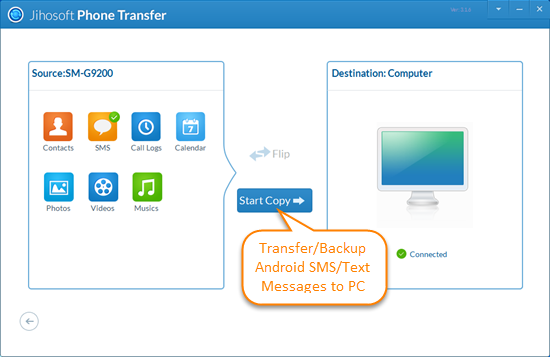 Step 3: Name the Backup File and Move Text Messages to SD Card
The File name dialog box will pop-up. You can input a new name for the backup file or just use the default name. After that, click "OK", all your Android text messages will be automatically saved to micro-SD card in .db file.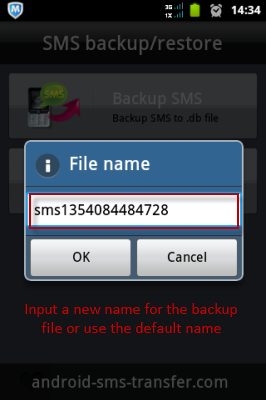 Jihosoft Android SMS Transfer supports saving text messages to SD card from Android phones of all popular brands:
Samsung: Galaxy S4, Galax S3, Galaxy Note 2, Galaxy Y, Galaxy Nexus, Galaxy Exhibit, Captivate, Transform, etc.
HTC: HTC One, HTC Sensation, HTC Wildfire, HTC Desire, HTC Butterfly, HTC Incredible, HTC Explorer, HTC EVO, etc.
Other Android Phones: Sony Xperia, LG Optimus, Motorola Droid, Huawei Ascend, ZTE, Dell, Acer, Asus, and more.