3 Methods to Add Audio and Music to Video in Windows & Mac
A video could be intact without sound, but an audio could make it more impressive unless you didn't find the right music track. In many cases, people need to add audio to videos which don't have sound or the sound is not idea for the creator. You won't want to run a large program, such as Adobe Premiere or Final Cut Pro, and go through the complicated project. Instead, many free tools can help you add music or audio track to video like a breeze.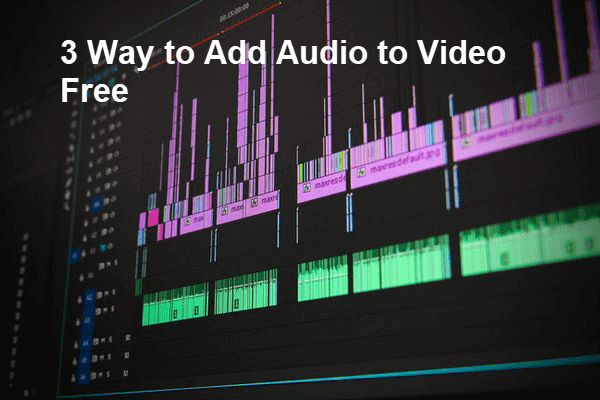 Method 1. How to Add Audio to Video in Windows
The Photos app in Windows 10 has long been criticized for its incapacity as a photo viewer & editor. However, this pre-installed app is also a basic video editor which can add music and custom audio to videos. If you don't want to install any additional program, check out how to add audio to video in Windows 10 with Photos app.
Step 1. Right-click on the video, then choose Open with > Photos.
Step 2. Once the video opens in Photos app, click Edit & Create > Create a video with text.

Step 3. On the new window, click Custom audio from the upper-right corner.

Step 4. Click Add audio file from the right panel to add your audio.

Step 5. Preview the video and adjust the audio if necessary, then click Done to save the change.
Step 6. Click Finish video on the top-right corner to save it to a local folder.
Tips: On Step 3, you can also choose Background music. There are dozens of music tracks available for you video background. It will automatically adjust to the length of your video.
Pros:
No need of third-party apps.
Easy to use for most people.
Allow multiple tracks.
Support most (if not all) media file formats.
A good managing app for both photos and videos.
Cons:
Only local videos and audio files.
Allow limited editing operations.
If you're not satisfied with the Photos app, there are a few alternative video editing software for Windows PC.
Method 2. How to Add Audio to Video in Mac
Similar to the Photos app in Windows 10, there is a counterpart in macOS, namely iMovie. Actually, iMovie is usually pre-installed in Mac, iPhone and iPad, and Apple users have free access to it in case the app is not in-built. Anyway, it is super easy to add audio to video in Mac with iMovie.
Step 1. Open iMovie on your Mac, then drag and drop the video into iMovie.
Step 2. Drag the video to the project timeline.
Step 3. Click Audio tab from the menu bar, then click iTunes, Sound Effects or GarageBand to add audio.
Step 4. Make necessary editing to ensure the video and sound are perfect for your purpose, and then save the project.
Pros:
Enjoy video editing across macOS and iOS.
Easy to use and free.
No need of third-party apps.
Cons:
You have to import the audio files to iTunes or GarageBand if they are not already there.
Tips: In case the videos or audio files are not supported in your Mac, don't hesitate to convert them into compatible formats with Jihosoft Video Converter.
Method 3. How to Add Music to Video Online
Adding music to video is not a big project, and it can be done easily with online tools. You can find a lot of free options online, or have a try with the option below, which has a delicate user interface and super convenient operation.
Step 1. Visit the website at https://clideo.com/add-audio-to-video
Step 2. Click Choose file button to upload your video. It may take a few seconds.
Step 3. Once the video is loaded, click Add audio button to upload your audio file.

Step 4. Click Create button after making necessary adjustments, such as sound volume.
This online tool is beautiful but not free. If you don't want to spend a penny into it, hundreds of free options are available for your exploration.
Pros:
Multiple sources for video and audio, including local drive, Google drive, Dropbox and URL (YouTube, Twitter, etc.)
Additional editing tools, such as volume adjustment, trim, and start time.
Cons:
Watermark in videos made with free version.
Only one audio track supported in one video.
Bottom Line
In this tutorial, we have learnt 3 ways to add audio to video for free in different platforms. Either you have a Windows, Mac or mobile phone, one of the tools will be able to help you finish the task easily. Don't forget to share this article to your friends if you find it useful.