MTS to YouTube Converter, How to Upload MTS to YouTube
YouTube is a major online video sharing service that hosts a multitude of user-generated clips. If you have tried to upload MTS files to YouTube for sharing with others, you may probably encounter the following problems:
– YouTube fails to recognize the MTS footage and fails to convert the videos
– MTS files are in bad audio sync and with bad frame rate after the uploading
– and so forth…
In order to share MTS on YouTube with best quality, you can convert MTS files to YouTube suggested format. Major digital video formats that are supported by YouTube include MOV, MPEG-4, AVI, WMV, MPEG-PS, FLV, 3GPP and WebM. To convert MTS files to one of the above mentioned formats, you can download Jihosoft Video Converter. For Mac users, you can choose Jihosoft Video Converter for Mac.
Note: Click here to view detailed steps to convert MTS to YouTube compatible file formats.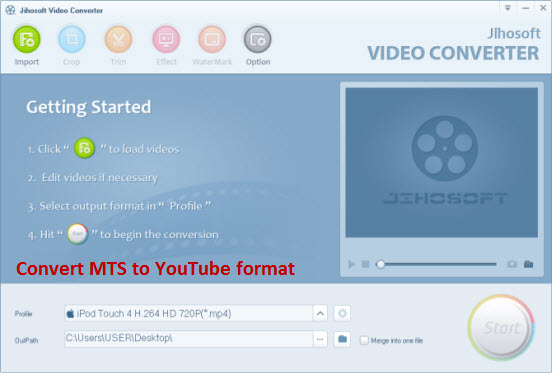 When the conversion finishes, login to your YouTube account, click the Upload button to select the converted video files, and you will be able to upload MTS to YouTube for online sharing without any quality reduction.
Besides the file format, here are some other issues you should take into consideration when uploading videos to YouTube:
1. Upload videos less than 15 minutes.
If the video you are going to upload to YouTube is longer than 15 minutes, you can utilize the trim function of Jihosoft Video Converter to shorten the length of your MTS video to 15 minutes.
2. Upload video parameters settings.
To upload a high quality video, it is recommended to use the following parameters.
Container: MP4
Audio Codec: AAC-LC
Video Codec: H.264
Frame rates: Match the original material.
Resolutions: YouTube uses a 16:9 aspect ratio players, if you want to fit the player perfectly, you can encode your videos with the following resolutions: 1080p, 720p, 480p, 360p or 240p.
Tips: when doing the MTS files conversion, you can change the output video's resolution, frame rate, audio encoder, etc by clicking the Gear icon on the main interface of this MTS to YouTube converter.