[Solved] How to Recover Data from Water Damaged iPhone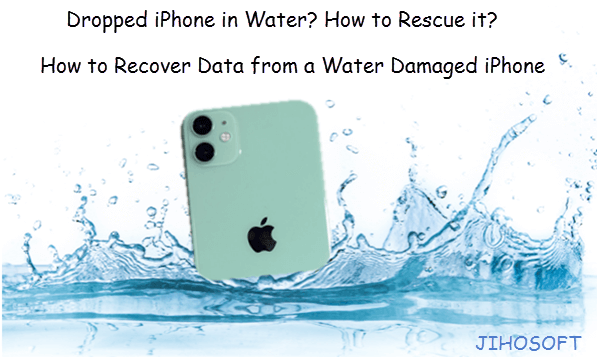 Have you ever accidentally dropped your iPhone into the water? Though the iPhone released after iPhone 7(iPhone 7 included) is water-resistant, there are still times when water or liquid wreak havoc on your device. Getting your iPhone all drenched usually means the death of the iPhone. What's worse, the data that are valuable on the iPhone, such as photos, commercial contacts, text messages, and so on, can get lost. So whenever you dropped your iPhone in a sink, pool or even toilet, you should get it out of the water as fast as you can and try following suggestions to save your device from further damage. The post also shows you how to recover data from the water damaged iPhone.
Find Out Whether Your iPhone Is Liquid Damaged or Not
1. Check water damaged indicator
Not sure that your iPhone is really water damaged? In fact, the iPhone is equipped with Liquid Contact Indicators (LCIs) which can help you to check if the device has been exposed to water or liquid containing water. Here is the picture showing where the indicators are on different iPhone devices. If your iPhone has been in contact with water, you'll see a red spot on LCI from the outside. If not, your iPhone survives!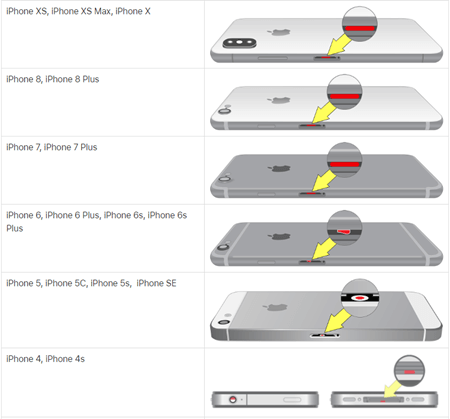 2. Signs of water damaged iPhone
It is not rare that an iPhone suffering from water damage malfunctions. You may read the following iPhone water damage signs and judge if your iPhone has been affected by the water or liquid.
Able to turn on but shut down automatically
White screen of death
The microphone or speaker is disabled
Overheating
Warning messages like "This accessory is not made to work with iPhone" or "Charging is not supported with this accessory."
Applications cannot run on the iPhone.
What to Do with Your Water Damaged iPhone to Save Important Data?
Water damage is one of the most common ways to end iPhone's life. What's worse, such kind of damage is not covered to warranty, which means you can't exchange a new one at the Apple store. Actually, whether your wet iPhone can survive and whether your iPhone data can be recovered depends on what you do with it the first time. Here are some measures to fix a water-damaged iPhone by yourself.
1. Immediately take your iPhone out of the water.
Take out your iPhone from the water as soon as possible. Then wipe off excess water from the body of it with a dry and soft towel. Don't forget to take out the SIM card and tray from the iPhone. If the iPhone is still in standby mode, power it off quickly to prevent the short circuit.
2. Dry your iPhone in the right way.
Place the iPhone in a warm and dry environment to prevent further water damage and let the device dry naturally. Never make your iPhone be exposed to sunlight directly or high temperature.
3. Turn on your iPhone several days later.
Try to turn it on. Listen for any abnormal sounds, check the screen for visual display and its touch sensitivity, and try to open applications to see if they are normal. If your iPhone successfully passes through those tests, congratulation, you can continue enjoying your iPhone.
4. Friendly Reminder
Don't try to turn on your iPhone at once after taking it out from the water, or you may short-circuit the inside components.
Don't shake your iPhone. Shaking can help the water on the surface to penetrate deeper into your device.
Never try to use a hair-dryer or oven to dry your iPhone! Excessive heat can damage some components of your device.
It is not recommended to place your iPhone in a bag of uncooked rice. You know, the size of rice particles is small so they may get into the holes in your iPhone and cause secondary damage.
How to Recover Data from Water Damaged iPhone
It is really frustrating when you turn on your water damaged iPhone and find some vital data that have been lost. Then how to recover photos and other data on water damaged iPhone? If you have backed up your device before, you can retrieve data from iTunes or iCloud. What if you don't have a backup? Don't worry. You can try the Jihosoft iPhone Data Recovery tool to recover photos, text messages, contacts, or other significant data directly from the water damaged iPhone. Besides, it also allows you to preview and extract data selectively from the backup without overwriting the current data on your iPhone.
1. Recover data from water damaged iPhone directly
If your malfunctioning iPhone can be detected by the Jihosoft iPhone Data Recovery tool, there is a big chance to retrieve the lost data. You can download the trial version and follow those three steps:
Step 1: Launch the application and connect your water damaged iPhone to the computer.
Step 2: Once the program has detected your device, click the Start Scan button.
Step 3: When the scan is over, all the data on your iPhone will be shown to you in categories. You can preview, tick the data you need and click the Recover button to save them onto your computer.

2. Retrieve data on water damaged iPhone from iTunes backup
Run the data recovery tool on your computer and select the View iTunes backup button.
Then you can see a list of iTunes backup files. Choose the one you need and click the Start Scan button.

After the scan, you can preview and extract the data you need from the backup to your computer.
3. Restore data on water damaged iPhone from iCloud backup
The steps of restoring data from iCloud backup with Jihosoft iPhone Data Recovery are similar.
Step 1: Open the program on your computer and click the View iCloud backup button.
Step 2: Enter your Apple ID and passcode to sign in your iCloud account, then you can see the archived iCloud backup files. Choose one to scan.

Step 3: Afterwards, check the data you want and recover them.
Note: If your water damaged iPhone fails to turn on after the first-aid dry, you need to seek the help of a careerman to repair the water damaged iPhone before you recover data from it.