7 Best Note Taking Apps for iPad with Apple Pencil in 2019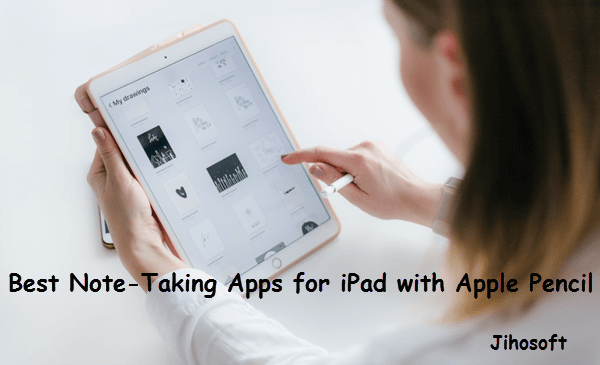 Taking notes is significant in our daily study and work as we rely on it to record some important information captured from another source. Nowadays, note taking is no longer confined to papers. The iPad devices supporting Apple Pencil (e.g., iPad Pro, iPad Air, iPad mini, and 9.7-inch iPad) give users far faster and smoother handwriting experience than taking notes on paper. In order to better meet the needs of users, there is a slew of useful note-taking apps launched on the App Store. It is somewhat tedious work to pick out the one that suits you most by trying all these apps one by one. Thus, for your reference, we list 8 best free note taking apps for the iPad & Apple Pencil in this article.

With a rating of 4.7 on the App Store from over 291.2K users, Microsoft OneNote is undoubtedly the best iPad note taking app you're looking for. This application is most often used on the laptop or desktop. But actually, it is more suitable for tablets supporting the stylus like iPads with Apple Pencil. OneNote is like a three-ring binder with labels which allows the users to create notes directly or collect pages from other sources. Even better, you can shift these pages within the spring binder. You can also add comments, process texts, draw pictures, and embed multimedia audio or web links in these pages.
The most prominent part of this app is its built-in searching feature which enables you to search for the embedded text in images, comments, and audio files. In addition, you can make a checklist in OneNote to track your daily errands in the best possible way.

Notability is another one of the best note taking apps for iPad with Apple Pencil, which provides different ways to take notes and capture thoughts. Notability users can annotate texts or PDFs, write drafts, record the audio, take remarks by typing, drawing, handwriting, recording, or photographing. And users can drag and drop texts, pictures, web pages, and more files from other apps into Notability. Moreover, you can process two notes at the same time. You can also freely switch between notes as well as drag and drop texts or pictures between notes.
The information you've captured in this application can be converted to PDF version and locked with a Face ID or Touch ID in view of your privacy. With iCloud, your notes in Notability are available on your iPad, iPhone, and Mac.

When it comes to the best note taking apps, Evernote must be on the list. It has long been the leader among various note-taking and syncing apps. This cloud-based tool offers unlimited storage for you to take notes and synchronize the notes in near real-time across your devices. Based on these two features, Evernote is not enough to be a leader among the crowd of note taking apps. But it has outstanding organizational functions. Besides grouping your notes into notebooks, this application also supports to tag notes, crosslink notes, save the attachment to notes, and embed checklists. The notes you take can be the typed text, handwritten notes, image, web page, PDF, sketches, videos, and many more types. One more highlight of this note taking app is that it enables multiple users to edit the same shared notebook together and achieve team collaboration.

As one of the best note taking apps for iPad, iPhone, and Mac, Bear is thoughtfully designed. While it has a minimalistic and straightforward interface, it is rich-featured as well. Bear supports sketching and draw with the Apple Pencil or another third-party stylus. It also supports the Markdown, a syntax that allows users to add links and format the text before exporting notes to the content management system. You can add mufti-word tags in a quote, which helps to organize and archive your notes quicker and more convenient. The notes you take using Bear app can be shared and exported in different formats, including HTML, PDF, OCX, MD, JPG, etc. and synced reliably with cloud services.

There is no doubt that the note taking app best suits your iPad with Apple Pencil is the one that Apple has built-in: Apple Notes. Since the release of iOS 9, Apple Notes has definitely become a fantastic note-taking system. It has an intuitive and precise interface. This application supports inline scanning, handwriting, text searching, and annotation. But it won't let you tag or customize your notes for the organization. And you cannot sync the created notebooks anywhere except for iCloud. Moreover, linking your notes together is quite difficult in Apple Notes. But if you just want to jot down some important points, notes, or simple ideas, Apple Notes would be a perfect choice for you.
Sometimes the notes you've taken in the Apple Notes app may be deleted or lost by accident; you can always use Jihosoft iPhone Data Recovery to help you retrieve your iPad notes.

Notebook is a completely free note taking app for iPad, and it is also ad-free. It has a fairly clean and straightforward user interface. The unique card-based design makes this application stand out in numerous note taking apps. Different cards have different colors, which makes it easier to sort and view multiple categories of notes. Notebook has custom book covers as well as various ways to take notes. You can type text, add files, create checklists, record audio, capture moments, or handwrite notes with fingers or Apple Pencil. The notes you take in this application can be saved in your cloud service so that you never lose them. And each notebook and note can be locked with a passcode or Touch ID, so you don't need to worry about your privacy.

GoodNotes is a decent note-taking app for you to take handwritten notes on your iPad with Apple Pencil. This application has a notebook-like shape and provides various customizable ink and paper choices, which gives you the feel of writing with an actual pen. The remarkable feature of GoodNotes is not limited to handwriting. This note taking app for Apple Pencil also supports to type texts, import pictures, or capture moments. It is a powerful PDF tool which lets you handwrite comments in the PDF file and create PDF files. Similar to other apps, the notes you take in GoodNotes can be searched via OCR and synced via iCloud and other cloud services.
Conclusion
Above all are 7 best note taking apps for iPad with Apple Pencil we pick out for your reference. Most of them also work well on the iPhone. All these apps are aimed at providing users with a seamless note-taking experience. Do you have a general understanding of these note taking apps for iPad with Apple Pencil? Have you decided on anyone to install on your iPad? Please tell us in the comment section. If you have some more iPad note taking apps, please also share them with us.