4 Ways to Hide Messages on iPhone without Deleting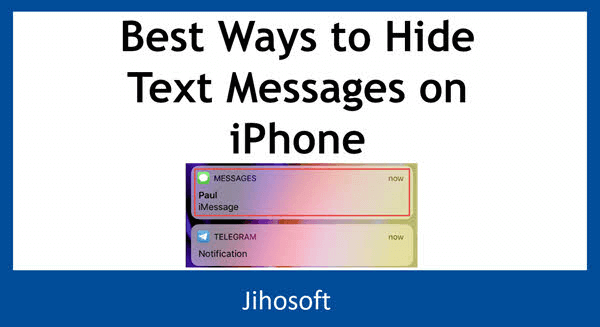 Everyone hopes to have a private space not shared even with their closest connection. Not to cheat anyone, but if we want to keep some messages secret, such as for preparing a surprise or keeping something in deep mind, then we should be able to do it. However, the Messages app doesn't have the option of locking or hiding text messages, so the texts you send and receive may be seen intentionally or unintentionally. It seems that the only best way to protect private messages from prying eyes is by deleting them. Actually, you don't have to do that. In this article, we will show you four methods to can hide iPhone messages on both the locked screen and the Message app, and help reduce the chances of someone invading your data privacy.
Part 1. Hide Messages on Locked Screen of iPhone
When someone texts you, you can view the content on the iPhone screen without unlocking the device or opening the Messages app, due to the Show Previews feature. Sure, the text message preview function on the iPhone may be incredibly convenient. But it does pose a challenge to those who place a huge value on data privacy. Thankfully, turning off the text message preview function is an easy way to hide messages on the locked screen of your iPhone. Follow the steps below to switch it off.
Unlock your iPhone, go to Settings > Notification, and then scroll down to tap on the Messages.

Inside the Messages section, scroll down to the Show Previews option. By default settings, it has already been selected as Always. You have to change that to Never.

This will keep the content of the alert hidden even when your phone is unlocked. You still receive an alert when a message comes but instead of showing the inside content, it will only show iMessage to you.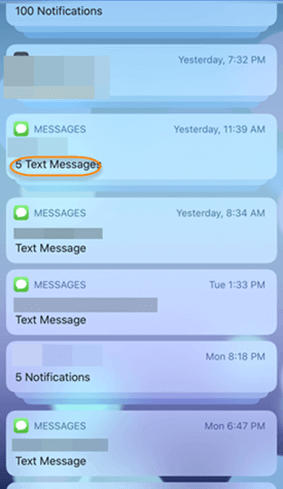 If needed, you can even turn off the Allow Notifications so that there will be no notification on your iPhone screen when you receive a message. This is extremely useful to those who want to hide text messages on iPhone from girlfriend. But then you can't reply to the text in time.
Part 2. Set Time Limit for Messages App
Disabling the Show Previews feature for messages is only to hide your iPhone text messages from being seen on the locked screen. When you lend your iPhone to someone, how do you make sure they won't read your texts inside the Messages app? It's not that hard to do, as long as set a time limit for the Messages application. Here are the steps.
Step 1: Navigate to Settings > Screen Time, and tap on Turn On Screen Time.
Step 2: Tap Continue on the screen, then choose This is My iPhone.

Step 3: Click Use Screen Time Passcode to set a four-digit screen time passcode (If you've turned on Screen Time and set a passcode before, you can skip the previous 3 steps).

Step 4: Then select App Limits. Tap on Add Limit again, click on Social Networking and choose Messages. Then click Next.

Step 5: Customize the Time and Days of limit to one min and every day, keep the Block at End of Limit turned on, and then click Add.
Step 6: Turn to the Messages app, wait for 5 minutes, then you will get an alert that you've reached your time limit on the Messages app.
Step 7: Tap Ask For More Time, choose One more minute, and then wait for another minute until you receive the alert again. This time you need to enter the screen time passcode if you want to access the messages.

Setting a time limit for the Messages app before you lend the iPhone to someone is a flexible way to lock and hide messages on your iPhone from prying eyes.
Note:
Please stay in the Messages app when waiting for the alert of the end of time limit.
The time limit is refreshed once a day, that is, you can get one minute for accessing messages every day. So it can't completely eliminate the chance for others to read your text messages.
Part 3. Lock and Hide Text Messages in Notes App
There is another way to hide your messages on the iPhone. You can put your text messages into the Notes app and lock them there. Just create a new note in the Notes app, copy and paste the texts to the note, then lock it. If you want to keep the sender, date and time, you can take a screenshot of the text messages, share the screenshot to a note and lock it there. However, if you want to hide multiple messages, this method can be a bit time-consuming.
To lock a note, simply swipe it from right to left and tap the lock icon in the menu, then set a passcode for the locked note. You can also use the Touch ID or Face ID to lock and unlock the note. Don't forget to delete your texts from the Messages app after you lock them in the Notes app.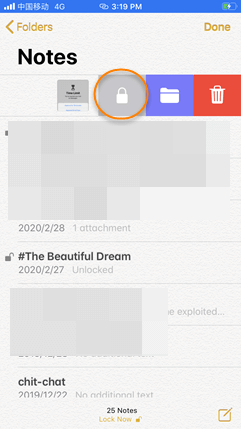 Tip: If you want to recover some important iMessages/SMS messages accidentally deleted from the iPhone, you can always get back your messages with Jihosoft iPhone Data Recovery.
Part 4. Use Third-Party Apps to Hide Messages on iPhone
Another strategy to prevent others from accessing your messages is using a third-party app. We have prepared for you the 5 best apps in this section which can help you hide messages on the iPhone.
Shady Contacts is one of the most trusted messaging security apps right now. Not only does it hide your messages, but it also keeps your call log and records secure. When the iPhone is not used for a few minutes, the app automatically locks it. You will not be able to access it unless you draw the correct pattern. Shady Contacts has a user-friendly interface. However, its inefficiency in handling large data is a major limitation.
Hide SMS delivers what its name promises by setting up a PIN that you need to enter before you can access messages. While it is not compatible with a few Android devices, iPhone users can enjoy the efficiency that it brings. Hide SMS also has an unlimited storage space even if the app is free.
Vault may be a small app but with a number of features. It can easily hide messages on your iPhone as well as the calls and private contacts. Think of it as an actual vault that you can only open with a key. It is just that the key, in this case, is a password. Premium users will also be able to lock certain apps. One major downside is that it may slow down the device due to the level of encryption it offers.
Block SMS and Call not only hides important messages, but it also blocks calls and texts that are not important. Block SMS and Call has six major modes. One of these modes is Phone In Other Hand. If you disable this mode, only the calls that you have blacklisted on your iPhone will be concealed.
Private Message Box is a popular iPhone app for hiding text messages for many users. Apart from hiding messages, it also automatically hides the incoming and outgoing messages of the iPhone. It's easy to use to keep user's conversation secret. All your conversations with your contacts are fully secured and safe. It also provides an extra feature to send messages between app users without any charge. You just have to sign in with your number and then you are all done. You can send an unlimited number of texts, photos, media files, and location details to another user who is also using this app.
Conclusion
In this article, we learnt 4 ways to hide and lock iPhone messages on the lock screen and the app. By following the guide above, you can even set a time limit for accessing Message app by anyone. These methods will effectively limit the chance of the messages on your iPhone to be viewed by other parties. This will further protect your data against other third-party elements. Do you have other ideas on how to hide the messages on your iPhone device? Share what you think on this topic in the comments section.