4 Quick Ways to Transfer Videos from PC to iPhone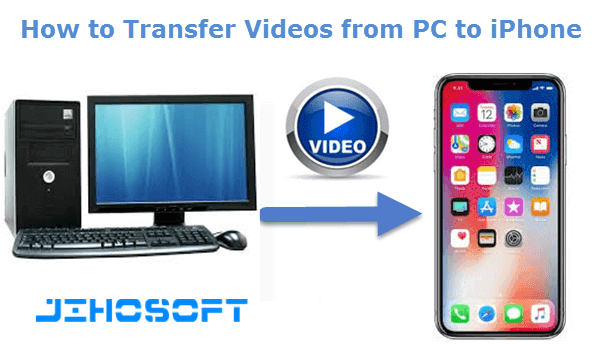 There are many times when we need to transfer videos from computer to the iPhone. For example, you downloaded YouTube videos on your computer and want to add them to iPhone so that you can enjoy them anytime, anywhere. Or, you imported a video from iPhone to computer for editing and then want to send it back to your iPhone.
To add videos from your computer to your iPhone, you can sync them using iTunes. But iTunes is not the only option and there are some alternatives to it. This article will detail how to transfer videos from PC to iPhone with or without iTunes.
Bonus Tip: If you have accidentally deleted or lost your photos or app videos, don't be panic. Jihosoft iPhone Data Recovery can always help you out. It can recover your photos and videos in Camera Roll, Photo Stream, App Photos, App Videos, and many more from your iPhone/iPad/iPod Touch.
Part 1. Transfer Videos from PC to iPhone with iTunes
The first way, also the official one as detailed by Apple, is through the use of iTunes. iTunes is Apple's desktop software that allows users to created iOS backups, restore backups, sync media data between the computer and iOS devices, etc.
Here is how to use iTunes to transfer videos from PC to iPhone:
Step 1: Open iTunes on your computer to begin the process.
Step 2: Go to File > Add File to Library. A file selector will open which will allow you to browse and select the video file you want to add to your iPhone. Once done, the video will be imported to your iTunes library.
Step 3: Connect your iPhone to the computer via a USB cable. Then, when the device icon appears in the iTunes interface, click it.
Step 5: From the left sidebar menu, choose "Films".
Step 6: Check the small box next to "Sync Films" and then select all the videos that you want to transfer to the iPhone.
Step 7: Click on the "Sync" button to start the transfer process. The videos you selected will be added to your iPhone. You can access the transferred videos in the Videos app on your iPhone.

Part 2. Transfer Videos from Computer to iPhone without iTunes
Get Videos from PC to iPhone using iCloud Drive
Every Apple ID comes with access to iCloud Drive. Even if you are not a paid user, you get 5 GB of cloud storage for free. You can use it to transfer video files to your iPhone from your PC. Just upload the data to the iCloud Drive on iCloud.com and access it in the iCloud Drive or Files app on your iPhone.
Step 1: On your PC, visit iCloud.com and log in with your Apple ID.
Step 2: Once you have logged in, click on iCloud Drive.
Step 3: Click the Upload icon, then select and upload the videos you want to transfer.

Step 3: On your iPhone, go to Settings > [your name] > iCloud and turn on iCloud Drive. If you're using iOS 10 or iOS 9, tap Settings > iCloud > iCloud Drive. Turn on iCloud Drive, and tap Show on Home Screen.

Step 4: On your iPhone home page, find the iCloud Drive or Files app and open it to download the same videos.
You can download the videos offline on your iPhone and then open them in Camera Roll. However, if the video size is large, it can be time and data consuming process. And you should ensure there is enough space in iCloud to finish this task successfully.
Import Videos from PC to iPhone with Dropbox
Besides iCloud, you can also use other cloud services like Dropbox or Google Drive to transfer videos from PC to iPhone wirelessly. The whole process is similar to using iCloud Drive, but you need to download and install a corresponding client on your iPhone. Here we take the Dropbox as an example.
Step 1: Access the Dropbox.com website on your computer and sign in with your account.
Step 2: Then click "Upload Files" to select and upload the video you need. If you have several videos to upload, you can click the "+" icon to create a folder.

Step 3: Download and install an Dropbox app on your iPhone. Then log in with the same account you use on the computer.
Step 4: Find the videos you just upload, tap the share icon and select "Save Videos" to download the videos to your iPhone.

Move Videos from PC to iPhone via an iOS App
Apart from the above two ways, you can also use ShareIt to transfer files from your PC to your iPhone without iTunes. It is one of the most Popular file sharing apps. It has an iOS app as well as a desktop client. Just follow the steps below to transfer the video file from PC to your iPhone.
Step 1: Download ShareIt to your computer, and open it.
Step 2: Click on the "Show QR Code" option, and there will be a QR code specific to your computer displayed in the ShareIt window.
Step 3: Open the ShareIt app on your iPhone. Click on the profile icon in the top left corner.
Step 4: Tap on Connect PC/MAC, then tap the "Scan to Connect" button. Point your iPhone camera at the QR code on the computer screen. After that, your iPhone will be connected to your computer.
Step 5: Find the video file you want to transfer on the computer, open it, and your iPhone will receive it automatically.

The best part about using this app is that it does not use any data to send the file. A local connection is made for the file transfer.
Part 3. How to Transfer Videos from iPhone to PC with One Click
Sometimes you may also need to transfer videos from iPhone to PC. iTunes is definitely the first choice for many people. But here we introduce Jihosoft iPhone Manager, an excellent tool that can get off videos from your iPhone to the computer. You can use it when you encounter an error when you try to sync your iPhone with iTunes. Here are some features of this software.
One click to transfer and backup from photos, videos, music, contacts and more data from iPhone, iPad, iPod touch to the computer.
Smartly backup iOS device without overwriting previous backup files.
Manage, access, view and export data from iTunes backups files.
Find and change the location of your backup on the computer.
Now download and install this program on your PC and start using it to transfer videos from iPhone to the computer with one click.
Step 1: Launch Jihosoft iPhone Manager on your PC and connect your iPhone to the computer via a USB cable.
Step 2: Once your device is detected, click the "Back Up Now" button to begin the transfer.
Step 3: When the process is completed, click on the video icon to view the videos you've transferred. Select the videos you need and click "To PC" to export them.

Bottom Line:
From the article, you have learned how to transfer videos from your PC to the iPhone with or without iTunes. Using iTunes is an easy way. But when you run into errors when syncing iPhone, you can use iCloud Drive, other cloud services or an iOS app for file transfer to put videos on iPhone. Please pick out the one that's best for you, or better, master all the methods in the text. We hope this guide will be useful to you. If you have any queries or suggestions, let us know in the comments.