3 Ways to Transfer Videos to iPhone from Computer with/without iTunes
Do you have some old videos on your Mac or PC that you want to have on your iPhone? Or maybe you have movies or TV shows that you want to add from your computer to iPhone and watch them anywhere. If they are in a video file format, we have you covered. Here is how to add videos on iPhone with or without iTunes and you will never worry again about transferring whenever you want.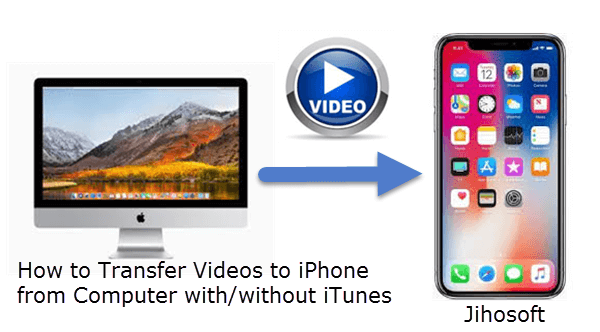 Bonus Tip: If you have accidentally deleted or lost your photos or app videos, don't be panic. Jihosoft iPhone Data Recovery can always help you out. It can recover your photos and videos in Camera Roll, Photo Stream, App Photos, App Videos, and many more from your iPhone/iPad/iPod Touch.
How to Transfer Videos from PC/Mac to iPhone with iTunes
The first way, also the official one as detailed by Apple, is through the use of iTunes. iTunes is Apple's desktop software that allows users to created iPhone backups, restore backups, sync music, etc. It also allows users to sync movies and videos to the iPhone. Before proceeding, you had better back up your iPhone in case there is anything that goes wrong, and you may lose any of your essential data.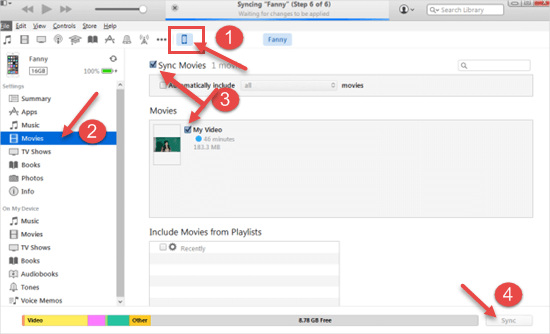 Here are the steps to add movies/videos to iPhone on your PC/Mac using iTunes:
Step 1: Ensure that iTunes is installed on your computer. If it's not, install it. Once installed, open the iTunes app on your computer to begin the process.
Step 2: Click on the "Music" button present on the upper left corner, in the main panel of the iTunes application, and then click on "Movies".
Step 3: Go to File > Add File to Library. A file selector will open which will allow you to browse and select the video file you want to add to your iPhone. Once done, the video will be imported to your iTunes library.
Step 4: Now, you need to connect your iPhone to your computer using a data cable. When connected, the iPhone will appear as an icon in the upper left corner on the main iTunes page. Click on it.
Step 5: From the left sidebar menu, choose Movies.
Step 6: Check the small box next to "Sync Movies" and then check mark all the movies that you want to transfer to the iPhone.
Step 7: Once the selection has been made, click on the "Sync" button to start the transfer process. The videos you selected will be added to your iPhone.
Though this method is a straightforward method and official detailed by Apple, it is time-consuming. Also, iTunes does not support all file formats. So unsupported files may not be synced. Moreover, these files will be available in the videos app of the iPhone.
How to Transfer Videos from Computer to iPhone without iTunes
How to Put Videos on iPhone Using iCloud Drive
Every Apple ID comes with access to iCloud Drive. Even if you are not a paid user, you get 5 GB of cloud storage free. You can use it to transfer video files to your iPhone from your PC. Just upload the data to the iCloud Drive and access it on the iCloud Drive app on your iPhone.
To do this, follow the steps below.
Step 1: On your PC, type iCloud.com on the browsers URL bar. You will be taken to the iCloud homepage, then log in with your Apple ID.
Step 2: Once you have logged in, a new window will open up. Go to iCloud Drive and then click the Upload button. A file selector will open. Now, browse and select the file you want to upload.

Step 3: On your iPhone, open the settings app and then go to " iCloud > iCloud Drive" and make sure it turned on.

Step 4: On your iPhone home page, find the iCloud Drive app and open it to download the same videos.
You can download the videos offline on your iPhone and also open them in any media player of your choice as well. The problem with this process is that the file is first uploaded to the cloud and then downloaded to the iPhone. If the file size is large, it can be time and data consuming process.
Alternative: Using ShareIt – An iOS App for File Transfer
Apart from the above two ways, you can also use ShareIt to transfer files from your PC to your iPhone easily. It is one of the most Popular file sharing apps. It has an iOS app as well as a desktop client as well. Just follow the steps below to transfer the video file from PC to your iPhone.
Download ShareIt to your computer, and open it.
Click on the "Show QR Code" option, and there will be a QR code specific to your computer displayed in the ShareIt window.
Open the ShareIt app on your iPhone. Click on the icon on the top left corner.
Tap on Connect PC/MAC, then the "Scan to Connect" button. Point your iPhone camera at the QR code on the computer screen. After that, your iPhone will be connected to your computer.
Find the video file you want to transfer on the computer, open it, and your iPhone will receive it automatically.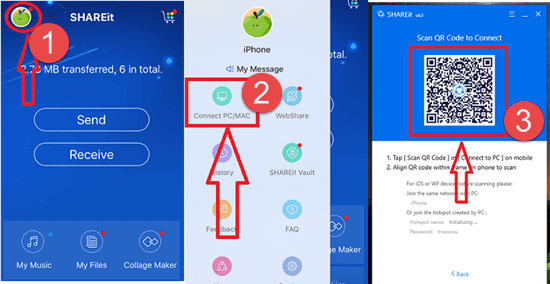 The best part about using this app is that it does not use any data to send the file. A local connection is made for the file transfer.
Bottom Line:
From the article, you have learned how to transfer files from your computer to the iPhone with or without iTunes. Using iTunes is an easy way, but it may cause data loss. Besides, you can use iCloud Drive, or an iOS app named ShareIt to put videos on iPhone. Please pick out the one that's best for you, or better, master all the methods in the text. We hope this guide will be useful to you. If you have any queries or suggestions, let us know in the comments.
Related Articles