4 Methods to Lock Apps on iPhone with Password
"How can I lock certain apps on iPhone?" If you hold such a question in mind, then this article is for you.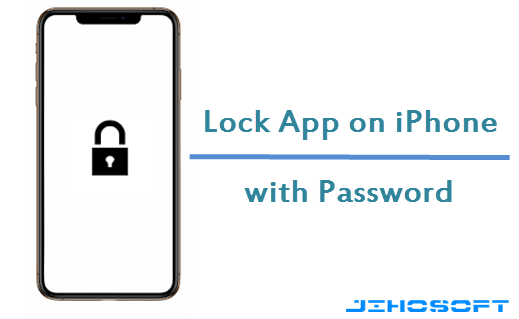 You may not mind lending your iPhone to someone else, but you certainly don't want that person to see your private information or change your settings in some apps. However, Apple doesn't provide a feature to set the password lock for a single iPhone app. Don't be disappointed. Here you will discover 4 workarounds that can lock apps on your iPhone and make them inaccessible without passcode.
Method 1: Hide Apps from the Home Screen
Both this method and the second method require the use of the "Screen Time" feature which was introduced in iOS 12. It lets you not only track how your device is used but also set limits for your apps. Let's first take a look at how to lock an app through "Screen Time" so that it doesn't show up on the Home screen.
Step 1: Go to Settings > Screen Time. If you haven't enabled Screen Time, tap "Turn On Screen Time" and follow the onscreen instructions to activate it.
Step 2: Then tap on "Content & Privacy Restrictions". Turn on the toggle of "Content & Privacy Restrictions" if it is turned off. You may need to enter your screen time passcode if you have set one.
Step 3: Select "Allowed Apps" and enter your screen time passcode if asked.
Step 4: Switch off the toggle of the apps you don't want to use.

Step 5: Go back to the Home screen and you will find these apps are not accessible there.
Step 6: If you want to access these apps, you need to return to the "Content & Privacy Restriction" and enter your screen time passcode.
Method 2: Set Time Limit to Password Lock Apps
When you set a time limit for an app using "Screen Time", you will be locked out of that app once the time is up. As a result, it has the same effect as locking an app on iPhone with a password. We also mentioned this method in a previous article on how to hide messages on iPhone, you can take a look at that article if you are interested.
Navigate to Settings > Screen Time. Turn on Screen Time, and then tap "Use Screen Time Passcode" to set a passcode to protect your Screen Time settings and allow more time when limits end. If you set it up before, you can skip this step.
Choose "App Limits" from the Screen Time page, then tap "Add Limit" and enter your screen time passcode.
You will see different app categories like Social Networking, Games, Productivity, or the other. Choose the apps you want to lock accordingly and click "Next".
Set the accessing time limit for the app you don't want to use as "1 min, Every Day", if you need to lock it right now. Then click "Add". Now you will receive a Time Check notification saying "5 minutes remaining for [app name] today".

Turn to that app and stay there for 5 minutes until you receive an alert that you've reached your time limit on the app. Your app won't be blocked immediately, because you still have one minute to access the app without the password.
Select "Ask For More Time" > One more minute. Wait for another minute and you will receive the time limit again. This time, you are required to enter your screen time passcode to access the app.
Method 3: Lock Down a Single App on iPhone
If you want to restrict the access to only one app, you can use "Guided Access" and control which features are available within that app. It is useful when
Step 1: Go to Settings > Accessibility > Guided Access, then turn on the toggle switch for Guided Access.
Step 2: Tap "Passcode Settings" and select "Set Guided Access Passcode". Enter your passcode and reenter it. You may also turn on the Touch ID or Face ID and use them to end Guided Access.
Step 3: Open the app that you want to lock. On iPhone 8 or earlier, triple-click the Home button; on iPhone X or later, triple-click the Side button. This will activate the Guided Access start screen.
Step 4: Use your finger to circle the parts of your screen that you want to disable, then tap "Start".
Step 5: To disable some features like sleep/wake button and keyboard, or set a time limit for the Guided Access, tap "Options" in the lower-left corner to access these options. If you don't see "Options", triple-click the Home or Side button and enter your passcode.

Step 6: If you want to end a Guided Access session, triple-click the Home or Side button, enter your passcode and then tap "End".
Method 4: Use Third-Party App Lock for iPhone
If you are not satisfied with the previous methods, you can consider using a third-party app instead, like App Locker or BioProtect. Not only can such tools lock apps on your iPhone, but they can lock certain settings, files, folders, and more.
Most of these third-party apps are downloaded from Cydia's repository, which means you have to make jailbreaking of your iPhone if you want to use them. iOS jailbreaking bypasses the built-in security features of iOS and can cause issues of the security, privacy, and stability of your device. Moreover, iOS jailbreaking is a violation of the iOS-end user software license, so you won't get service from Apple for your jailbroken iPhone, iPad, or iPod touch.
If you decide to perform a jailbreak, please backup your iPhone in case of any data loss. Besides iTunes and iCloud, you can also use an iPhone Manager software that allows you to create an iPhone backup, archive old iTunes backups, and extracts data from backup files.
Conclusion
You can lock apps on your iPhone by following solutions in this article. The previous three methods don't passcode lock your apps directly, but they can have the same effect. Using a third-party tool does allow you to lock apps on your iPhone with the password, but it requires iOS jailbreaking. You can choose the option that suits you best.