How to Delete iPhone Backup on Windows PC or Mac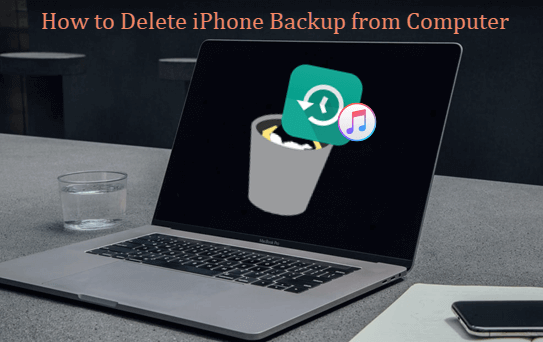 Backing up iPhone is significant to prevent data loss. By default, iTunes or Finder keeps only one local backup per iOS device. But If you have backed up more than one device or archived your iOS backups, there can be multiple backups on your computer that take up a lot of room.
Although you are not allowed to view and edit the iTunes backup, you can locate and remove old iPhone backups from computer to save space. Read this article to learn how to delete iTunes backup on Windows PC or Mac respectively. You can also find how to delete iCloud backup from your computer, and a useful tool to manage iTunes backups on your computer.
Part 1. How to Delete iTunes Backup on Windows and Mac Directly
Whether you are a user of Windows PC or Mac, you can delete old backups from iTunes directly. But if you are using a Mac with macOS Catalina 10.15, please skip to the Part 2.
Here are simple steps to delete old backups on iTunes directly:
Step 1: Launch iTunes on your computer.
Step 2: If you are a Mac user, click iTunes > Preferences. If you are a PC user, click Edit > Preferences.
Step 3: Click the Devices tab.
Step 4: Select the backup you want to delete from the list of backups displayed to you. You can check the date and time of the backup to figure out which backup is the one you want.
Step 5: Click the Delete Backup button.
Step 6: Click Delete to confirm.

Part 2. How to Remove iOS Backups from Finder (On Mac)
In macOS Catalina 10.15, the device management capabilities of iTunes have been taken over by Finder. At this time you should remove your iPhone backup from Finder instead of iTunes. Here is how to do it:
Open Finder on your Mac.
Connect your iPhone to the Mac using a USB cable.
Click your device.
Click the Manage Backups button under the General tab, and you will see a list of your backups.
Right-click on the backup that you want to delete from the list, then select Delete.
Click Delete Backup to confirm.

Part 3. How to Delete iPhone Backup from the Folder on Computer
Alternatively, you can find the location of iPhone backups on your computer first, and then delete them from the Backup folder. Windows and macOS store the iTunes backup in different routes, so here we introduce how to locate and delete iTunes backup on PC and Mac separately.
Delete iTunes Backup on Windows 10, 8, 7
Step 1: Find the Search bar on PC. In Windows 7, click Start; In Windows 8, click the magnifier in the upper-right corner; In Windows 10, click the Search bar near the Start button.
Step 2: Enter %appdata% in the Search bar. If you downloaded iTunes from the Microsoft Store, enter %USERPROFILE%. Then hit the Enter key.
Step 3: Double-click these folders: Apple or Apple Computer > MobileSync > Backup.
Step 4: Select the backup folder you want to remove, press the Delete key on the keyboard, and then click Yes to confirm.

Remove iOS backups from Mac
Step 1: Click the magnifier icon from the menu bar.
Step 2: Enter or copy and paste this into the search bar: ~/Library/Application Support/MobileSync/Backup/
Step 3: Hit the Return key.
Step 4: Click on the Backup folder, and you will see all the folders for your backups whose names are not readable. You can figure old backups by their date and time.
Step 5: Select the backup folder you want to delete, right-click it, and then choose "Move to Trash".

Part 4. How to Delete iCloud Backup from Computer
When you delete iTunes backups, you can also remove some old iCloud backups from your computer by following the instructions below.
On Windows PC
Download and install iCloud for Windows, and then sign in with your Apple ID.
Click on Storage on the bottom right.
Select Backups from the left pane.
Select the backup you would like to remove and click the Delete button on the bottom left.
Click Delete again to confirm.
On Mac
Click on the Apple logo > System Preferences > Apple ID > Manage.
Select Backups from the left sidebar.
Select the backup you want to delete and click the remove icon (tiny minus icon) on the bottom left.
Click Delete from the pop-up to confirm.
Bonus: A Useful Tool to Manage iTunes Backup on Computer
Due to the data encryption restrictions, you can't access, view or export data from an iTunes backup unless you restore it to your iOS device. However, it is impractical to access the data in a backup by restoring it every time. In this case, you can use the Jihosoft iPhone Manager program to help yourself out.
With this iPhone Data manager, you can quickly find the iTunes backup location and freely access, view and extract all files in your iTunes backup, including the File System. Moreover, it enables you to backup and transfer the iOS data to computer or external drive in one click. Here we take how to use Jihosoft iPhone Manager to quickly locate the iTunes backup and extract data from backup file as an example.
Download, install and open Jihosoft iPhone Manager on your computer.
Choose the backup file you want from the list of your iPhone backups loaded in the left pane.
Click on the Backup Location option. Then you can open the folder of the iTunes backup you chose.

To view and extract specific data from the iPhone backup, go back to the iManager window and simply click on the related data icon.