How to Transfer Apps and Data from Android to Android
When upgrading to a brand-new Android phone, you will not only need to move contacts, messages, photos, music, etc, but also to download all of your favorite apps onto the new device. You can always look at your old Android phone then search the Google Play Store to download and reinstall apps individually. But it can be quite inconvenient and take a lot of time. Actually, downloading Android apps onto a new device doesn't need to be so difficult. Here we'll introduce several ways to transfer apps from Android to Android.
Titanium Backup
If you have root access on both your old and new Android phones, you can take advantage of an app like Titanium Backup. It can back up your old Android phone apps and restore to the new one.
1. Open Titanium Backup on your old Android phone, tap the menu button and select "Batch".
2. Choose "Backup all user apps + system data" then the apps you want to move and tap "Run the batch operation". The selected apps will be backed up to your phone's root directly or SD card in a Titanium Backup folder.
3. Transfer the backup folder to your new Android phone, and make sure it goes into the Titanium Backup folder.
4. Now open Titanium Backup on your new Android phone, tap the menu button and select "Batch". Then choose "Restore all missing apps + system data" to restore the apps that aren't on the device.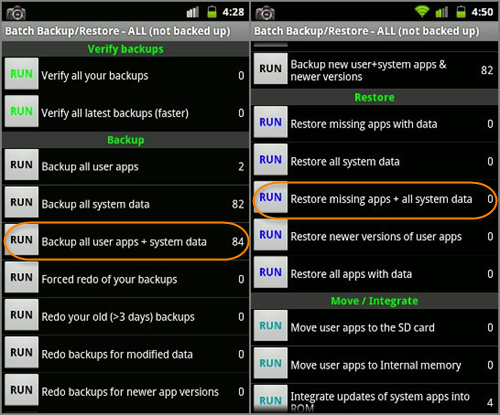 Google's Copy Data Feature
For those who are not rooted and running Android 5.0 Lollipop, Google has developed a solution to transfer apps between Android devices. It requires that you have your two devices registered with the same Google account, and your old phone has been backing up and syncing app data to Google's cloud.
Option 1: Tap & Go
This option lets you connect Android devices through NFC, and then copy apps and data over Bluetooth. Just make sure both your old and new Android phones have NFC enabled.
1. Select "Taps & Go" while setting up your new Android phone. Then tap your two Android devices together.
2. Authorize the Bluetooth data transfer from the old Android phone and log into your Google account on the new device.
3. Once you do, the transfer begins, and your apps start downloading on the new Android phone.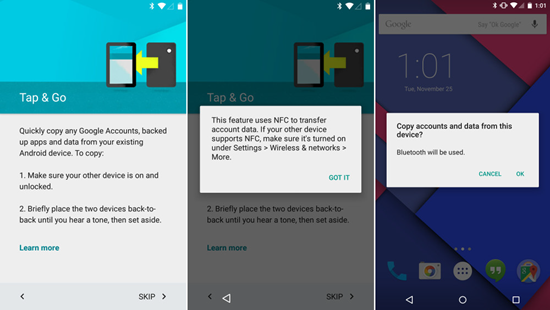 Option 2: Get Your Apps & Data
If your old Android phone doesn't have NFC, don't worry, Google has improved the standard copy data feature and gives you the choice to restore apps and data directly to your new Android phone.
1. While setting your new Android device, skip the "Tap & Go" feature and set up your Google account. You'll be prompted to restore your new phone with a backup from old one.
2. Select the old Android device you want to restore from and choose which apps from that device to install.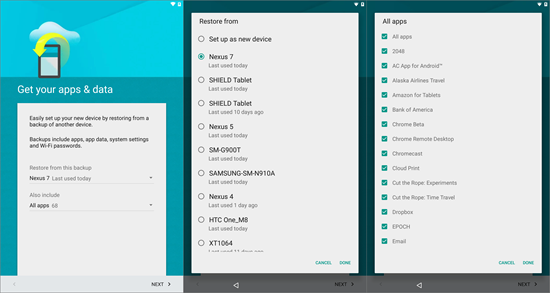 Android App Transfer Tool
While the methods above will transfer your apps and data, they won't move any of your stored photos, videos or files. As a workaround, we recommend you use Android App Transfer. It enables you to transfer Android apps to new phone and supports more than 2000 devices from Samsung, HTC, LG, Sony, Moto, Google, Huawei, etc. In addition to apps, other data like contacts, messages, call history, calendar, photos, videos, and music can be transferred between Android devices in one click. Click here to learn how to use it.