How to Transfer Contacts from HTC One to iPhone 6S/6S Plus
"I recently switch from an Android HTC phone to the new iPhone 6S. Anyone know how can I transfer my current phone's contacts to iPhone? Please advice."
If you're an Android HTC One user and now making the switch to iPhone 6S/6S Plus, you may be concerned about the transfer process, especially the contacts. The good news is that transferring contacts from HTC One to iPhone really couldn't be more simple. Google is good at this stuff, which can back up HTC contacts to the cloud and then sync to iPhone. Let's get into it:
1. Back Up HTC Contacts with Google. Go to Settings on your HTC One M7/M8/M9 and choose "Accounts & sync". Enter your Gmail account details and enable synchronization. Your HTC phone contacts and Google Contacts should now synchronize.
2. Sync Google Contacts to New iPhone. On you new iPhone 6S/6S Plus, go to "Settings" > "Mail, Contacts, Calendar" and add the same Gmail account. Make sure Contacts are enabled for the account. You should now find that all of your HTC contacts are in your iPhone.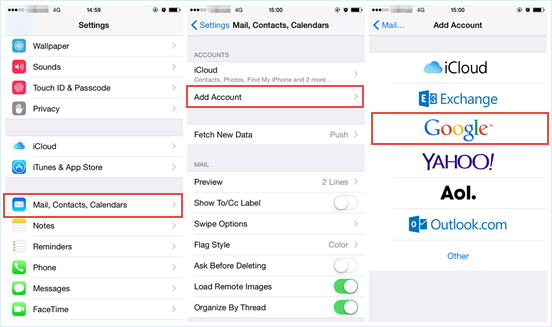 Granted, Android users are likely to use Google to store personal information such as contacts. But what about those who don't use Google, or those who want to directly copy contacts from an HTC phone to their new iPhone 6S or 6S Plus? Well, you'd better opt for Jihosoft Phone Data Transfer. You'll only need a few minutes and a computer with iTunes installed to move contacts from HTC One to new iPhone 6S.
1. Download & Install HTC to iPhone Transfer Tool
To begin with, download the HTC to iPhone Transfer tool from Jihosoft's official web site. Then follow the on-screen instructions to install it on your computer.
2. Connect HTC One and iPhone to PC via USB Cables
Once the software is running, connect both your old HTC phone and new iPhone 6S to the PC via USB cables. Make sure the HTC One displayed as "Source" and iPhone as "Destination".
Note: If you pick up new HTC One A9/M10 and want to transfer contacts from iPhone to HTC, this Phone Transfer software can also help. What you need is to set iPhone as "Source" and HTC as "Destination" by clicking the "Flip" button.
3. Transfer HTC Contacts to iPhone 6S in One Click
Now choose "Contacts" from the listed file types and click the "Start Copy" button to begin copying contacts from HTC to iPhone. When the process complete, click "OK" to exit.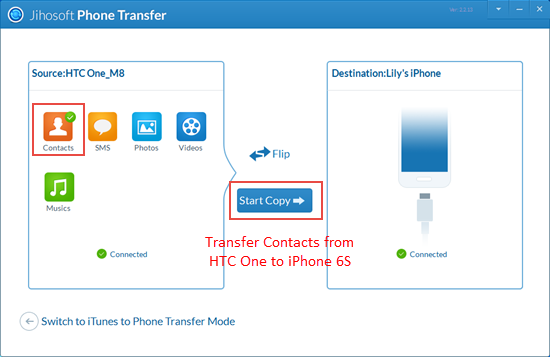 As you can see, the Mobile Transfer software also allows you to transfer messages, calendar, photos, videos, and music from HTC One to iPhone 6S/6S Plus. And it works well with all popular Android devices, for example, you can use it to transfer contacts from Samsung Galaxy to iPhone.