How to Convert Image To Black And White With Or Without Photoshop
Colored images are truly impressive but black and white images also have a class of their own. We have seen that many of our friends and relatives use black and white images for their social media profiles and posts. The reason for it is that black and white images look stylish, classy, and vintage.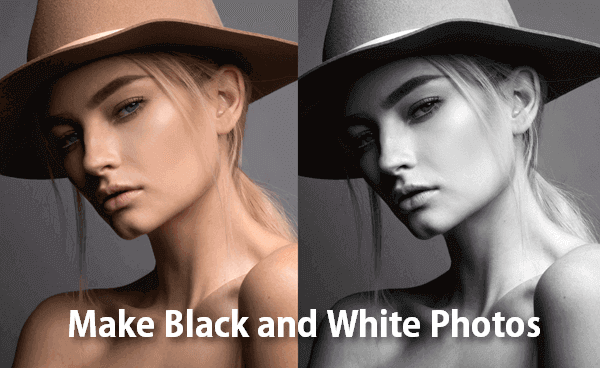 However, if you use a simple image editor to convert image to black and white, it may degrade its overall quality and impact on the onlookers. Therefore, you must always use professional image editors to make black and white photos.
Today, we are going to suggest some of the best black and white photo editors that allow you to turn photos into black and white while maintaining their sharpness and quality.
PART 1. How to Make Black and White Photos in Photoshop
Adobe Photoshop offers a wide range of editing features that can prove to be an ideal option for both professional and amateur image editors. For example, you can use it to retouch skin in photo, increase image resolution and more. To make black and white photo in Photoshop, please follow through these easy steps one by one:
Step 1. Upload the image in the working window of Photoshop. After that, go to Image > Adjustments > pick the "Black and White" effect.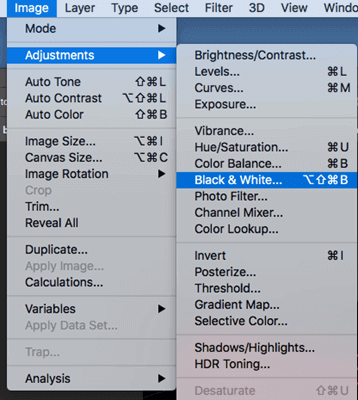 Step 2. Then it will apply a default grayscale conversion to your image. You can also use the sliders to lighten or darken the image. Also, your mouse acts like an eyedropper tool so that you can intensify or lighten a particular part of the image.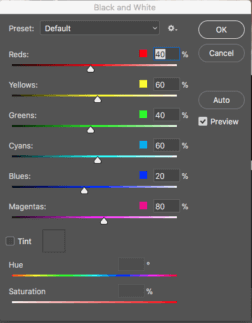 Step 3. Photoshop also provides some preset conversions that can be used as a reference point to start editing the image. Moreover, it also provides an option called "Auto" that can be used to convert a colored image to a grayscale image automatically with excellent result.
Step 4. A real-time preview is available for you to check the final output before exporting the file. Once you are satisfied with the applied changes and effects, you can export a copy of the image to your computer.
PART 2. How to Turn Photo into Black and White Without Photoshop
IMG Online is an online image editor that provides a simple process to turn your colored images into black and white pictures. The quality of the image is maintained even after the image get converted into pure black and white photo. Even the size of the converted file increases slightly depending on the quality of the image you have entered in the settings.
One of the drawbacks of this tool is that limited output formats can be chosen for the edited images. For example, you can't export the converted images into PNG. Another drawback is that you are not able to see the preview of the image before downloading it.
As it is a black and white photo editor free and therefore, you do not have to pay anything to use it. To do that, you will have to follow these steps:
Step 1: Visit the website we given above. After that, you will have to upload the colored image from your desktop to the site. As this tool couldn't help you erase unwanted objects in the photo, we suggest you use this Photo Eraser software to remove unwanted stuff like watermark, text, and even facial blemishes from the photo before uploading it to this online tool.
Step 2: Once the image is uploaded, you can change some of the settings before converting image to black and white. For example, you can choose the quality from 1 to 100 (1 refers to the lowest quality and 100 refers to the highest quality). Apart from that, you can also save the EXIF and metadata from the site and you can also choose from standard and progressive JPEG formats for your images.
Step 3: After customizing the settings as per your requirement, you can press on the "OK" button. Then the image gets processed and you get the option of opening or downloading it as per your preference.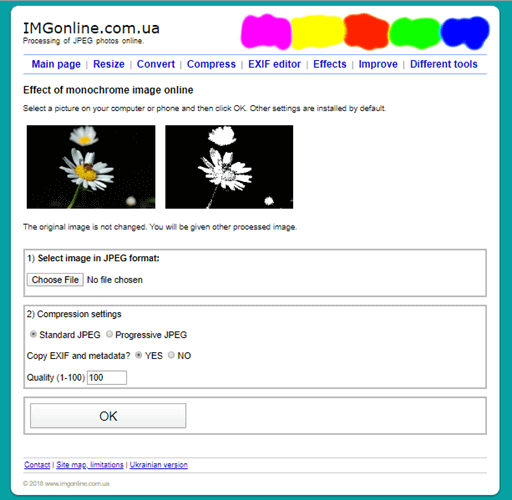 Minipaint is an online tool that allows you to transform colored images into monochrome photos. Apart from that, it offers many other tools and features that can be used to modify the final results.
It looks familiar to the MS Paint application of Microsoft but it has more complex features and options which might seem to be a bit hard for new users who might find it a bit confusing at the start. So please follow the below steps to use this editor:
Step 1: Firstly, visit the website through the link above.
Step 2: Now, at the top left corner of the screen you will see a menu called "File". click on it and then select the "Open File" option from the drop-down menu. You are also able to upload an image from Webcam, by entering the image URL or through some other sources. You can crop, add font, clone, set borders, and apply many other changes to the uploaded image.

Step 3: Now, you can go and click the "Effects" menu and then choose "Black and White…" to convert the uploaded picture into a black and white image.

Step 4: After that, a pop-up window will appear that enables you to modify the threshold level of the edited image. A preview window is provided to view the applied changes in real-time.

Step 5. Click on the 'OK' button once everything seems to be alright. And finally, save the image in the desired folder of your device.
Conclusion
These are some easy ways of converting an image to a black and white photo. If you know about some other useful black and white photo editors that can make this task easier, please let us know through the comments section.