5 Best Facebook Cover Photo Maker Free Online
Facebook, one of the most famous social media handles, is famous world-wide and is used by people from across the world. The best thing of this platform is that it is in fact, one of the best platforms to share your wonderful stories, from travel to wedding.
However, having a Facebook account is not just sufficient, the pictures that you put on your Facebook account matters, especially your cover photo. Your cover photo is the first picture that people who visit your profile encounter. Of course, you would definitely want to put an eye-catching Facebook cover photo that will entice people to read your profile further.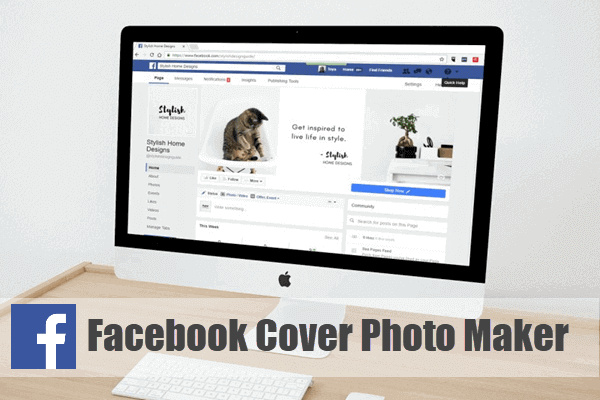 Believe it or not, having an enticing picture as your cover photo can help you leave a great impact on visitors. Seeing your beautiful pictures people will be lured to read your profile further. And if you put some pictures randomly, then definitely you may end up losing followers. If you also want to have a great cover photo, then try to use a Facebook cover photo maker.
Here are the best 5 tools to design and create Facebook cover photo that everybody would want to see. Here we go.
It is an amazing Facebook banner maker tool which makes creating a Facebook cover photo really a cakewalk. Canva provides over 60,000 layouts, hundreds of fonts and photo effects for you to choose from. It also has lots of stock photos, illustrations, graphics and etc that you can add to your design.
With so many resources available in this tool, all you have to do is go online, and follow the steps below:
Step 1. Log in to Canva and select the "Facebook Cover" design type (there are myriads of designs to choose from).
Step 2. Now, upload your photo or select the one from stock images.
Step 3. Edit your images as you want. You can add filters and add text to your photo.
Step 4. Save your picture and you are ready to share.

Fotor is another wonderful online cover photo creator to make Facebook cover picture. With it you can create an eye-catching cover photo of your Facebook. Moreover, using Fotor is really very easy, just a few taps and you are all set to flaunt your picture. Here is how to use Fotor:
Step 1. Open Fotor and choose the Facebook Cover template
Step 2. Now, drag and drop your photos in or you can design your own banner.
Step 3. Edit your pictures however you want to.
Step 4. Finally, preview your banner. If everything is fine, then save your cover photo and share it now!

Desygner is one of the best Facebook cover photo creator with which you can create facebook cover photos easily. It is an easy online tool to create FB cover pictures as well as any other kinds of photos. Here is how to use Desygner:
Step 1. Log in to Desygner and then select the design from the myriads of templates available.
Step 2. Now, upload your photos and edit your images as per your requirement. For example, you can add stunning filters and texts.
Step 3. Preview your Facebook banner and save your picture. That's all. Now your image is ready for share.

Fotojet is also a great Facebook photo maker tool to create facebook cover photos of your choice. This is one of the easiest cover photo maker tools that provides a wide range of templates with different styles. You can customize your picture as per your needs by using its professional editing tools. Just in three steps you would be able to create a great facebook cover photo, here are the steps:
Step 1. Log in to Fotojet, choose a template from amongst the ones available there.
Step 2. Add your photos and customize the cover photo according to your needs.
Step 3. Preview your picture, save it and share it on Facebook.

Another wonderful Facebook banner maker is Crello. It is an online tool to create beautiful cover pictures for your Facebook page. Whether you are looking for a promotional banner for your Facebook business page or for a regular Facebook account, Crello is one of the best online Facebook cover photo makers. Here is how to use this tool:
Step 1. Open Crello and click on Social Media Tab
Step 2. Select the format that you like the most.
Step 3. Choose the template from amongst the available ones.
Step 4. Customize your cover photo as per your need.
Step 5. Preview your image, save and share your image on Facebook

After making Facebook cover photo with the above online tools, there is only thing left to do and you have to update and change your Facebook cover photo. In our last article, we have shown you how to do that in detail. Here we are going to talk about it briefly.
Step 1. Once your new cover picture is ready, save it in your computer drive or smartphone. If there is any unwanted object in the picture, you can use an Unwanted Object Remover Tool to erase it from your photo before you make it your Facebook cover photo.
Step 2. Open your Facebook page and click on your name in the top left corner.
Step 3. Click on the Update Cover Photo in the top left of your current cover photo.
Step 4. To upload a photo you will need to pick your photo from the folder where you have just saved your collage. After that, reposition it if needed.
Step 5. Click Save Changes.
Conclusion
These are the Facebook cover photo maker tools that you can use online and create beautiful Facebook cover photos! Just have fun with them!