Photo Frames: How to Add Frame to Your Photos
Similar to adding text to images, adding frames to your photos is also fun. It makes your photos more appealing and eye catching. Sometimes the look of the whole picture gets transformed because of a frame. There is an endless variety of frames available both online and offline. From downright funky to subtly elegant, you will be spoiled for choices. Now how do you add add photo frame to your photos?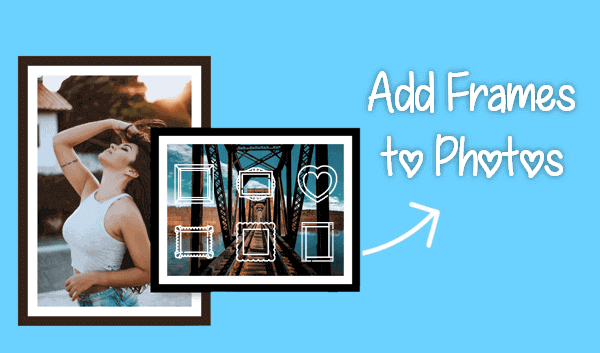 In today's digital world there are a number of ways you can do that. You have specialized programs and software made for this purpose. You can choose from them or you can also make use of some online sites and tools to stylize your photos. Let's take a look at some of the options to put photo frames.
PART 1. Add Frame to Photo Online
There are plenty of free online sites that can let you add borders and frames to your photos. You can use a lot of their features for free and if you want you can get additional services by becoming a paid member. Let us explore some of such online resources.
#1 Canva
The first on our list is Canva. It is an extremely powerful multimedia graphic design site, which can be used for a variety of purposes. Styling your photos is just one of their many services. To make use of this tool, you will need to sign in with a free account. It works on freemium business model, meaning thereby you can use most of its features for free but for some you will have to pay them. To access frames, you will have to work on a new design then click on elements and from there to frames. There is a huge variety of frames to choose from, like polaroid frames, colorful frames, frames for collages etc.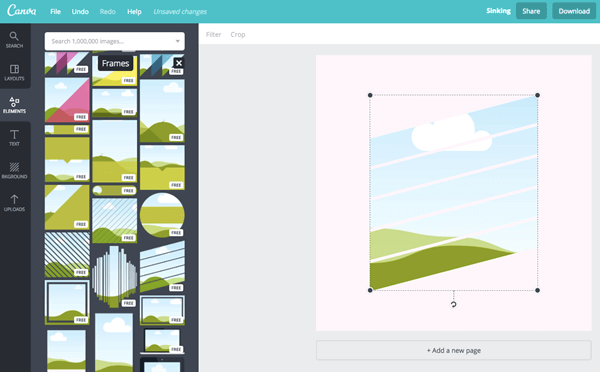 #2 Fotor
Fotor is another online resource to add frames to your photos and do a whole lot of other stuff. Like Canva it also works on a freemium model and requires you to sign in with a free account. There too you will find a vast variety of frame designs. You can choose from stamp border, lace border, funky border, polaroid, shadow etc.
Using it is simple. First open Fotor, upload your photo and click "Frame". Select from a variety of frames, you can try as many as you like before finalizing any one frame. After you have made the selection you can save your image in the format and the size you wish. It is as simple as that.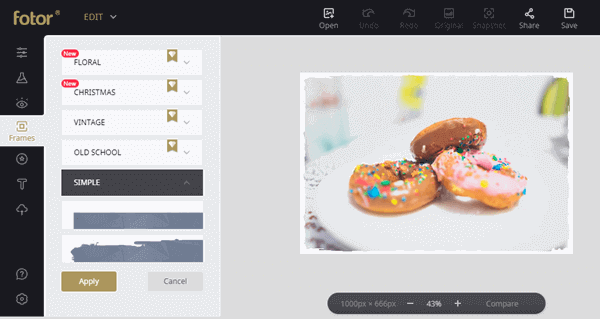 #3 BeFunky
BeFunky's photo editor also lets you add frames to your images. Its selection of free frames includes Art Deco, Rustic, Decorative, Vintage, Floral, Lace etc. For US$5 per month you can gain access to a whole lot more frames. The option of "Frames" is available in the photo editor and you can use it after you have uploaded the image.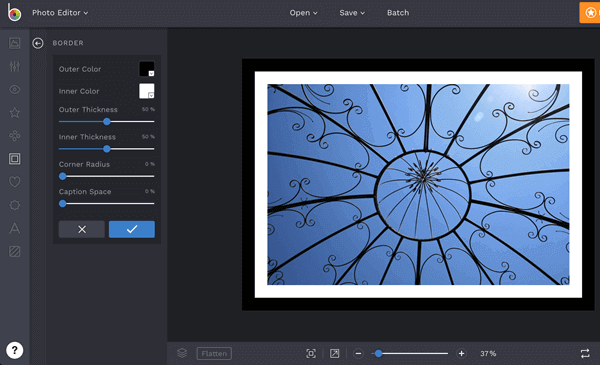 PART 2. Best Software for Photo Borders
We now take a look at a few popular software for adding frames to the photos on computer.
#1 Photoshop
Photoshop is a very well-known photo editing program. It offers a lot of options that you can use to enhance the appearance of your photos. For example, it can help remove anything you don't want from the photos. Due to its heavy-duty nature and a wide variety of options it is often used by professionals like cameramen, graphic designers and other artists. Here you can use a simple white frame for your photo or create an elaborate design pattern. Let your imagination run wild and creative juice flowing. Photoshop will not disappoint you.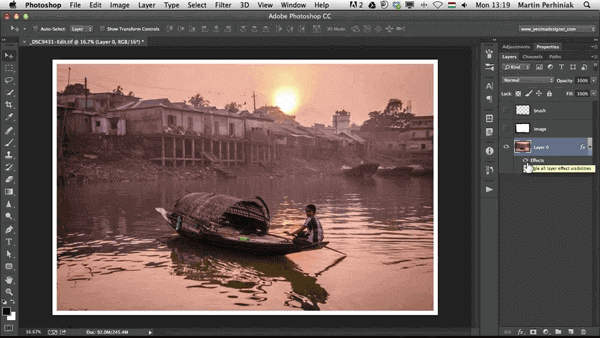 #2 Word
Word also gives its user the facility to add borders to the pictures. The design of its borders are not very stylish and the variety is rather limited as compared to Photoshop but it is a good option that will provide you with a decent photo frame.
To put a border around a picture in Word, you need to select that picture in word file, then click on the "Format" tab. After that, choose "Picture Border" and then you will see a drop-down menu. From that menu, you can customize the border by changing its color, weight, type and others.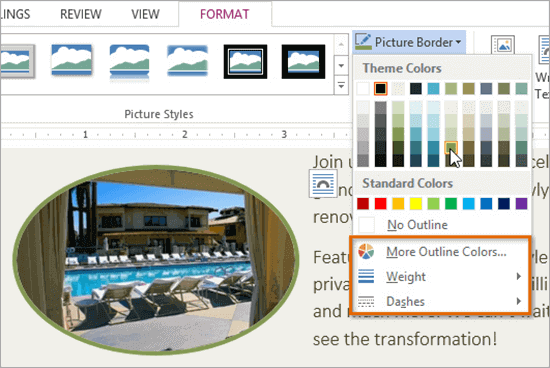 PART 3. Add Photo Frame to Picture on Mobile Phone
Let us now look at some of the popular mobile apps to put frame on picture.
#1 Photo Frame
Photo frame is a very famous photo editing app where you will find tons of free photo frames. There are frames for different themes, occasions and types. More than 500 frames are also available online. The photo frames are also updated to keep providing you with new options.
It is fairly easy to use, so it is no wonder that this app enjoys 4.2 stars rating on the Google Play Store and millions are using it. To add border to photo, you either select a picture from your gallery or take a fresh one and then select a frame. You can preview how it looks and then save it. Moreover, You can also create photo collage by using this app.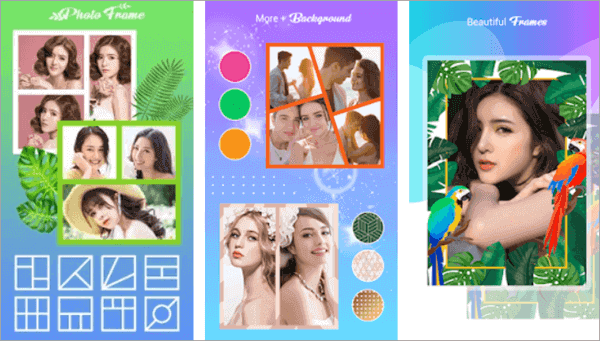 #2 PicsArt Photo Editor
PicsArt is another very popular photo editing app. You can embellish your photos with a lot of colorful and crazy effects here. Plus, it offers an array of frames in a wide range of designs and styles. PicsArt has also launched a paid app by the name of PicsArt Gold. For a nominal fee you get access to a lot more effects, frames and editing tools.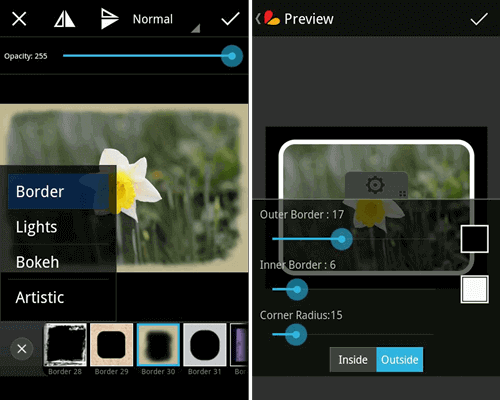 Conclusion
So, there you have it. Some of the popular web, mobile and desktop-based programs that give you the option to add frames to your pictures. Putting frames on pictures is an interesting way to spruce up your pictures. It will give your photos the added spark and spunk. Most of these programs are fairly easy to use and you do not need any formal training to make use of them.