Recolor Image Online: How to Change and Replace Photo Colors
Color is the key essence of any photo as it makes it look more vibrant and sassy. However, a couple of wrong colors can easily make a stunning picture look mediocre.
We often change the background color to make an image look more appealing. Sometimes, we do not like the color of our clothes or sometimes the sky looks too dull. And sometimes we really want to change the color of hair in portrait or change color of any object in photos.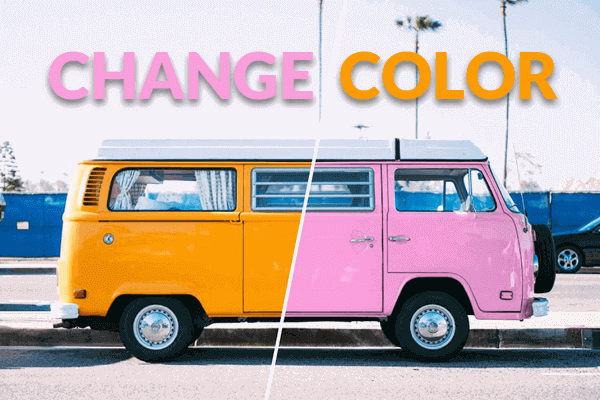 In product photography, we might need to change or replace the colors completely to blend with the other set of photos. Thankfully, many online editors help us in doing so without any issues. Today, we will see some of the top online photo color changer websites that help us to change color of image for free!
#1 Many Tools
Many Tools can be used to change the color of the entire image instead of replacing a particular color in image. It allows you to experiment with different hues before finalizing the image that you want to save.
It is an excellent tool to change the entire color of an image but it also has some drawbacks. For instance, it does not provide the color picking tool that enables you to modify the colors of certain objects of an image. Also, it does not work effectively on images of higher resolution.
Follow these steps to recolor image online:
#2 IMGonline
IMGonline is an online photo color editor that is capable of performing many photo editing tasks. It can also be used to redefine or change the color of certain parts of an image effectively. Though IMGonline does not provide a direct color selection tool for users to choose the color from the picture, there are many other options available for the same. You can pick a color that you want to replace from a menu or by writing down the color name in HEX format. For viewing the HEX codes you can open the color palette.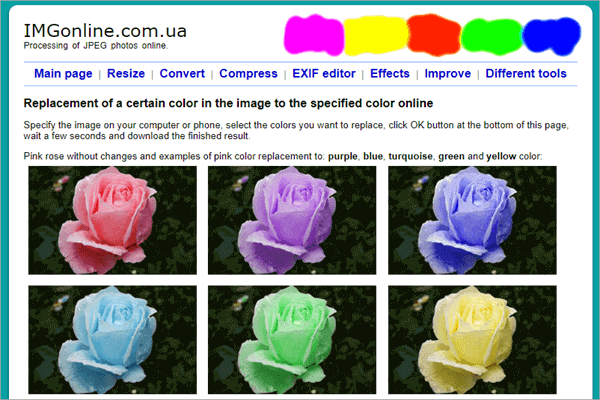 However, the biggest disadvantage of this tool is that it does not allow you to view the image while making the changes. Since it does not show previews while making changes, it is hard to predict the outcome of the replacement. Therefore, you will have to start the process all over again if something goes wrong. As a result, it requires some practice to master this online photo editing tool.
Follow these steps to make the desired changes:
#3 Lunapic
Lunapic is better than most of the online image editors similar to Lunapic because you can pick a color that you want to change in the image. It offers a toolbox in the image editing window that looks pretty similar to the toolbox that you can find in MS Paint. Moreover, it also allows you to apply certain effects, filters, art, and add borders to your image. All of these features make it an interesting and cool photo editor.
Follow these steps to replace particular color in image online:
#4 Phixr
Phixr can be used to change the color tone of the entire picture or you can also change the color of a particular part of an image. It is a nice editing tool but it requires a bit of patience and practice to master its tools and functions. And it does not provide a color picking tool. All you get is a square/rectangle shaped selection to select an area for color replacement.
You can follow these steps to learn how to use this photo color changer tool:
Conclusion
These are the best photo color changer tools that you can be used to replace a particular color in image. You can even use a mobile app to change color of object in photo but we will reveal those apps in our coming articles. Before going to use this photo color editor, it is suggested to remove the undesired things in your photo with Unwanted Object Remover tool so as to have a clear photo without distracting things. We hope that you find them useful as well!