How to recover Data from Floppy Disk with Not Formatted Error
What is floppy disk?
A floppy disk is a flexible plastic disk coated with magnetic material and covered by a protective jacket, used primarily by computers to store data magnetically. It is also called diskette. They are slower to access than hard disks and have less storage capacity, but they are much less expensive. And most importantly, unlike most hard disks, floppy disks are portable. You can remove them from a disk drive.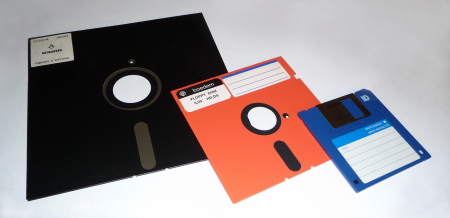 Currently, floppy disks are no longer commonly found on computers, but many people still use this portable storage device to save small size files. People who have used a floppy disk may usually have had the frustrating experience of losing important data at one time or another.
When I try to access a floppy disk, I get an error message: "The disk media is not recognized, it may not be formatted." I need the data on this floppy disk urgently. Can someone help me please?
Actually, when you access a floppy disk, it is quite possible to receive one of the following error messages:
–  A:\ is not accessible. The device is not ready.
– The disk in drive A is not formatted. Do you want to format it now?
– STOP: The disk media is not recognized, it may not be formatted.
What's the idea to recover data from floppy disk with not formatted error? Just take it easy. There are still ways to get data back. Floppy Disk Data Recovery introduced by Jihosoft Studio can recover deleted files from floppy disk. This software supports unreadable or inaccessible floppy disk and restores lost files with ease. Also, File Recovery for Mac is provided to help Mac users.
Easy Steps to Recover Data from Floppy Disk:
1. Insert the floppy disk you need recover data from into computer.
2. Download Floppy Disk Data Recovery and install it on your PC following the instructions provided.
3. Launch the software and select the floppy drive from the drive list.
4. Click "Scan" to find data on your floppy drive. After a while, the scanned files will be listed.
5. You can preview the recoverable files and select to recover data from floppy disk.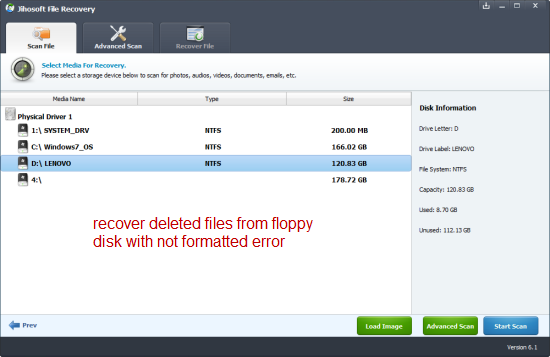 Tip: Do not attempt to format the floppy disk with not formatted error before you recovering lost data from it. The formatting action will make the data lost forever.