Help you fix USB driver not formatted error and recover data
USB Drive Not Formatted Error
You may have encountered one of these situations: when connect USB drive to computer, it says that:" You need to format the disk in drive R: before you can use it . Do you want to format it?" Or your computer just pops out an error and says can't recognize your driver.
A few reasons may cause those situations, for example, when the system is attacked by the virus or your driver is damaged by faulty operation, you might get USB drive not formatted error. Format the driver might fix the problem. But what about your files like your photos, videos, music and anything in your Driver. Format it will certainly empty your driver!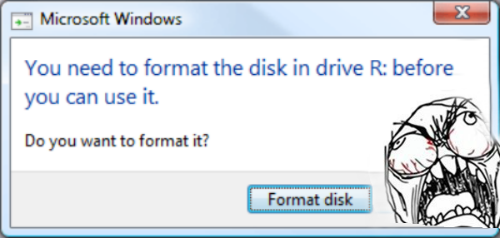 You have two solutions. One is pray for it, hope that it will be fine when connected to your computer next time…it's unlikely. The other way is to use file recovery software. It is possible to recover data from damaged USB driver. Read this article and you will find out why.
Why You Need A File Recovery?
Most of the people have the concept in their minds that once format the USB driver, the files in your driver will permanently disappear. Actually, it is not. Let me explain the theory about how the driver works when it gets a command about deleting or formatting.
When deleting your files, the system will not actually erase the files, it just add a sign on the files that the files need to be deleted. Files will only be deleted when new files is written in the same place; Comes to formatting, there is a catalog in the driver which is used to find your files or anything you put in the USB driver. When you format the USB driver, the system just add a "deleted sign" on all of the files or just erase the catalog. You will be unable to find your files without the "catalog", but you still can recover almost everything in your USB driver if you stop writing anything to it.
USB Drive Not Formatted Recovery
How to fix USB drive not formatted error? Download a file recovery software and do stop using the USB driver before recovery. Jihosoft File Recovery (File Recovery for Mac) is an effective and convenient software to recover files like documents, archives, photos, music, etc. It is very easy-to-use, which can recover data from USB driver as well as many other storage devices.
How to recover data from USB needs to be formatted error
1.Free download and install the File Recovery into your Windows or Mac.
2.Plug your USB driver into your computer and make sure it's been detected.
3.Start the program and click "Formatted File Recovery" to scan for photos, videos, and other files on the USB driver.
4.After the scan, click the "Recover" button to recover data from USB driver.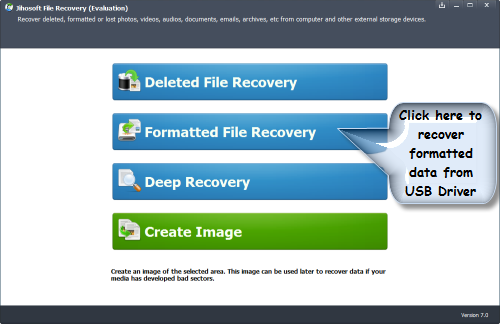 Still cannot understand? Get complete guide from here. If you meet any problem while using Jihosoft File Recovery, please feel free to contact us via support@jihosoft.com or leave a comment below.