How to Recover Lost Data from Formatted C Drive
I think that everyone should have that sinking feeling when you realize you've just made a big mistake – accidentally formatted the C drive of your computer and no backups are available. Henry Smith from Arizona now is suffered from formatted C drive data recovery problem:
"Is it possible for me to recover formatted files on my C drive? I intended to format my local disk E, but mistakenly formatted the local disk C with important files on it. So how can recover data from formatted C drive?"
Don't worry. If you formatted your C drive by mistake, there is still a way to recover files from formatted C drive. Read on to find out.
First: Do Not Write to the C Drive
The first thing you need to know is – do not write anything else to the formatted C drive if you are planning on recovering data from it. When you write to the C drive there is a big chance to overwrite the deleted/formatted files and make them unrecoverable.
Recover Data from Formatted C Drive with Jihosoft File Recovery
One of the best utilities for restoring deleted files from formatted C drive is Jihosoft File Recovery (File Recovery for Mac). It features with unique file search technology to help recover files when the C drive was formatted. There is a free version and a paid version. The free trial version can basically show you what it could restore.
Step-by-Step Example to Perform Data Recovery from Formatted C Drive
1. Download Jihosoft Data Recovery Wizard, install it and launch it.
2. Select the C drive which was formatted and then click "Scan" to search.
3. After scanning, there will be a list of formatted files. You can preview them.
4. Mark the lost files you need to get back and click "Recover" to recover data.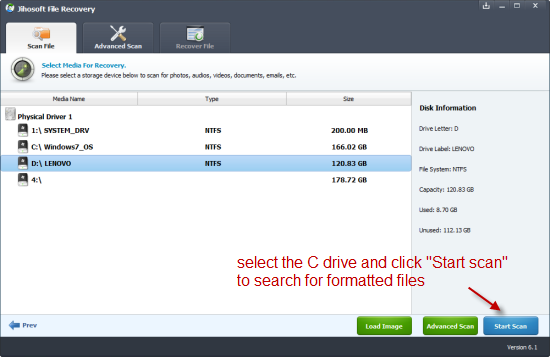 Background Knowledge
C drive is considered to be the system drive and is marked as active partition to boot the system. When you format the C drive, the operating system erases all bookkeeping information on the disk, tests the disk to make sure all sectors are reliable for reading and writing. Note that formatting the C drive does not mean the data was removed, but only mark the drive for new files. With proper data recovery software, it is easy to recover deleted/formatted files from C drive.