How to Recover Files from Formatted C Drive in Windows
I think that everyone should have that sinking feeling when you realize you've just made a big mistake – accidentally formatted the C drive of your computer and no backups are available. Henry Smith from Arizona now is suffered from formatted C drive data recovery problem:
"Is it possible for me to recover formatted files on my C drive? I intended to format my local disk E, but mistakenly formatted the local disk C with important files on it. So how can recover data from formatted C drive?"
Don't worry. If you formatted your C drive by mistake or due to bad sectors not checked and repaired, there is still a way to recover files from formatted C drive. Read on to find out.
First Thing in Mind: Do Not Write to the C Drive
The first thing you need to know is – do not write anything else to the formatted C drive if you are planning on recovering data from it. When you write to the C drive there is a big chance to overwrite the deleted/formatted files and make them unrecoverable.
In most cases, C drive is located at the internal hard drive, so the best choice is to remove it from your computer, then connect the hard drive to another computer where a working operating system is available. If you don't have a second computer and have to reinstall an OS on the same hard drive, make sure to avoid any unnecessary program installation. Even for the data recovery software we are going to talk about, you should install it on a partition other than Drive C.
Best Software for Formatted C Drive Data Recovery
Yes, a good software is required in order to scan the formatted hard drive and try to build the data piece together so that we could restore the data back. For Windows and Mac users, Jihosoft File Recovery is your best choice. This tool will help you recover deleted photos, videos, Office documents and more files from hard drive, memory card, USB flash drive and other storage devices.
Why Choose Jihosoft File Recovery?
Intuitive and straightforward UI, without need of technical knowledge
Highest recovery rate and most compatible range in the industry
Full and free preview for all kinds of file before recovery
Recover not only deleted files but also hidden existing data
Three main functions: Recover File, Create Image (data backup), Resume Recovery
Offer multiple options and designs to filter out wanted files quick
How to Recover Files from Formatted C Drive
Step 1. Run Jihosoft File Recovery and Choose Recover File
Launch the program from your desktop, then click Recover File from the three available options (Recover File/Create Image/Resume Recovery).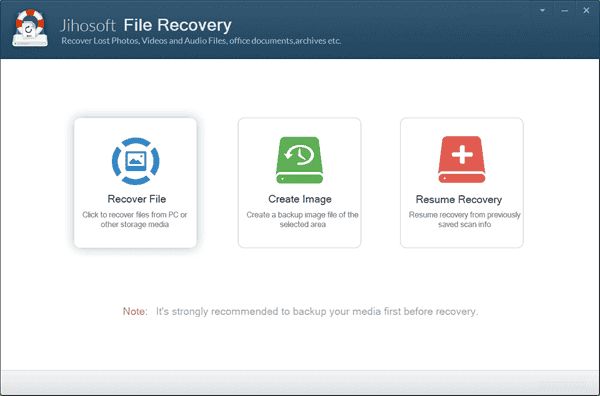 Step 2. Scan Hard Drive for Formatted Files
Now you should see all the disks detected by the program. Select Drive C, and then click Scan Now to scan for deleted files on the formatted hard drive.
Tip: Advance Scan is an option to specify file types you want to recover.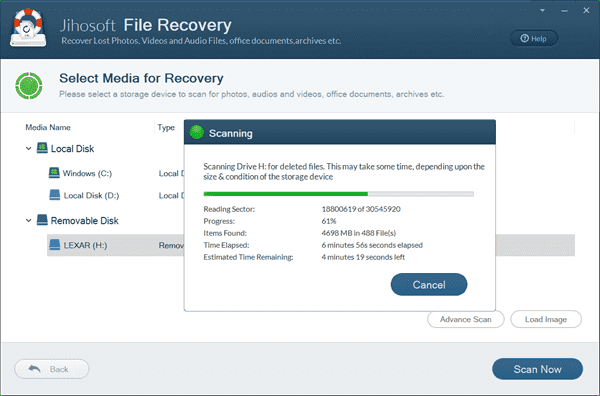 Step 3. Preview and Recover Formatted C Drive
When scanning completes, all recoverable files will be listed by category. You can preview the found files and choose only the ones you'd like to recover. Finally click Recover button to restore the data.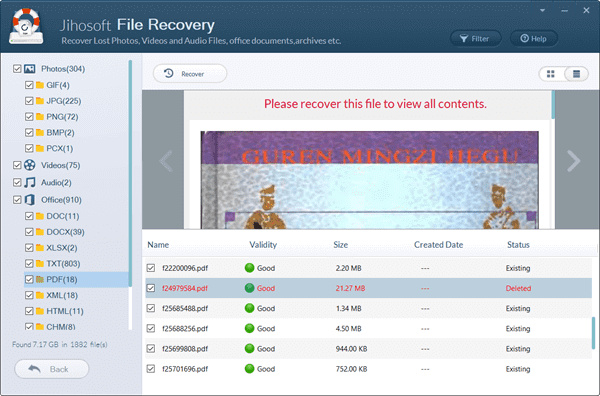 Background Knowledge
C drive is considered to be the system drive and is marked as active partition to boot the system. When you format the C drive, the operating system erases all bookkeeping information on the disk, tests the disk to make sure all sectors are reliable for reading and writing. Note that formatting the C drive does not mean the data was removed, but only mark the drive for new files. With a proper data recovery software, it is possible to recover files from a formatted hard drive.