How to Recover PowerPoint Files on Windows and Mac
I recently cut off power at work and I don't have time to save an important powerpoint document. The document is needed on the morning of the next day, and I work on it 6 hours. Any solution for powerpoint recovery? Please help!
Microsoft PowerPoint is very popular for business demonstration. However, what if you delete an important PPT file permanently by mistake or close the PowerPoint document without saving the latest changes? You certainly don't want to spend hours to do it again. Luckily, PowerPoint file recovery is indeed possible, and you can recover unsaved or deleted PowerPoint files on Windows and Mac by following solution on this tutorial.
Recover Unsaved PowerPoint Document with AutoRecover Function
When a Microsoft Office program (Word, Excel, PPT, etc) is closed or crashed unexpectedly, the Document Recovery task pane automatically opens the next time you open the file so that you can get the last auto-saved file back. Although it might not restore all the changes you made to the file, it would be much better than nothing at all. You can then choose the right available file and save the PowerPoint document properly.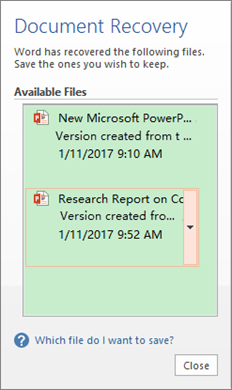 Note: This feature requires that AutoSave and AutoRecover were turned on before the abnormal closure or crash. On most Office program, they are turned on by default. If you are not sure on your computer, check it in this way.
However, sometimes the Document Recovery task pane doesn't appear for some certain reasons. In this case, you can retrieve the unsaved PowerPoint presentation manually. Here we take PPT 2016 as example. The operation on other versions are similar.
Step 1. Open the PowerPoint file.
Step 2. Go to File> Info.
Step 3. Find "Manage Document" section, and click the rectangle icon.
Step 4. Choose "Recover Unsaved Documents".
Step 5. Browse the unsaved PowerPoint file on the new window.
Step 6. Select the unsaved file and click "Open" button.
Step 7. View and save the unsaved PPT document.
Recover Deleted PowerPoint File with PowerPoint Recovery Tool
If you have manually deleted PowerPoint files from computer and now want to get them back, a good PowerPoint recovery tool is the last hope. Jihosoft PowerPoint File Recovery can recover deleted PowerPoint files from Windows and Mac. It supports the recovery of PowerPoint files ended with .ppt and .pptx and created by PowerPoint 2016, 2013, 2010, 2007, 2003, etc.
Step 1. Install and run Jihosoft PowerPoint File Recovery on your computer.
Step 2. Choose "Recover Lost Data".
Step 3. Select the partition where the deleted PowerPoint file was saved.
Step 4. Click "Advanced Scan".
Step 5. Uncheck all other file types and keep "PPT Files" option (within Office File Type).
Step 6. Click "Start Scan".
Step 7. Preview the recoverable PowerPoint files, then click "Recover" to undelete PPT files you need.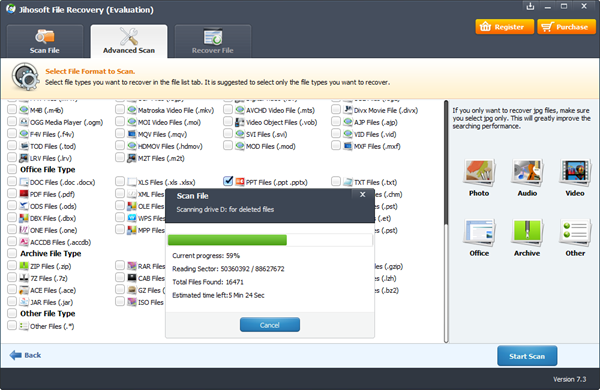 This program can also recover deleted Word document, excel and more other files on Windows and Mac computer.