How to Recover Deleted Photos from Olympus Camera
"Hi, recently I deleted some photos from my Olympus Stylus XZ-10. Those photos are pretty important for me. Is there any possibilities to get them back? Any help would be appreciated".
Photo loss from digital camera is a common problem we might meet. Have you ever tried to recover deleted photos from Olympus digital camera due to accidentally deleting or formating? Here is your solution. Jihosoft now developed its powerful Photo Recovery for Mac to help users to recover deleted photos from Olympus cameras like Olympus OM-D E-M5, Tough TG-1, Tough TG-820, PEN E-PL3, PEN EP-3, PEN E-P5, and more.
Step-by-step guide on how to recover photos from Olympus Digital Camera:
Preparations: Connect your Olympus digital camera to your computer. Note that you should not attempt to use the device to take more photos before performing photo recovery from Olympus digital camera.
Step 1: Download Olympus Photo Recovery
Download and install the free trial version of Jihosoft Mac Olympus Photo Recovery into your computer. Then run it on your Mac's desktop.
Step 2: Choose Media Drive to Scan Photos
Select Olympus camera or its memory card as the target disk, and then click "Scan Now". The software will automatically start to scan photos from Olympus camera.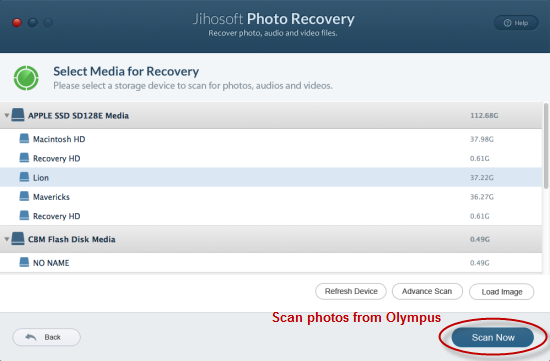 Step 3: Recover Photos from Olympus Camera
After scanning you will find a list of recoverable files and you are allowed to preview the scanned photos. Select the photos you want to recover and click on "Recover".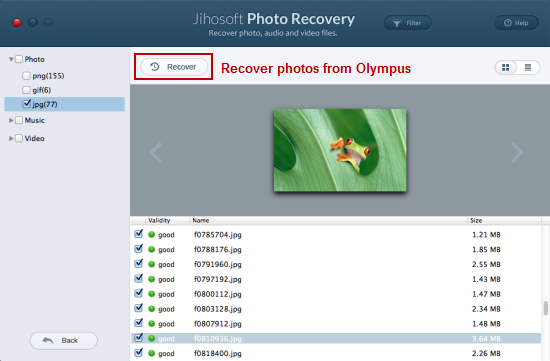 Format Support
Jihosoft Olympus Photo Recovery Mac recover images formats as follows: JPG, CRW, RAF, RDV, X3F, PCX, OCI, RAW, SIT, COW, PSP, TIF (ARW, CR2, DCR, NEF, PEF, SR2, WDP), etc.
Device Support
Jihosoft Photo Recovery for Mac can recover photos from Olympus devices as follows: Olympus Stylus XZ-10, Stylus TG-2, Stylus SH-50, Stylus TG-830, Stylus TG-630, Stylus SZ-16, Stylus SZ-15, Stylus XZ-2, Stylus TG-625, Stylus VH-515, Stylus VH-410, Stylus SP-820UZ, SP-720UZ, SZ-14 DX, VH-510, OM-D, Tough TG-820/TG-62, SZ-14, VG-170, SP-620UZ, Tough TG-320, VH-210, SP-810UZ, SH-21, SZ-11, VG-145, etc.