How to Fix Screenshot on Mac Not Working with 5 Methods
When you're encountering a problem on your Mac computer and want to describe it to someone else, a screenshot will save you a lot of words. However, many people have reported the issue of screenshot on Mac not working, which is a disaster to the productivity and efficiency of their work. Don't worry. You have landed the right place to learn how to fix screenshot on Mac not working quickly and easily.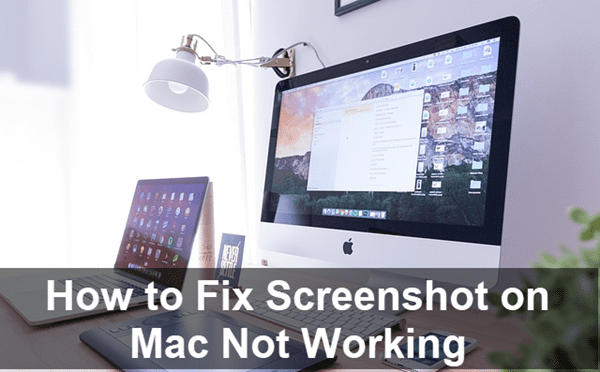 Part 1. How to Take Screenshots on Mac with Shortcuts
Just like taking screenshots on Windows, a lot of users print screen on Mac every day. When we talk about the issue of screenshot on Mac not working, it is almost all on taking screenshots with shortcuts.
Check the default screenshot shortcuts on Mac to make you have used them correctly:
Command ⌘ + Ctrl + Shift + 3 – Print full screen to clipboard
Command ⌘ + Shift + 3 – Print full screen and save as a file
Command ⌘ + Ctrl + Shift + 4 – Print selected area to clipboard
Command ⌘ + Shift + 4 – Print selected area and save as a file
Part 2. How to Fix Screenshot on Mac Not Working
If you're sure that you are pressing the right shortcuts for screenshot, please keep reading to fix the issue with 5 tips.
Tip 1. Make Sure Your Keyboard Functions Normally
Nowadays, people replace their computers and peripherals much more frequently than a decade ago. However, in case your keyboard has served you for a few years, you're suggested check if any of the involved key is faulty. If the keyboard is working well, then you can move on.

Tip 2. Check Screenshot Shortcut Settings
As listed in Part 1, there several default shortcuts for taking screenshots on Mac. When none of them works for you, it may be time to check if the shortcuts have been altered.
Step 1. Click the Apple icon on the upper-left corner.
Step 2. Navigate to System Preferences > Keyboard > Shortcuts.
Step 3. Select Screenshots on the left pane, then check the right pane for the current settings.
Step 4. Make sure the screenshot options are ticked and click Restore Defaults if you feel more comfortable with the default settings.

As a daily utility, screenshot shortcut should be as easy to remember as possible for you. If you're new to Mac or just changed the default settings, it will take you sometime to get used to them.
Tip 3. Restart Your Mac Computer
Mac screenshot not working could be a temporary issue which will disappear after rebooting.
Step 1. Click the Apple icon on the upper-left corner.
Step 2. Choose Restart…
Step 3. After rebooting, try to take a screenshot normally to see if the problem is resolved.
A lot of computer problems are fixed after a simple rebooting, because the it puts an end to the possible software confliction.
Tip 4. Reset NVRAM on Mac
NVRAM, short for Nonvolatile Random-Access Memory, is responsible for controlling the internal settings of your Mac. In case screenshot on Mac is still not working after rebooting, you may reset NVRAM.
Step 1. Shut down your Mac computer.
Step 2. Press the Power button to turn the computer on and press Option + Command + P + R immediately.
Step 3. After rebooting, the settings are reset.
Note: On different versions of Mac computer, you may need to press and hold the four keys together up to 20 seconds. You may refer to the official guide by Apple.
Tip 5. Check Dropbox Settings
If Dropbox is installed on your Mac, the screenshots might be saved to your Dropbox rather than the local disk of your computer.
Step 1. Run Dropbox on your Mac.
Step 2. Click Settings on the upper-right corner.
Step 3. Go to Preferences > Import.
Step 4. Uncheck Share screenshots using Dropbox.
Part 3. How to Screenshot on Mac without Shortcut
In case your keyboard is faulty physically or the above methods don't work for you, you may try other methods to take screenshots on Mac.
Method 1. Use the Grab Utility
Grab is a pre-installed utility on Mac which is able to print a selected section of the screen.
On Mac, go to Application > Utilities.
Open Grab and take screenshots by clicking Capture.
Method 2. Use the Preview Feature
Preview is the default tool for image viewing and editing. You can also take screenshots on Mac with it.
Open Preview, click File on the top menu, move your mouse cursor to Take Screenshot from the dropdown menu, then select From Selection, Window or Entire Screen.
These two methods require several clicks to take screenshots on Mac, but they are still very useful when screenshot on Mac not working with shortcuts.
Pro tips: When you take a screenshot on Mac, it may be stored on the clipboard or the local disk for further use. It is important to keep the screenshots properly to avoid wasting time and effort. In case you lose or delete screenshots on Mac, don't hesitate to use Jihosoft Photo Recovery to get them back. It also works for recovering photos from digital camera.
Conclusion
In this tutorial, we have learnt how to fix screenshot not working on Mac problem. Hopefully, the issue on your MacBook or iMac has been resolved. Even if there is physical damage on the keyboard or problems that cannot be fixed temporarily, you can also take screenshots on Mac with the other two methods mentioned above. Feel free to share us your opinions or questions in the comment.