Fix: Windows 10 Go Back to An Earlier Build Missing after 10 Days
"I inadvertently upgraded to the new update of Windows 10 earlier this week and would like to roll back to a previous build – however, in the settings menu, the go back to an earlier build option is missing entirely."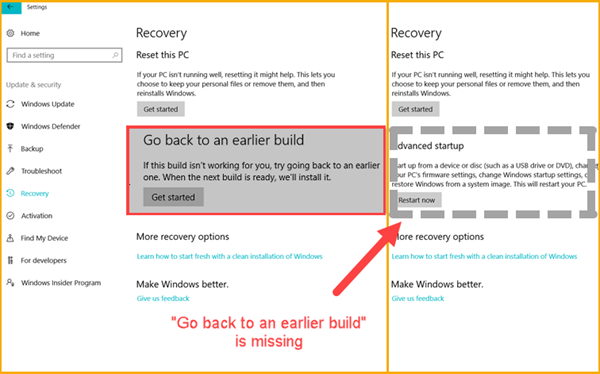 About Go Back to An Earlier Build on Windows 10
Microsoft defines Windows 10 as an "operating system as a service" and releases ongoing updates, which are known as Windows 10 versions and builds. Different from security updates within Windows 8/7, Windows 10 updated versions make changes to features and functionality. As a result, it is super convenient to get new experience on Windows 10. However, new versions often mean unstable. What if users don't like the new version they upgraded? Microsoft provide an option to roll back to previous versions within a limited time (currently 10 days). However, "go back to previous version of Windows 10 not working" is reported by many owners of Windows 10 computers.

How to Go Back to An Earlier Build on Windows 10
This is a brief instruction. Please skip to the next part if you already know how to do it.
You'll lose the changes to settings and programs installed after the upgrade. Files will be kept if everything is fine during the process.
Make sure you have your password ready to sign into your old version if you had been using one.
1. If you can load Windows
Step 1. Click Start menu, and then choose Settings > Update & security > Recovery.
Step 2. Find "Go back to an earlier build" section, and click "Get started" button.
Step 3. Follow on-screen instruction to finish the recovery process.
2. If you cannot load Windows
In case your computer cannot boot correctly after the upgrade, you may still roll back to a previous release in Advanced startup menu. Therefore, the first thing you need to do is to enter the menu. Normally, the system would take you there when it failed to load to Windows Desktop. Alternatively, you can try pressing F11 when powering on the computer.
Once you're on Advanced startup menu, choose Troubleshoot > Advanced options > Go back to the previous build, and then follow the instruction.
Why Does Go Back to Previous Version of Windows 10 Not Working
Let's go back to the topic at the beginning: what to do if "Go back to an earlier build" not available? 3 symptoms when the problem occurs:
The "Go back to an earlier build" option is missing.
The option is still there but the "Get started" button greys out, because "your PC was upgraded more than 10 days ago".
The recovery on Advanced startup menu also fails.
2 possible reasons:
The upgrade was done more than 10 days ago, which is period limit set by Microsoft.
Windows.old folder, which is used to facilitate rollback, was deleted before the 10-day limit.
Manually Downgrade to An Earlier Version of Windows 10
Assuming there is no backup or restore point for your previous Windows 10 versions, you can downgrade to an earlier released Windows 10 manually, and then disable Windows auto update.
Notes:
1. In this way, you may need a license to activate the operating system.
2. Since it is going to install an older version of Windows, the options to keep personal files and apps will not be available. Please make backups to external or cloud drive in advance.
Step 1. Download the ISO file of the Windows 10 version you need. Choose from the top list.
Step 2. Double-click the ISO file, and then run the setup.exe file.
Step 3. Follow the instruction to finish the installation.
Windows will suggest you to download the latest version of Windows 10, and you should choose "Use older installation files" option, which is on the bottom-left corner.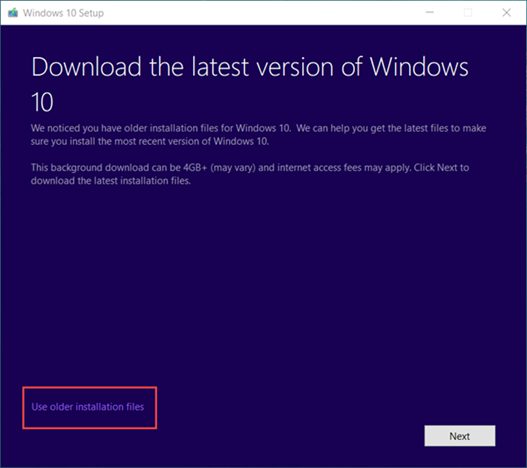 Step 4. Block Windows 10 feature update.
Open Control Panel > Administrative tools > Services.
Right-click on Windows Update, and choose Properties.
On General tab, change Startup type as "Disabled".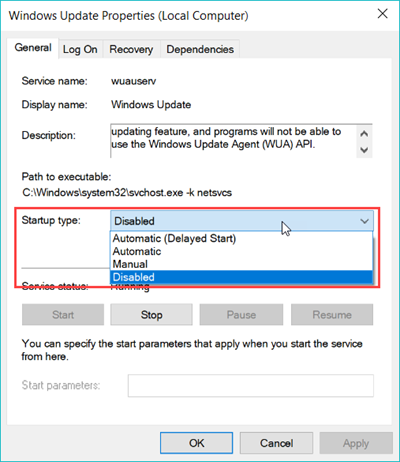 Disabling auto update makes sure that you won't have to repeat the downgrade. However, Microsoft will stop support for previous versions of Windows 10 after a certain time, so it is recommended to update to a new and stable version when you're ready. Furthermore, it is a clean install, so it is highly suggested to back up all your files and make sure you can reinstall the apps after the downgrade.