How to Watch and Play YouTube Videos Frame by Frame
Whether you're watching something as complicated as a time-lapse video or something as petty as a cooking tutorial, there are quite a few times when watching a YouTube video frame-by-frame comes in handy.
a. Watching a Time-Lapse
Catching petty details in time-lapse videos can be a nightmare as sometimes it is nearly impossible even if you slow the video down, hence watching it frame by frame is a perfect solution.
b. Watching a How-to Video
Here, catching details are essential; otherwise, there's no point in watching such videos, which sometimes becomes difficult and again is easily solved by watching it frame by frame.
c. Video Editing/Sharing
When you need to edit a video and want to crop it from a specific position, but it becomes very difficult to stop it at the right moment.
d. Learning Purposes
Some people do it for the sake of knowledge to know about videos and frames, diving into the details for sort of research.
In these situations, you should be comfortable with its methods like playing it frame by frame through a frame by frame video player, or frame by a frame video editor. Choosing the right one depending on your needs does help.
Below, I'm going to give you a bit of briefing about the most common methods and the times when they are useful and a conclusion following that.
The 4 Best Ways to Watch YouTube Frame by Frame
Typically, there are two things people might want to do, namely, watching the video frame by frame or viewing the video frame by frame. To be brief, there are commonly four different ways to do these things.
#1. YouTube built-in shortcuts
YouTube player itself provides you a way to watch the video frame by frame; you don't need to use any third-party software or don't even want to leave YouTube. Below given is a step by step guide on how to do it.
Step 1. Pause the video.
Step 2. Now, there are two keys on your keyboard which are the shortcuts for skipping the frame forward or backward, the < > keys. You might call them the comma and the full-stop. The "<" or the comma key will skip the frame backward and the ">" or the period key will skip the frame backward.

However, you need to bear in mind that these shortcuts can only be used for viewing the YouTube video frame by frame if the creator has encoded the video frame by frame which frankly, most content creators do. So you can rely on this method most times.
#2. Using an External Online Application
If, for some reason, the above method didn't work for you or you are something like an animator and need to study the video more closely, using an online tool such as this might be the thing for you. Below given is step by step guide on how to do it on a different online frame by frame editors.
Watch frame by frame online video player:
Step 1. Paste this link www.watchframebyframe.com into your URL bar and go to the site. I recommend this site due to its easy interface and the vast range of controls they offer.
Step 2. Click the box that has "Enter Video URL" written in it and paste the YouTube video URL.
Step 3. Once you hit enter, the video will be loaded. There will be buttons to control the video on the bottom, forward and backward buttons for skipping to next and previous frames respectively.
Step 4. On the bottom along with the forward and backward buttons, you will also notice the option to increase the FPS (frames per second) or adjusting how many frames are skipped by hitting the forward or backward button once. This is very useful, especially for the ones who are doing it to be very precise or for learning purposes, and these options and accuracy levels are not provided by YouTube's native video player.

Anilyzer online video player:
Type anilyzer.com in your URL bar to get to the site. Once there, the steps to watch a YouTube video frame by frame here are more or less the same as the above-mentioned framebyframe site, the only noticeable difference comes as the interface which is a bit different otherwise, the controls available and the procedure for doing it are almost the same, so you can just follow the steps I gave you above.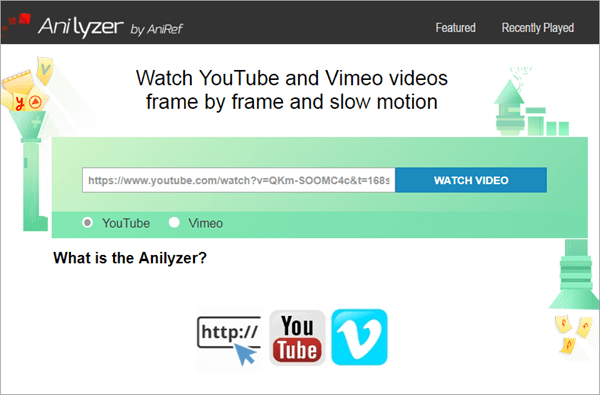 #4 Using an External Offline Application
There is a vast range of offline video editors that can also be used to view and edit a YouTube video frame by frame. There are two big advantages when using offline video editors compared to the online ones.
You can work offline – Once the video is downloaded on your computer, there is no need for a stable internet connection, and you can edit or watch the video on the go.
You can edit the videos as well on the offline editors. As you can only watch the videos on the online platforms mentioned above, here, you can cut or trim the videos along with it too.
Below, I will be mentioning some of the most used video editors you can download to edit and watch YouTube videos frame by frame.
Windows Live Movie Maker (Windows):
This can be one of the best options for relatively simple tasks as this as built-in with the windows. It gives you quite a good range of basic video editing options frame by frame as it has a timeline feature in it. I have listed the steps down below to get you started:
Step 1. Download the YouTube video.
Step 2. Import the video to the editor.
Step 3. You can then play the video frame by frame or more so, if you want to modify it, select the portion from the timeline you want to modify.
Step 4. After selecting the portion, click on the "edit" which would be under video tools.
Step 5. You can then use either split the video add texts, music, transition and so on to the frames one by one.
Tips: Before editing, you need to download videos from YouTube to the computer first. However, due to copyright issues, YouTube does not allow users to do so. In this case, you can use a free YouTube video downloader software to get the job done quickly!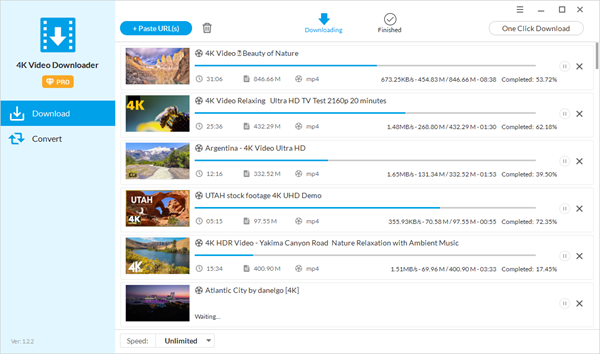 Video Converter Studio (Windows):
This can be thought of as a higher version of the software listed above. It has a relatively more complicated interface, a ton of more editing options and most of all, its powerful and even supports 4K video files. However, it's not free to use, and the trial version converts only 30% of your file. Steps on using it are listed below:
Step 1. Import the video by clicking the "Add files" button.
Step 2. Click "edit" to see the functions available.
Step 3. Select the portion you want to play around with using the slider.
Step 4. You can then do things like adding effect, cropping, watermark, or even adding subtitles to the video.
Step 5. Hit the convert button when you're done with the editing.
iMovie (Mac):
Are you using an Apple Mac and are looking to get the editing done? Now, Mac systems are somewhat restrictive. You could argue it's why they offer better protection, but would you want it as a trade-off and not be able to watch YouTube videos frame by frame?
The iMovie editor is designed to be used in the Apple environment. It is free to use and provides a lot of editing functions along with pretty good preset themes and supports 4K files too. The steps to operate are listed below:
Step 1. Hit "file" >"new project" > "create" to get started.
Step 2. Press the "import" button to import the video.
Step 3. Click "edit">" split video clip at "playhead" to separate the portion by frame you're interested in.
Step 4. You're now free to explore the editing functions available and use them; however, you want to add texts, transitions, effects to specific frames. Preset themes can also be applied.
Step 5. When you're done editing, hit the "share" and "export" followed by it.

That's all that you need to do to get started. You can now find all of your favorite videos and watch them the way you want to.
Conclusion
Depending on your need, each one of the above-listed methods or view or edit the YouTube video frame by frame can come in handy, and each one has pros and cons of its own.
So, if you're a person just regularly watching YouTube and have the urge to watch it frame by frame just out of curiosity, the best way to go is simply using the keyboard shortcuts given by the YouTube video player.
If that doesn't work for you and you, for some reason, want to see it frame by frame with greater precision, you can go with the online frame by the frame video player.
However, if watching the video alone isn't what you need and you need to edit it as well, you need to download one of the above-mentioned frames by frame video editors depending upon your work environment. They will be all you need for video editing, whatever the type of work you're doing.