How to Convert URL to MP4 Effortlessly
There are more than hundreds of online video websites and they are increasing by the number day after day. This is because the content being uploaded has increased at the double the pace. On these kinds of websites, there are tons of movies, shows, and videos which are available for you to watch non-stop. But you also need to know that there are only some sites that can be downloaded or watched online or offline.
Some websites even feature only some kind of formats so you must check if they are compatible with your device. Hence to let go of this problem, you can use the solution of URL to MP4 conversion and sort all your worries. There are tons of URL to MP4 converters that will help you convert whatever you wish and get it on your device. Here below we have listed the 9 best converters which you can utilize as per your requirement.
Free, simple downloader & converter from YouTube. It allows you to download and convert video to MP4/HD MP4 and other formats of video/audio files.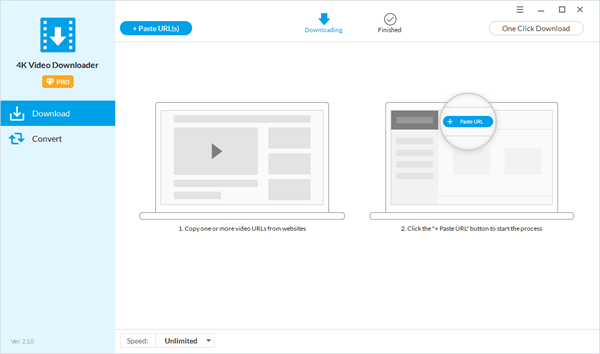 When we think about a music converter online, the first thing that comes to our mind is the "Clip Converter". This happens to be one of the most popular online programs that can do the following; recording, converting and downloading all kinds of audio and video URLs. Through this you can listen to a variety of music of your choice.
This is a free converter and hence, people love using this service. The best part of Clip converter is that it supports popular social media and streaming web sites like Facebook, YouTube, Vimeo, and many more. Another benefit of Clip converter is that you can select the quality of the converted audio file before converting it. Now isn't that cool enough? The process of downloading the URL and then converting it into high-quality music is very simple, fast, and easy when you use this tool!
Key Features:
Clip converter is a "Free to use" tool which needs no downloading, installation or registration for you to use it.
Clip converter also supports the additional feature of adding a separate URL from some popular sites.
Clip converter allows downloading and converting a variety of URL's to MP4, 3GP, AVI, and various video and audio formats as per your need.
Clip converter has a unique feature where you can download YouTube links of HD, 720p, 1080p, and 4K as it is supported in this tool.
With Clip converter direct files can easily be uploaded for conversion.
Clip converter, the online program has been created and developed by a German Company known as Luna web Ltd.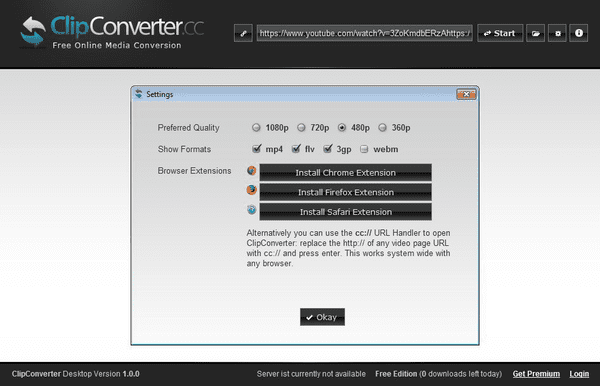 The next entry on this list is the Online Video Converter. This one is a free to use web application program like the Clip converter. OVC allows you to convert your links to many types of audio and video formats. One of the best benefits of OVC is that the program can be directly accessed from all kinds of modern browsers and is very easy to use.
Their user friendly interface is quite simple as they support links from Daily motion, YouTube, Vimeo and many other similar websites. It is very important to have an easy to use interface or else using the program makes it difficult for the user to convert their different files.
Key Features:
OVC allows conversion of a variety of URL's as well as any local files and you can then convert them into an array of audio and video formats.
OVC surely supports high-quality conversion and that too at faster speeds.
OVC supports all kinds of modern browsers, so you don't need to worry.
Different types of formats for conversion are supported in OVC. Some of them include MP4, AVI, MPG, MOV, WMV, and many more.
The OVC Program is also available for mobile access on platforms like Windows, Apple, and also the Android platform.
The third entry on this list is Cool Utilis. What we have ensured in this whole list is to find user-friendly interfaces that help you to convert what you want with ease. Hence Cool Utilis is one such tool that will allow you to download and convert everything with ease basically.
As always it is a program that is free to use and requires no kind of registration. One specialty of Cool Utilis is that in addition to the MP4 format, they also support conversion to WAV, OGG, WMA and the popular MP3 format. Their interface is decent enough,making it easy for them to convert whichever music file they want.
Key Features:
Cool Utilis is a free online converter that has a simple interface.
This tool also allows you to add different urls for converting it into decent quality.
When you convert files here, they can be downloaded from the interface.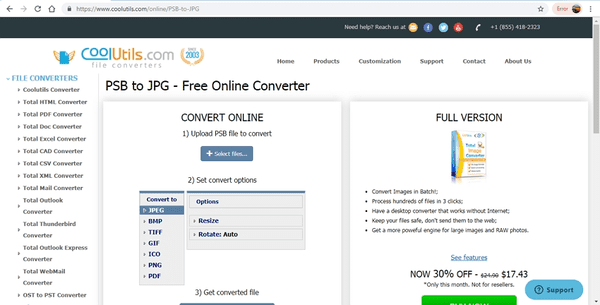 We also checked out Convert Files. This is also one of the amazing programs that allow you to convert URL links to MP4 online converters. What we like about this is that Convert Files allows you to convert URL links to amazing MP4 files in the best quality ever. What's even better is that you will be able to convert whatever you want at a faster speed than most of the other converters in this list.
Did you know that you can also add local files from your PC/desktop and convert them too? Yes, with Convert Files, you can do it. Finally, we would like to let you know that this program doesn't require any kind of download, installation and even registration. It is well known in the market to have a simple interface and allowing users to convert music files as they please.
Key Features:
Convert Files is known to support adding any kind of link for an array of sources.
Convert Files supports a wide range of input formats for you to convert.
In addition to MP4 and other videos, Convert Files is one unique program that is known to support conversion to an array of file types including EBook, documents, and others.
Using Convert Files you can download the converted file directly from the interface or also get the link the desired mail as you wish.
Maximum file size supported for download and conversion in Convert Files is up to 250MB.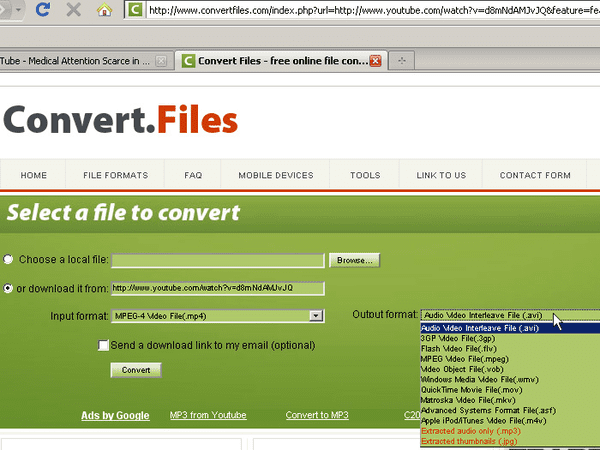 Online Convert is another unique free online tool that allows you to add URL's as well as local files so you can convert them to MP4 files. What's unique about this file is that you can directly access this program from any browser.
When you discuss about its features, one main feature stands out i.e. a simple interface. Why we call this the main feature is because an easy to use program is what's really required. The conversion process of Online Convert is very fast as compared to other entries in this list. Also, not only are they fast but also they provide the decent quality output of the converted files. Isn't that good enough? Finally, if you wish to know what kind of files can be added then be it known that this program supports Dropbox or Google Drive files too.
Key Features:
Online Convert is known to support adding any kind of files from URL, PC, Dropbox, and Google Drive.
Online Convert will allow you to choose output file parameters like the screen size, the bit rate, frame rate, and many more things too.
Online Convert has a wide array of formats that are supported for conversion.
Online Convert allows you to save the edited settings of the output file for future conversion.
As unique and exciting is their name, ZamZar happens to be one of the most used online programs for converting URL to MP4. ZamZar is a unique program that supports over 1200 file formats. They are also considered to be an excellent tool to convert any link to MP4. Apart from all this they have one of the simplest interfaces, quick conversion, no download, and free use which make it a favorite among the users.
In our list we ensured that we add ZamZar purely because of their quality they offer to users all over the world. With such world-class service, you can expect a lot of users downloading this program and using it.
Key Features:
ZamZar is known to allow the user to add a different kind of files from a URL as well as PC for conversion.
In addition to MP4, added files can be converted to a wide range of file types and formats through ZamZar.
Converted files download links are sent directly to the provided email id in ZamZar.
Up to 50MB files can be added for conversion through ZamZar.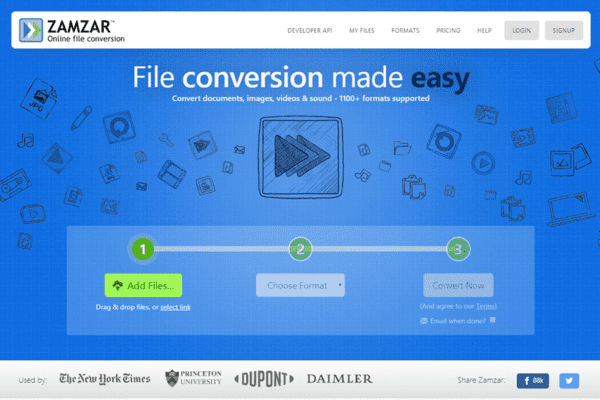 After seeing all these entries, one thing is clear that in order to be the best URL to MP4 converter; you need to provide the best easy to use interface. Convertio is one such free program that is very easy to use and also requires no kind of registration. Convertio allows you to add files from an URL, Google Drive, Dropbox or PC for conversion. That's why people prefer using Convertio.
When you use Convertio, the conversion process is very fast. The output file quality is also very good. The interface is very simple and easy to use even for the new users.
Key Features:
Convertio is known to support adding a different kinds of files for conversion from multiple sources.
Convertio also has a wide array of formats that they support for conversion.
All your converted files can be downloaded from the easy to use and simple program interface or can also be added directly to Google Drive or Dropbox via Convertio.
The 2nd last entry on this list happens to be Converting to MP3. This online converter is quite well known to allow downloading and converting a variety of videos from a URL through different sites like YouTube, Clip fish, and Daily motion.
Convert to MP3 is a free program that also has a simple interface and is easy to use. This program also requires no registration. Convert to MP3 supports an array of video and audio formats for conversion. There is also a unique option to search for the desired video link at the program interface when you use Convert to MP3.
Key Features:
Convert to MP3 allows adding different kinds of URL's and converting it to MP4, various video and audio formats.
Convert to MP3 provides an option where you can select output file resolution and quality.
Convert to MP3 allows you to search for the desired video on the program interface.
Convert to MP3 follows a simple and quick conversion process which is quite effective.
Our final entry on this list of 10 unique URL to MP4 online converters is "AConvert". We found AConvert to be a very decent program for conversion. We say this because its performance is pretty decent and it allows you to add files from a URL. You can also add local files from Google Drive and Dropbox.
AConvert also is well known as they support a wide range of popular video formats. Yes, with such a program you can expect the best output. Their interface is very simple and also quick. You can convert what you want at a faster pace without being worried about the pace. Isn't that what we expect in our URL to MP4 converters?
Key Features:
AConvert is a Free to use online converter that needs no kind of installation and registration.
Through AConvert you can add any URL from multiple sources and convert it.
With AConvert you can get the grand option of changing the size, bit rate, and frame rate of the output file as you desire.
Simple and easy to use interface, and it can be directly saved to your Dropbox or Google Drive.
Follow to find out how to convert URL to MP3 directly, and we created a list of URL to MP3 converters for you.