How to get rid of TikTok watermark?(Desktop, iOS, Android)
TikTok is a video-sharing networking service which was firstly introduced to China market in September 2016. In China, TikTok is locally named Douyin. On this social networking platform, people share everything like short dance, lip-sync, comedy, movie synopsis, popular science, life tips, baby care, beauty, etc.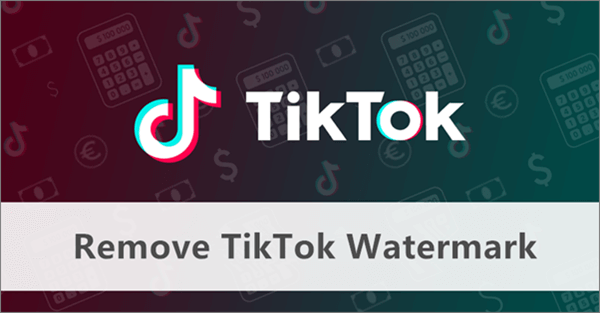 If you usually watch video clips on TikTok, you will find lots of amazing things, funny or helpful. Besides, there is a built-in download button for you to download some of the videos for offline review. However, all the downloaded videos were stamped by TikTok logo. Most of the time, it is annoying that makes people want to remove it. So, do you know how to get rid of TikTok watermark? If not, please go on reading. There are several helpful TikTok watermark removers suggested in this post.
1.TikTok watermark remover for iOS – Photo Retouch (Blemish Remover)
Photo Retouch is an iOS app that can make objects disappear from video or photo as if they were never there. It is very easy to use. Simply paint the items you want to remove and touch run erase.
More than that, this app also allows you to crop the video, add watermark/ filters/ sound, speed up/ slow down the video and reverse the video. Undoubtedly, you will have a wonderful video editing experience with this tool. Next, let's see how to remove TikTok watermark using Photo Retouch.
Search Photo Retouch – Blemish Remover in App Store and download it.
Open the app and tap the '+' icon at the bottom of the screen, then tap 'Video Eraser' to import a TikTok video.

Tap the 'red pencil' icon, buckle out and pain the TikTok logo area and tap 'Go'; then the app starts removing the TikTok logo.

Note:
You can also tap the Rectangle icon or the Ellipse icon to draw a Rectangle or Ellipse to cover the TikTok watermark.
Another way to get rid of TikTok watermark is using the cropping tool to crop the video screen and leave the watermark outside of the screen.
It might take some time to process the video depends on how long the video is.
2.TikTok watermark remover for Android – Video Watermark Kit
Video Watermark Kit is a powerful video editing app for Android. It can do video editing work like format conversion, watermark removal/ addition, audio track, clip duration, aspect ratio, video flip, video rotation, video reverse, video split, video concatenate, M3U8 generation, Online extraction, animated image, video mosiac, video mixing, audio mixing, video subtitles, etc. Through this app, you can easily get rid of TikTok watermark like this:
Open the app after downloading it from Google Play.
Tap 'Remove Watermark', choose one video and tap the '√' icon in the upper right corner.

In the lower right corner, tap the '+' icon and a matte box will appear on the video screen; tap the box and drag it to the logo area; then zoom in/ out to set up its size to cover the TikTok watermark. You can also tap the 'Area 1' icon in the lower left corner to set up parameters (start time, end time, left, top, width, height)of the matte box, which is to cover the TikTok logo.

Tap the SAVE icon to save the edited video. When it pops up saying 'Processing completed' at the bottom of the screen, tap 'Details' to watch video without TikTok watermark.
3.Video Eraser (iOS, Android)
Video Eraser is a mobile app to remove, add and edit video watermark. Also, you can crop video to remove watermark. Moreover, you can edit the video by cutting, adding watermarks and overlaying text or images on video. It has Android and iOS version for different mobile users. Next, we will set iPhone as an example to show you how to remove TikTok watermark on iPhone.
Get Video Eraser from App Store and open the app.
Import a video by tapping '+' icon on the upper right corner.
When the video is imported, tap the icon on the right side and select 'Remove Watermark'.
Tap the watermark, then drag it to zoon in and out to set up the area you wish to remove and click 'Start'. It might take sometime for converting the video. The longer the video, the longer the processing time.
Enjoy the video with no TikTok watermark.

Note:
This app is free to use, but there are some limits. If you want to enjoy some special services from this app, you need to pay the money.
For Android mobile users, simply download the app from Google Play.
Jihosoft video editor is a free desktop application, which provides 3 different methods to remove watermark from video. You can crop the video, blur the watermark and overlay a picture on a video to cover the watermark. Meanwhile, the video processing speed is very fast and stable.
If you want to use this program to remove TikTok watermark, you should transfer the TikTok video from your phone to computer first. The program is very simple to use that you can follow the onscreen guide to do video editing. If you want more details, please refer to the user guide.
5.TikTok video watermark remover online website – Apowersoft Watermark Remover
Apowersoft Watermark Remover is a website tool for those people who don't like install application on their computer. You can directly do the video editing work on a webpage. That's very convenient.
Transfer TikTok video to your PC/ Mac.
Open Apowersoft Watermark Remover on web browser.
Click 'Remove Watermark from Video' to upload a TikTok video from computer.
Click 'Add Box(es)' and customize the box size to cover the watermark.
Click 'Erase'.

Though it is very convenient, the video processing speed is very slow. It might go crash sometime if the video is a bit long.
Above are the tools helpful to get rid of TikTok watermark. If you have any other suggestion, please leave a comment to share with us.