How to Change Audio Track Language in Video Players
I have a video which contains various audio tracks (German, French and English), when I open this video with Windows Media Player, I can only read the video in French by default. How can I change audio track in English for example?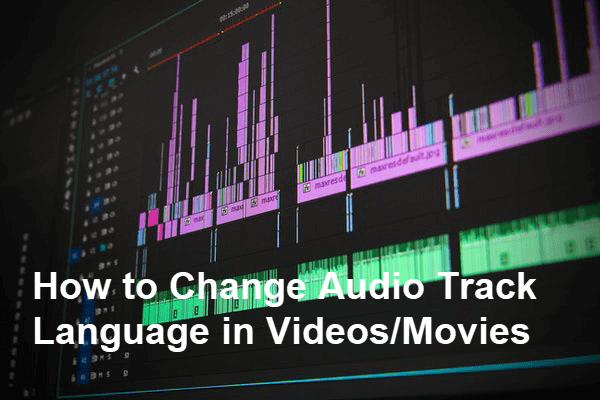 Nowadays, it is common to see movies and videos with dual or multiple audio tracks in different languages. Some are voices of translation over the original sound, while others are audio clips extracted from videos. However, many people don't know how to switch from the default track to the desired language. In this tutorial, we are going to introduce how to change audio track in videos opened with Windows Media Player and VLC.
Part 1. How to Change Audio Language in Windows Media Player
In Windows 10, Movies & TV app has replaced Windows Media Player as the default video player. However, the default app doesn't seem to be ready for movie lovers. At least, it doesn't allow users to select among multiple audio tracks, which is supported in Windows Media Player. Check out how to change default audio language in WMP.
Step 1. Click Start menu, then type Windows Media Player and run it.
Step 2. Press Alt on your keyboard, then choose Play > Audio and language tracks > Defaults…
Step 3. On the pop-up windows, select your desired audio language from the list, then click OK.
On Step 3, you can also specify the default language for lyrics, captions and subtitles. From now on, whenever you open a video with multiple audio tracks in Windows Media Player, it will play the video in the selected audio language.
In some cases, Windows Media Player may only detect one audio track even though you know that there are actually dual or more languages. That's when you need to try other media players.
Tips: In case you mistakenly delete an important video or audio file, make sure to recover it as soon as possible with Jihosoft Photo Recovery – the best recovery tool for photos, videos and audio files in Windows and Mac computer.
Part 2. How to Change Audio Track in VLC
VLC is an all-in-one media player available in all major platforms. This free and open-source tool is favored by millions of users for its versatile functions. You can use it to play most kinds of videos and enjoy various features, such as changeable audio language.
Step 1. Run VLC media player on your computer.
Step 2. Click Tools from the menu bar, then select Preferences.
Step 3. Under Simple settings, click Audio > Preferred audio language.
Step 4. In the input field next to "Preferred audio language", enter in your desired language code. For example, input EN or English. Refer to codes of other languages.
In most cases, VLC can detect and list available tracks of your movies or videos with no compromise in quality, which makes it an idea alternative to Windows Media Player. If you have a video in rare format, such as MKV and RMVB, you may need specific media players to change the audio track.
Bottom Line
In this article, we have learnt how to change audio track in videos so that you can choose to listen to the original sound or the voiceover in another language. It is worth mentioning that you may encounter audio problems, such as the audio and picture are out of sync, in some cases, which can only be fixed with extra tools. If you have any questions or opinions over this topic, don't hesitate to share with us in the comment.