How to overlay a picture/ video on a video?
What is picture in picture video? Well, it is a video that has another video or picture overlaid on it. Bet you've been watching such videos a lot online. Yes, overlaying a picture/ video on a video makes the video more creative and eye-catching. It particularly improves the efficiency of conveying information when you are making a video commentary. Then, do you know how to add a video on top of another video? If not, please go on exploring. The following text will reveal the solution.
To make an overlay video, you'll need a video editing software that supports PIP. Usually, video editing software like Adobe Premier Pro, Final Cut pro, Filmora are helpful for video overlay. For people who are good at video editing, they might have no problem to use them. However, if you are beginners, those software listed above would be complicated and difficult to use. So, if you are looking for video overlay software that is easy to use, you should not miss these 2 tools: Jihosoft and Kapwing.
Jihosoft video editor is the best picture in picture video editing software. With this software, you simply add a video/ picture on top of another video by a few clicks. Next, let's learn how to do this.
Step 1. Get Jihosoft
Download and install Jihosoft Video Overlay Software on computer. After that, a program shortcut will be created on the desktop. Double click it to launch the program.
Step 2. Upload videos or images
Start the video overlay software and click 'New Project' from the left-side menu. Then click 'Add Media Files' to upload videos or images you want to work with. After that, the files you've chosen will appear on the Timeline.
Step 3. Overlay a video/ pictures on a video
Select the video/ picture you want to add on top of the background clip and drag it to the position above the Video Track. Then the Overlay Track will appear and you can drop the video or picture there. Drag back and forth the video/ picture on the Overlay Track to set the time you wish to insert the overlay. On the preview screen, you can move the foreground video/ picture around and drag its edges to change the size.
Step 4. Save picture in picture video
When you finish the video edit, simply click the 'Export' button and customize the location to save the picture in picture video.
See? Jihosoft Video Overlay software offer you a simple and direct way to make overlay video. Still, if you don't like to install any software on your computer, you can try the other one, which is an online program – the Kapwing.
2.Kapwing
Kapwing is an online video overlay software and it requires registration before you can use it. Still, if you have a Google account, you can log in Kapwing directly with your Google account. This would take only a few seconds and you start the video overlaying journey with Kapwing.
Step 1. Log in Kapwing
Start Google browser, enter https://www.kapwing.com/ and go ahead, then log in Kapwing with your Google account.
Step 2. Upload media files
Click the "Upload" button then "Click to upload" to upload local videos or images to the program; or you can copy and paste the URL to upload online media files from YouTube, Instagram, Facebook, Twitter, etc.
Step 3. Add video / picture on top of another video
When the video is uploaded, it will appear on the page. Click the video file to open it. On the right-side menu, click 'Edit'. In the edit screen, click 'Upload' in the top bar, then 'Click to upload' and select the local video or image you want to overlay on the first video. If the media file is online resource, simply paste the image or video URL.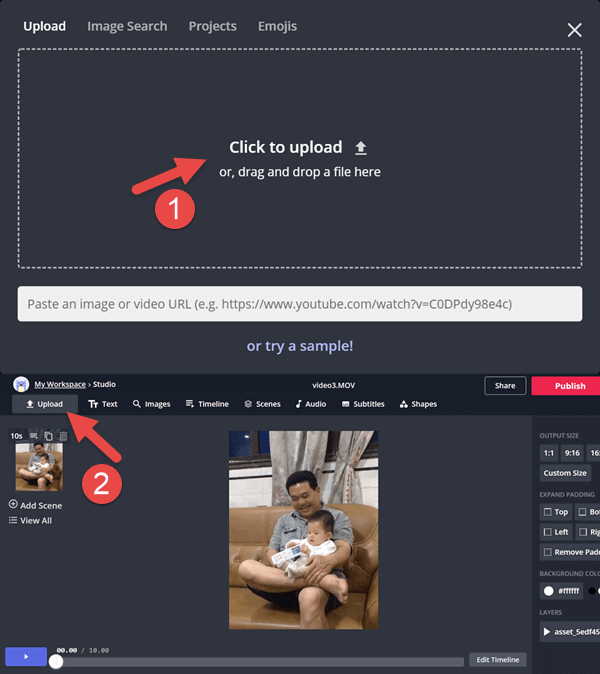 Step 4. Edit the overlay
Soon you will see the video or image you've just uploaded overlays on the first video. You can drag the overlay to move around, drag its edge to change the size or drag the spin icon to rotate the overlay. You can also edit the overlay by adding text, music, filters, subtitle, shapes.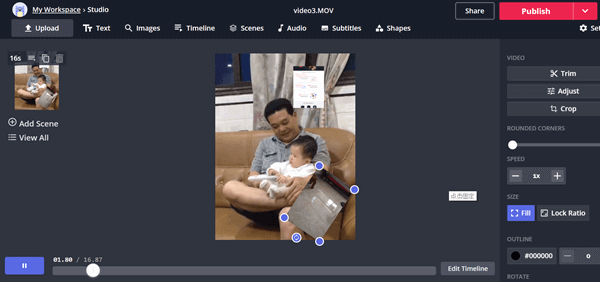 Step 5. Publish the video
To save the PIP video, you need to publish it first. Then click the 'Download' button to save it on your computer. Now the PIP video is public online. However, most of the time, we don't like to share the video public. Then, you'll need to purchase its service to keep your content private and secure.
Aren't these two video overlay software easy to use? If you are the beginner to make overlay video, they are undoubtedly the best choice for you. Surely you'll enjoy your video overlay editing journey with them. Still, if you have any better suggestion, please share it with us. Your feedback will be valued.