5 Methods to View Saved WiFi Password on Android and iPhone Mobile
Throughout owning our smart gadgets (Android Phone, iPhone, iPad, Tablets), we probably connect to dozens of WiFi networks. School, home, work, the gym, your friends' and family's houses, coffee shops — every time we enter one of these WiFi passwords, our smart devices save them for safekeeping and for auto-connect in the future. However, we can't see these saved passwords on our Android or iOS smartphones, as they are not easily accessible.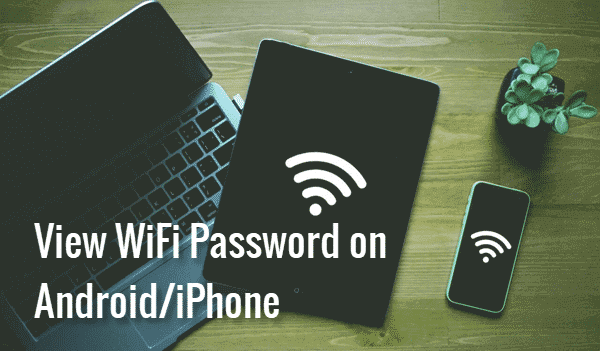 But there are some tools and hacks which let us know the connected WiFi password in our mobile. We have come with some of the best methods to find saved WiFi passwords on your Android and iOS smartphones. First I would like to inform you that in the process of finding the saved password in Android and iOS devices, some of the methods require your gadgets to be rooted and jailbroken respectively. So just choose the suitable one according to your needs.
PART 1. How to Find WiFi Passwords on Android
Method 1: Manually View WiFi Password on Android No Root
As we will have to open a system file on Android, we cannot use the traditional file explorer that comes with the device. In this method, we will make use of ES File Explorer to show WiFi password without root.
Install ES File Explorer from Google Play Store. Now open it and find a directory called data.
Go to data/misc/wifi folder, and find a file named wpa_supplicant.conf. Open this file and use ES File Explorer's built-in text/HTML viewer for this task.

In the file, you will find the network SSID and the passwords next to it. Now, you can search for the SSID (network name), make a note of the password next to it and then close the file.
Please remember not to edit the file or you may have problems with your WiFi connection. Though there are also many apps available in the Play Store for this task, it's recommended to use this manual method to get the passwords rather than to install any adware apps on your Android phone.
Method 2: Using WiFi Key Recovery App to Find WiFi Password on Android With Root
Install WiFi Key Recovery App from Google Play Store for free on your rooted android device.
Launch the app, and "grant" Superuser access when asked.
Then you'll be taken to a list containing all of the WiFi networks that you've ever connected to, where each entry shows a password in the "psk" field. Also you can search for WiFi network with its name.

This Show WiFi Password Android app lets you share the retrieved WiFi passwords with another device. And if you wish to save the entire list of passwords, tap your device's hardware menu button (or the three-dot menu button in your software navigation bar). From there, choose "Export" to generate a text file with all of the information.
Extra Tip:
Need to recover deleted photos, messages or other data from your Android phone after factory reset or accidental deletion? You can get back your lost files by using the powerful Jihosoft Data Recovery software for Android, unless they haven't been overwritten by new generated data.
PART 2. How to Show Saved WiFi Passwords on iPhone/iPad
Like PC and Android phones, iOS devices will also save your passwords automatically, including WiFi passwords. But for most of the iOS users, it is not easy to view the saved WiFi passwords. Luckily, we know some tricks and tweaks for you to get rid of that issue. However, in order to make it much easier, you must have a jailbroken iDevice to perform these methods given below.
Method 1: Login to Router Settings
Launch Cydia (alternative App Store for Jailbroken iOS devices) and search a tweak named "WiFi Passwords", tap on "Install" to proceed.
NOTE: Other tweaks available with the same feature on Cydia are iSpeedTouchPad, Speedssid, Dlssid.

Press the Home button to return to the Home screen. Launch the "WiFi Passwords" app and all the WiFi networks you've used on the iPhone as well as their passwords will be presented in this app.
Method 2: Use "WiFi Password" in Cydia
Using this method to view saved WiFi password on iPhone and iPad only words under some specific scenarios, but it is still worth giving a shot. What we should do first is to locate the IP address of the WiFi router, and then get access to its settings and password. Now just follow the instructions below to find the IP address of the router:
Go to Home > Settings > WiFi, and hit the "i" icon beside the WiFi network you're connected to.
Head to the router section, scan and make a note of the IP address.
In Safari, open a new tab, input the IP address and hit the Enter button. Then you will be directed to the router's login session.

Normally, the default username and passcode of the majority routers are both "admin". But if it doesn't work for your router, then search for "default password for (your router model) router model". Then, you should find out the actual login credential for your router.
After that, go to either "wireless setup" or "wireless settings" to find the WiFi passcode.
Method 3: Use iCloud Keychain Sync to Show WiFi Password
Using the iCloud Keychain Sync is another good option to view the WiFi password. iCloud Keychain Sync can synchronize login details, WiFi passwords across all the linked iOS devices and all other saved iCloud data. So that you are able to see any WiFi password through this tool. But you should know that this method can work on Mac computer only. Here are the steps to use this method:
On your iPhone, head to Settings > iCloud > Keychain, and then turn on the iCloud Keychain.
Go back to Settings and enable the Personal Hotspot.
Turn on your Mac, and connect it to your iPhone's Personal Hotspot.
After that, search for "Keychain Access" on your Mac, using (Cmd + Space) to start the Spotlight Search.
Detect and open your desired WiFi network, select the "show password" option to see the password. Please note that if your Mac account has a password restriction, you will be required enter the password of your Mac account before it shows you the WiFi password.

Conclusion:
Keep in consideration that rooting your Android and jailbreaking an iOS device will void the warranty of your gadgets. But as they say, if you want some good stuff as a result, you need to make sacrifices too. If you want to know the connected WiFi password in your mobile and you are more eager to know these hack perks than warranty things, then these above tricks to find saved WiFi password on Android and iPhone are worth it.
Let us know which one of the methods you found best for you. If you got any feedback, we are easy to approach. So now you know these hacks and share this article with your friends who would be grateful to you by knowing this from you.