Android NFC Tutorial: What Is NFC and How to Use It
You may have heard this term "NFC" while referring to your smartphones. However, very few people have an idea about the actual meaning of NFC and how it can be beneficial for your mobile phone. In this Android NFC Tutorial, you will get descriptive information about NFC and how it can be beneficial for the users while using smartphones, smartwatches or any other NFC tagged gadgets.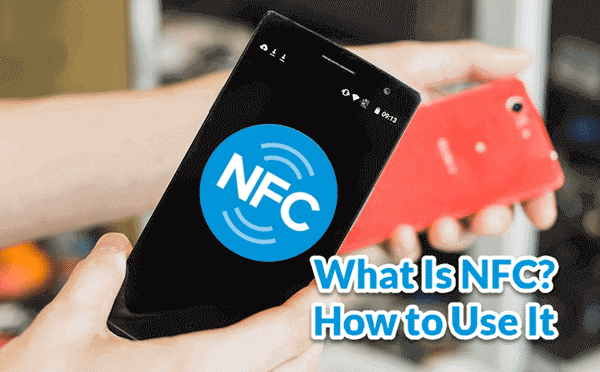 PART 1. What Is NFC
Near Field Communication (NFC) simply depicts the communication between the NFC device with any nearby object and creates a link for communication between them. If you have used Bluetooth, WiFi, LTE, 3G, 4G, etc., for creating a bridge between two devices then you have the idea about the wireless connection and how it works. In a similar way, NFC is a medium for wireless connection between two devices kept near to each other within the radius of 4 cm. After connection the device, you can enjoy sending and receiving the files and other information on both the devices. The best part of this source is that it is completely independent of WiFi, LTE or any other types of network and you can get this service on your mobile phone for free. In this way, you can easily interact and communicate with other devices kept near your device.
NFC technology has been used for many years while making contactless payments. When one brings the credit or debit card near the machine, the machine easily deducts the amount from the user's account. It is actually because of NFC connection. However, the user never realized that they are using NFC for payment. But, with the introduction of NFC in smartphones, users have got to know about it. They are using payment apps like Google Pay and send and receive money by putting the mobile phone on Tez mode which actually makes the use of NFC for transferring the money between the phones. In short, NFC is playing a versatile role in the digitalization of the payment and other day-to-day needs.
PART 2. How to Check If Your Phone Has NFC technology
Do all Android phones have NFC? No, not all Android smartphones have NFC option. Also, the majority of users never recognize this feature of their mobile phones. So, if you want to configure the NFC on your mobile phone, then follow these simple steps given below.
Open your Android device and go to Settings.
Then tap on Settings> More> Wireless & Networks and locate the NFC option in that tab.

The majority of Android smartphones providing NFC service have a small NFC logo on its rear panel which helps to easily recognize the presence of NFC on the handset.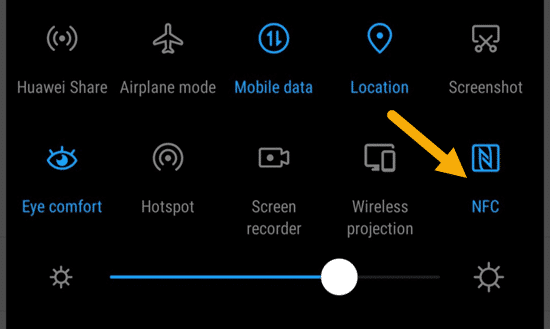 PART 3. How Does NFC Work on Android
NFC is a powerful technology working on the transmission of radio waves to transfer files and receive data. It sets the best standard for wireless communication which helps the two devices to communicate easily. It is not necessary for both the devices to be active. You can connect a passive device to your active NFC device and transmit information between them without any need of cable or network.
The active NFC Android device has three modes of NFC:
Reader/ Writer (mainly for reading NFC tags)
Card emulation (mainly for making NFC payments)
Peer-to-peer (mainly for transferring files)
However, there are also some problems with NFC on Android. For example, not all Android phones equip with an NFC chip. And for those phones which have NFC chip, not all the chips are not located in the same place, which results in some exploratory rubbing between the Android phones. The last problem is that cross-compatibility between phones is not universal.
PART 4. How to Use NFC on Android
First of all, toggle on the NFC and Android Beam on both phones to get started. Now, select the file or information which you want to transfer and then tap on the device. Meanwhile, tap on another device as well to which you want to transfer. Bring the device close to each other. You will see a confirmation message popped on the screen to complete the transfer. Tap on the "touch to beam" to transfer. In this way, your file is transferred one device to another.
You can also use NFC in many ways. Here is the list of things that you can use NFC for on your Android device.
Share your mobile number: With NFC, you can share your numbers or any other contact number easily without missing any digit or wasting any time. For this, open your phone book and then go to the number which you want to send. Then, press your phone to the recipient's mobile phone. You will see a message showing "touch to beam" on your phone screen, then tap on it to complete the transfer. Hence, your phone number is easily transferred to the correct recipient. So, when you are not feeling easy to send the contact number or type it,, just use this technology and get it done quickly.
Share picture: If you don't have any network connectivity or good network connectivity along with the third party application to share media, then make use of NFC for quick transfer of pictures. All you need to do is to open the picture or album which you want to share. Then, bring the phone together and then tap on the display to confirm the transfer. In this way, you can share pictures easily without taking any time.
Share document: You need to follow a complete set of procedures to send a document. If you open the document in any file reader app to share it, then it will send the file viewing app in place of that file. So, be cautious before sharing.
Android Beam is also helpful in sharing a document using NFC. Now, go to that document which you want to share. There you will see three tops icon, tap on it. Then, select Share> Android Beam. Now, bring the recipient's device close to it and then share the document easily.
Direct person to any Android app: Many times, people get attracted to apps that other people are using. But, at that time they couldn't find the app in Play store. So, to make it easy you can easily use NFC to direct another Android device to that app in no time without any search. To do this, just navigate to that app or game which you want to direct. Then press the recipient's device to yours and then tap on "Touch to beam" to direct the recipient to the page of the app in Play Store. It is very easy and highly interesting. However, if the Android apps are not available in Google Play Store, you'd better find them from here.
Share directions: You can easily send your directions to the recipient's phone by creating directions in Google Map and slapping two phones together. This will save your time and effort in explaining the directions to another person.
Launch the app on another device: If you and your friend have the same game or app, then you can easily launch that game or app on his phone just by pressing the phones together and beam. It is the simplest method for your friend to find any app or game quickly from a huge list of app icons.
Make a payment: NFC is also very helpful in making payment on Android as explained before. You can use mobile payment apps like Google Pay to make payments directly from the bank account to the beneficiary's bank account with no hassle.
Connect with NFC tags: NFC tags come in the form of stickers having NFC chips which can be helpful to share any information or direction from your smartphone to the NFC tagged device. In this way, you can use NFC to perform small tasks like turn on the WiFi, control the AC and many more. You need not scan anything for connecting to objects having NFC tags.

PART 5. If NFC Safe
You have seen various applications of NFC. Now, there arises a big question: is NFC safe or not. As there is no protection given to control the NFC communication, it can be harmful. But, since you need to bring the device very close to use NFC technology, so there is no chance of stealing of data through this. You can keep your apps locked to protect your private information. If you are taking the general safety precaution, NFC will never get harmful for you.
Hence, NFC will not make you lose your important phone data. However, misoperation like wrong deletion will. In this case, you need an Android Phone Recovery tool to help you save your lost data. Even if you lose your Android files due to virus attack, factory reset, system crash or others, this recovery program is able to retrieve the deleted contacts, messages, photos and other files from Android without backup.
Conclusion:
In this way, you have got to know what is NFC and how NFC is versatile for Android smartphones. You can do thousands of little things quickly and easily using NFC. This technology is growing day by day bringing up new utility to the user. So, if you are out of network or any connectivity, go for NFC for quick and safe data transfer. If you have any queries then drop it down in the comment section.