10 Best Anonymous Chat Apps to Chat with Strangers on Android/iPhone
We like to have free anonymous chat on Facebook Messenger or WhatsApp Messenger with each other from a long while ago. We admit that there are no such messenger applications which can give a tough competition to these two applications, but there are some applications which will let you have a free anonymous chat with the strangers just like Facebook/WhatsApp Messenger allows. The main purpose of social media is to connect two people from different parts of the world. And that's why you have to give fair chances to every chatting applications. Though other chatting applications are not so very good if we compared them with Facebook and WhatsApp, users are still using those applications to chat with their friends and family due to some merits of those apps.
Also Read: Top 6 Free Walkie Talkie Apps to Call and Text without Internet Connection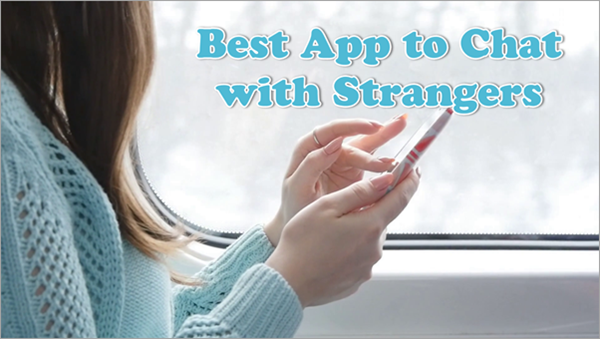 So, to let you go through with different kinds of chatting applications, we will list some of the top 10 stranger chatting applications which you can download on your Android or iPhone to chat with your friends or strangers. And just in case if you think that these applications are not good for you due to the privacy concerns, then please drop out this thought from your mind because these all applications which we are going to list below are tested and run by us personally. So, there is a very chance that there may be some complexity involved with your privacy due to these applications. So, just browse the whole list and download your favorite stranger chat app:
Omegle app is a very good chatting application which is exclusively available for the iOS users. This application has recently launched on the App store, but still it has more than 100k+ downloads which is really an interesting data to show how much popular this application is becoming among iOS users.
Like as WhatsApp and Facebook Messenger, you can chat with strangers or your friends unlimitedly for free with this anonymous chat app for iOS. All you need to do is to create your free account with your Email Id and password and start enjoying the seamless features offered by this application. Moreover, there is also an option available for free voice calling and video calling. So, definitely it is a very brilliant choice for the iOS users as far as features and functionality are concerned.
Tip: How to Make Free Calls with the Best Calling Apps for Android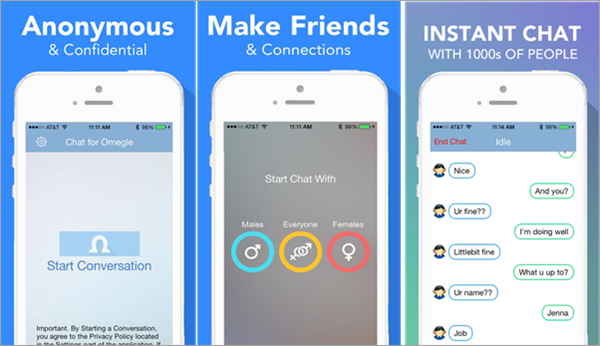 This is another very good chat with strangers app for iPhone and Android. Unlike Omegle, Wakie can be installed on both iOS and Android smartphones. For the Android users, the downloading link is provided above in the title; and for iOS users, then please download this brilliant Wakie for iOS from here.
This talk to strangers app for Android and iPhone will allow you to chat with the strangers and also, you have full command on the privacy settings. If you want to hide your last seen, then you can easily do this task under the Settings option. Moreover, like as other chatting applications, you need to confirm your identity to get started with this application. That's why Wakie is the second favorite pick in this list.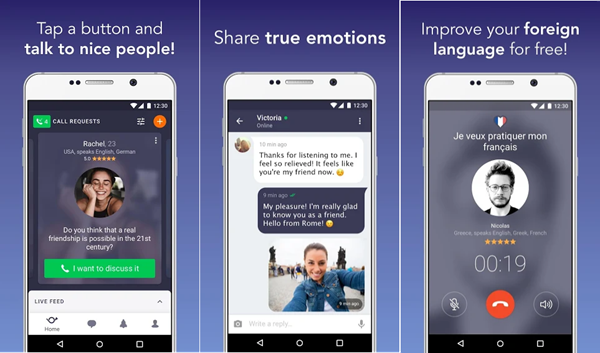 This chat app with strangers is quite popular among the users and we really hope that you too had heard about this application before here. This application is developed by the skilled developers of Reddit organization which focuses to have a discussion or debate on one topic. That's why groups created on this application revolves around one specific topic. You can share all the news, pics, videos and much more in just one tap. If you are an iOS user, then you can download this application from here. We strongly recommend you to use this best chat app with strangers if you want a healthy discussion on a specific topic.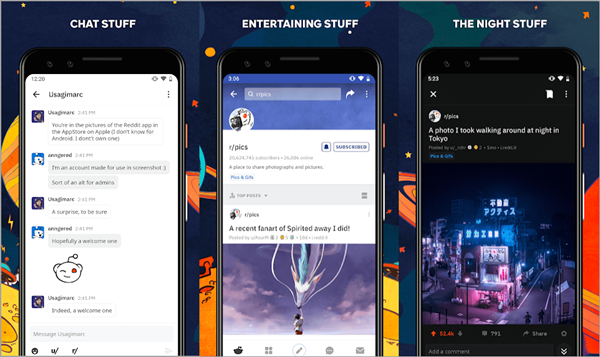 This best app to chat with strangers is another very good competitor of Facebook and WhatsApp. The main focus of this chatting application revolves around the concept of providing privacy to its users. That's why a lot of users uses this chatting app for doing private conversations and other things. Like as other chatting applications, every user needs to confirm their identity inside the app, and after your identity is confirmed, you can seamlessly use this brilliant anonymous chatting app to do adult conversation with your friends.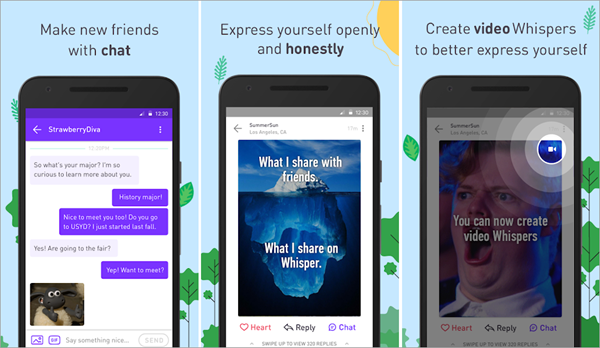 This application is specially designed for the people who are single and who want to date someone who is also in a search for a partner. This was originally an anonymous chat website but after the brilliant success of the website launch, the developers of this website decided to launch the application on the Google Play Store. iOS users can also download this application from here.
After registering on this application, you can browse all the people who wanted to start a conversation with you. You can ask them for a date or maybe for an outside visit. The overall ratings of this application are also very good which clearly shows how much successful MeetMe app is.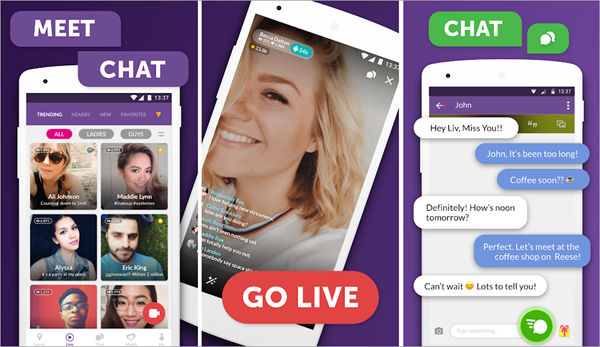 Unlike the applications listed above, this application doesn't support any type of adult conversation, or anything of that sort. Instead this application is well known for providing a very healthy chat atmosphere where all your private secrets and identity is kept safe. Though this application is only available for Android users, this is one of the best possible stranger chat app no login required available for you in the list.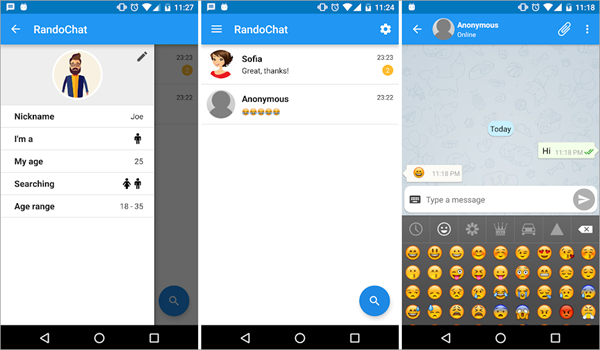 This talk to strangers application is available for both Android and iOS users. iOS users can download this chatting application from here. It is one of the revolutionary chatting applications which will let you communicate with people who have similar interest and hobbies. You can play games and chat with them hassle free. You can also join chat rooms with them if you are really interested to start a discussion with them. Moreover, all your chats are encrypted and are kept safe on the server. So, definitely this is another very good option to have a free anonymous chat with strangers in place of Facebook or WhatsApp.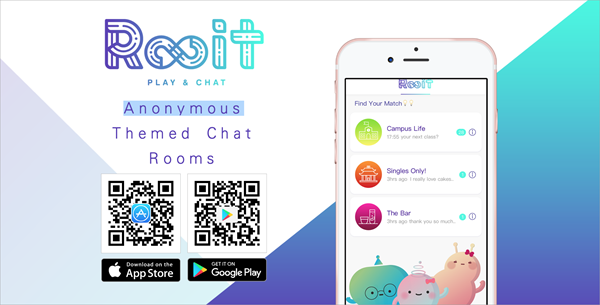 This chatting app is really a fantastic option to chat with anonymous people who are having the same views and thoughts which you have. There are several chat rooms which you can join to start a discussion with strangers. Also there are themed chat rooms available which you can browse in the search menu. That's why Chatous is one of the strongest competitors of Facebook and Messenger application. You need to confirm your email address to get started with this application.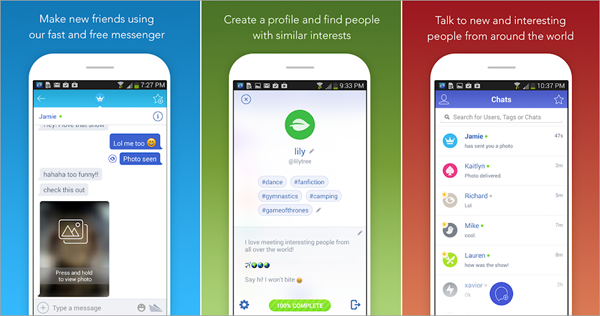 This is another dating application which is based on the Tinder theme. There are several profiles available in front of you. You just have to check them and if you are interested in dating a person, then you have to right-swipe the profile of that person. After you right-swipe, you will be allowed to chat with that person. Amazing isn't it? That's why we recommend stopping using WhatsApp and Facebook because they are based on an outdated theme. Users, especially youngsters need a special kind of stranger chat app on which they can able to date and chat with strangers. So, definitely Holla is a very good choice.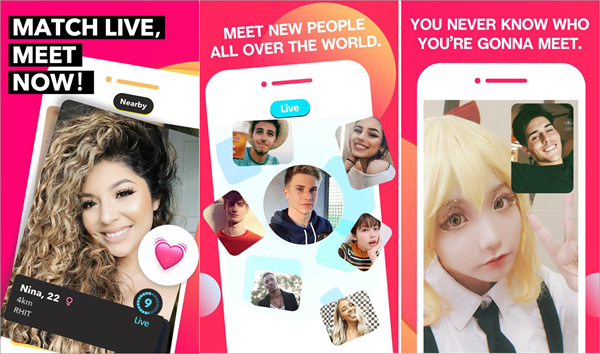 This is our last pick of this list and ultimately, we can say that this talk to stranger application is also be of interest to you because of its features. Basically, Rave is not an exclusive chat application. Instead, this application allows you to connect with your unknown friend to watch Netflix together. You have to join a chat room if you are interested in watching any web series or movie with strangers. This is really an interesting concept which youngsters are liking very much. That's why Rave is our last pick of this list and we hope that you will like this application.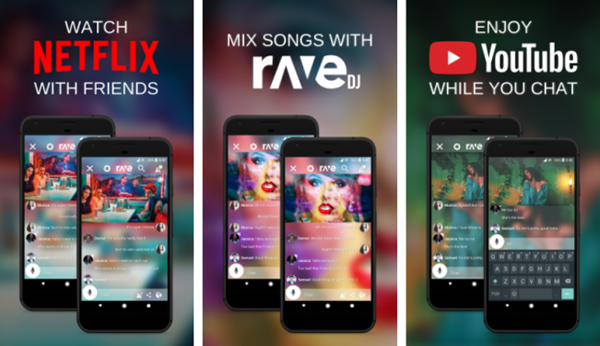 Tip: During your chat with others, there must be tons of chat history stored in your Android phone, especially some multimedia like photos and voice messages. Undoubtedly, it must be painful if you lose them for any reason. But keep calm as all of them can be retrieved back with the help of Jihosoft Android Data Recovery, which can help you recover deleted photos and other data from Android without backup.
Conclusion
Here this awesome list of top 10 anonymous chat apps for Android and iPhone ends. As per our thinking, Reddit, Holla and Rooit are our top 3 picks of this list. You can share your top 3 best chat apps with strangers in the discussions below. There are lots of other stranger chat apps available on both the Google Play store as well as the App store. You can search them out and can share your experience with us in the comments sections below.