6 Tips & Tricks to Help You Use Kik Messenger Better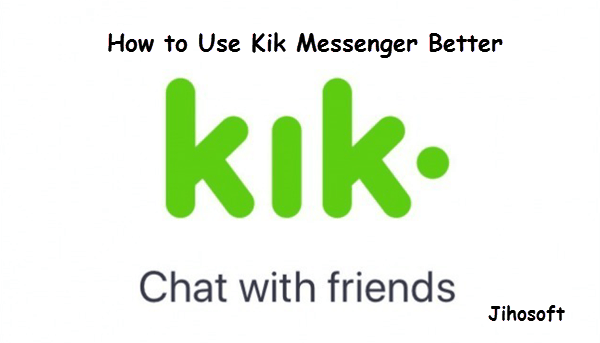 Kik is one of the most popular messaging apps across the globe. It is way more than just messaging. You can use it for sharing games, video chat, web browsing, and many more. The company claims that the active users base of Kik keeps increasing. If you are new to this app or want to know more about it, you can read this article to learn 6 tips on how to use Kik better.
How to Keep Kik Messages Unread after Reading them
In general, when you send a Kik message to someone, you can see its status – sent, delivered, and read. This feature is fine in most cases. But sometimes we cannot reply to the messages sent to us immediately. It will be considered impolite not to return messages promptly. In this case, we hope to read the Kik messages sent to use without letting the sender know. To make it, you need to turn on the airplane mode on your phone before you read the messages. After reading the Kik messages, close Kik, turn off the airplane mode, and reopen Kik.
How do You Know if Someone is Online on Kik
If you are wondering if there is any way to know if someone is online on Kik, we regret to tell you the answer is no. Because the Kik has no options like Online, Offline, Free, Busy, or Invisible to show the users' status. However, you can get to know if someone is on Kik when he or she has read your messages, as we mentioned before that you can see the status of the messages you sent with the first letter next to them.
"S" shows that the message has been sent from your device.
"D" indicates that your messages have been delivered to your friend successfully.
"R" means that your friend has read your messages.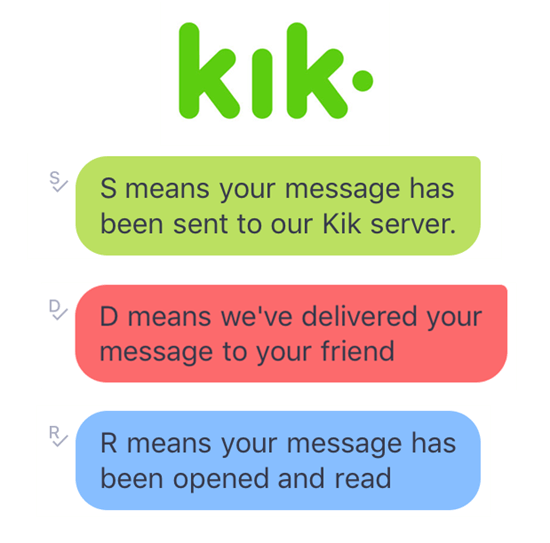 But it is possible that the person whom you send messages to has read your messages invisibly using the tip 1. So if you have something urgent, call him or her.
How to Block Someone on Kik
Sometimes you may want to block someone on Kik when he or she offends us. You won't receive messages from people you have blocked on Kik anymore, and they won't be notified.
Step 1: Tap on the Gear/Settings icon.
Step 2: Click on Chat Settings, and then Block List.

Step 3: Tap on the "+" icon in the upper-right corner to add the user from the list.
Step 4: Click Block in the pop-up window to confirm that you want to block the selected user.
Please note that blocking people on Kik will not delete the previous messages sent from their devices, and they can still see your profile picture. Moreover, if you are in the same group chat, they can still see your messages.
You can also unblock a blocked user if you don't want to keep him or her blocked. Go to Settings > Chat Settings > Block List, tap on the user you want to unblock, and click Unblock button.
How to Know if You Have Been Blocked on Kik
We have mentioned that the blocked user will not be noticed in tip 3. When you feel that you are blocked on Kik by someone, you can try to send a short message to that user. If the letter next to the message changes from S to D, it means your message has been delivered, and the recipient has not blocked you; if not, you should note that you have been blocked on Kik by the recipient. Alternatively, you can create a group and add his or her username on Kik Messenger. If you are able to create the group successfully, then you are not blocked by the user; if not, the user has blocked you on Kik.
How to Log Out Kik without Deleting Messages
You can only log out of Kik Messenger by resetting it, and resetting will remove all the Kik messages. So there is no way to log out of Kik without deleting messages. But you can back up some Kik messages before you sign out. You can copy and paste your Kik messages to another document on your phone or take a screenshot of them. But if there are a lot of Kik messages you want to keep, these two ways will be a little bit tedious.
In this case, if you are an iPhone user, you can use Jihosoft iPhone Data Recovery to help you back up Kik messages to your computer. Besides, this tool can also help you get back the deleted Kik messages from your iPhone.
Step 1: Open this program and connect your iPhone to the computer via a USB cable.
Step 2: Click on the Start Scan button; the program will scan and analyze the data on your iPhone.
Step 3: Click Kik Messages in the left pane. You will see all the existing or deleted Kik messages on your iPhone (The deleted Kik messages will be presented in orange font). Select the Kik messages you want to keep and click on the Recover button to save them to your computer.

Don't worry if you are using an Android phone; here is a similar tool for Android users – Jihosoft Android Data Recovery.
How to Delete Your Kik Account Permanently
If you don't want to use your Kik account anymore, you can delete it permanently. But before you do that, you need to notice that when your Kik account is deleted permanently, you can no longer log back in or access any message or email from Kik. Moreover, your username is not searchable anymore on Kik, and your profile will be removed from your friends' contact lists. If you are OK with these, you can start with the steps below.
Go to the website: https://ws.kik.com/delete.
Fill the information as required, then click on the Go button.
Confirm that you decide to delete your Kik account permanently in your email.

Conclusion
Above all the six tips we summarized to teach you how to use Kik better. They are also the answers to common Kik questions from Kik users, especially the newbies. There are still many fun and practical features of Kik waiting for you to explore. If you have discovered any other tips or functions of Kik, please share with us in the comment section.