How to Download Videos from Twitter on Android, iPhone, and PC
We all know that Twitter is a social media platform where we can express our opinions and views freely. Also, there are many international and national celebrities who share their views, videos, and photos on Twitter. This has made Twitter one of the most popular and used social media platforms on the internet today and you too might have been using your Twitter on Android, iPhone or PC every now and then.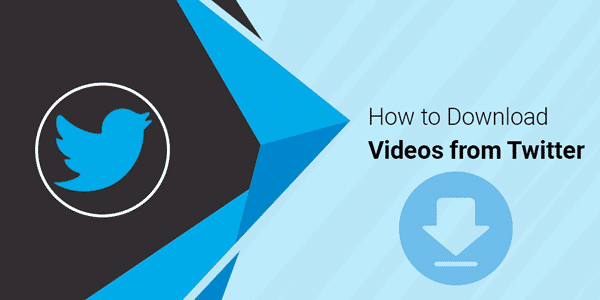 Twitter is no longer the application that could be used only on computers and laptops. The development of the Twitter app for mobiles and tablets is history now and therefore everyone has direct access to the content available on Twitter. If you too are using Twitter and want to know how to download videos from Twitter on Android, iPhone and PC, then you have arrived at the right place. Today we are going to see some of the easiest methods through which you can download videos from Twitter and that by using different platforms.
PART 1. How to Download Videos from Twitter on Android Phones
Option 1. Using +Download 4 Instagram Twitter
Step 1: Download this free Twitter downloader app from Google Play store.
Step 2: Now, open the Twitter app from your phone and find the video or GIF that you wish to download. After locating that video, tap the share option, and from the Different Sharing Apps, choose this Twitter video downloader app.
Step 3: Once you share that video to the downloader app, the video will get saved automatically on your Android phone and you can now watch the video offline as well!
Option 2. Using Twitter Video & GIF Downloader
Step 1: Download the Twitter video downloader APK and get it installed on your Android.
Step 2: After installed the app, you have to use the Twitter app or your Android web browser to reach to the target tweet from which you need to save the video or GIF from.
Step 3: Then tap on the drop-down arrow button to find the "Copy link to Tweet" option to copy the link of the tweet.
Step 4: After you get the URL of that tweet, just go to the downloader app and paste the URL into it. Then you will get the download button, just tap on it to download the Twitter video, or save the GIF from Twitter on Android.
Tip: How to Add Animated Text to GIF with or without Photoshop.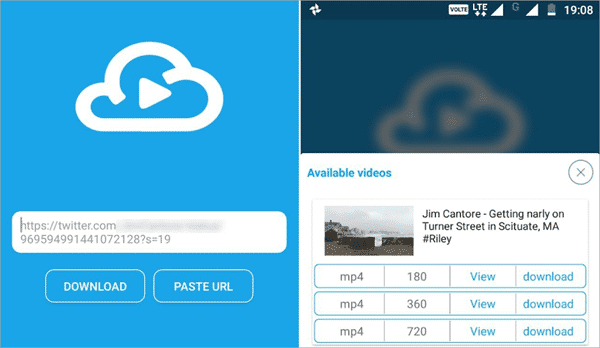 PART 2. How to Download Twitter Videos on iPhone or iPad
It is a bit complex to save a Twitter video on an iPhone or iPad, but you can do it properly if you follow the below steps:
Step 1: Firstly, you will need to download a free Twitter video downloader app named MyMedia on your iPhone and iPad. This app has a separate file for iPhone and iPad and therefore you can choose the file accordingly.
Step 2: Now, launch the Twitter app on your iPhone or iPad and find the tweet that contains the video which you wish to save.
Step 3: Once you find that tweet, open the tweet in full-screen mode. You will find that below the tweet there is an icon just beside the 'heart' icon. Tap on this icon.
Step 4: After tapping, some options will appear on a menu and you need to select the option 'Share Tweet via' and copy the link on the clipboard of your iPhone or iPad.
Step 5: Now, launch the MyMedia App and you will find a browser from the bottom side of the menu.
Step 6: Once you open the browser, choose the topmost field and type 'www.TWDown.net' and open that. It will start a website within the app.
Step 7: Down scroll to the bottom until you find the option 'Enter Video'. After finding it, tap on it slightly so that a cursor appears on it. After that, press your fingertip for a couple of seconds until the 'Paste' option becomes visible.
Step 8: Now, tap on the 'Paste' option and paste the link of the Twitter video that you had initially copied.
Step 9: After that, a download option will appear which will guide you through several types of download options. As a result, you are able to download the Twitter video in different formats and resolutions. Choose a suitable format and size for your device and proceed further.
Step 10: Now, after tapping on the desired format, an option 'Download the File' will appear on the screen of your device. After downloading the video, you can also rename it as per your choice and convenience.
Step 11: Again, on the bottom of the app you will find an option 'Media'. You can check all the downloaded videos directly here. Once you find that video which you have downloaded recently, tap on it. After that, a list of menu options will appear on the screen and now will have to choose 'Save to Camera Roll' option to save the video directly on your device i.e. iPhone or iPad.

Now, watch and enjoy the downloaded Twitter video on your iPhone whenever you feel like.
PART 3. How to Download Videos from Twitter on PC
Downloading Twitter videos on the computer is very easy and you do not have to install any software for that. Just follow these steps to save Twitter videos on your computer with Twitter video online downloader:
Step 1: Go to the website Twitter.com. You may or may not log-in into your Twitter account while doing this.
Step 2: Now, go the particular Twitter video in which you are interested. Use the right click option on the date of the post and copy the link address from the menu options.
Step 3: After that, you need to visit the website DownloadTwitterVideo.com. After visiting this website you will find a search option saying 'Enter Twitter Video URL'. Right click on the search field and copy the URL of the tweet.

Step 4: Now, you will be provided with two choices, you can either choose to download mp4 with a normal resolution or you can also download mp4 with an HD resolution.
Step 5: Choose any of the aforementioned options and save the video on the desired folder of your PC.
Warm Tip: If you need to recover deleted video and audio files from Android phone, then you must use this professional Android Phone Recovery software to help you get back the lost data. Besides videos and audios, it can also retrieve lost photos, contacts, messages, WhatsApp and Viber attachments, and more from Samsung, HTC, Huawei, OnePlus, Sony and other Android devices.
Conclusion:
These were some of the options that will enable you to download Twitter videos on your devices, like Android, iPhone and computer. If you know about some other methods, please let us know and also comment if you have any doubts or queries regarding the aforementioned methods. Till then, enjoy Twitter and do not forget to download the Twitter videos!