How to See Who Viewed My Instagram Profile and Story on Android/iPhone
Instagram is one of the most popular and famous social media platforms used by billions of people worldwide. It is primarily a photo sharing app (you can make your photo square for Instagram before sharing it), but it is also loaded with numerous cool and interesting features which make it a hit amongst the teenagers and youth. Moreover, all the hot and famous celebrities are always sharing their pictures on Instagram so you cannot afford to stay away from it.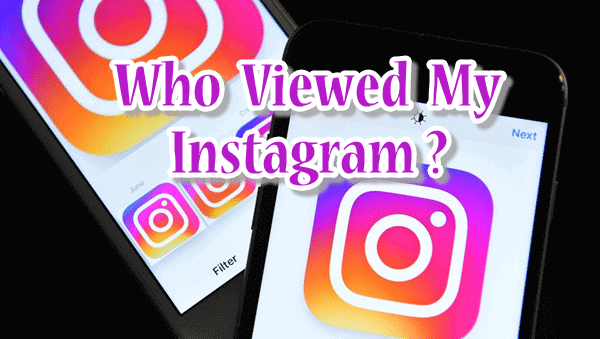 Have you ever wondered who might be stalking your Instagram profile without your knowledge? If no, then you should. Because it is not only fun to see friends and random people stalk your profile but it can also be important from a security point of view especially for the celebrities and public figures who are well-known in the public domain.
Now, many of us might question how to see who viewed my Instagram profile and story and is that even possible. Yes, it is possible because many apps and software solutions have been developed in recent times that give you deep insight into your followers' activity like when they unfollow you, and even those Instagram stalkers who are not your followers but visit your Instagram profile regularly. Today, let us have a look at some of the best apps that give you the solution for your questions "who viewed my Instagram story" or "who viewed my Instagram profile online".
PART 1. Android Apps that Help You Track Your Profile Visitors for Instagram
Follower Insight is an app that gives you information about your Instagram viewers who stalk you on a regular basis. Not only that, but this app also enables you to track those profiles that have unfollowed or blocked you for some reason.
The main highlights of this app are its simple and clean user-interface and accurate information it provides to the users. It is compatible with most of the Android phones and you can click on the above link if you want to download it now.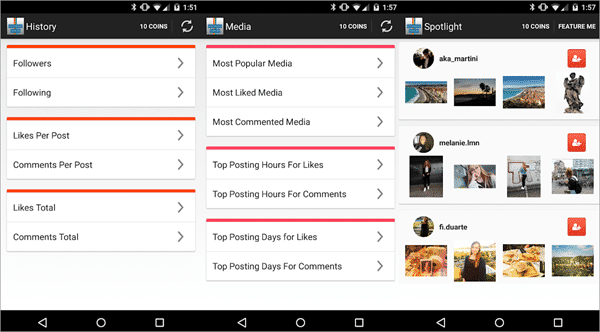 Follower Tracker for Instagram can be your ideal app if you want to track down your profile visitors for Instagram. This app produces reports when someone views your pictures and profile online and lets you read these reports.
Moreover, it has a simple-to-use and clean interface which lets you use its features without any hassles. Therefore, it proves to be a boon for those who are puzzled with the question of who watched the Instagram profile recently.
#3 FollowMeter for Instagram
If you have already used the apps that give you detail and insights about your followers and stalkers, then you must have a look at the Follower Meter which gives you different kinds of information about your Instagram such as discovering your ghost followers, finding who likes your pictures and posts and a lot more. It is as good as your social media manager dedicated only to Instagram.
Therefore, if you wish to download and this all-around app for Instagram then you have to check this app out, because more than 3 million users of Follow Meter cannot be wrong! It has both the iOS version and Android version, and you can download this app by clicking on the below here.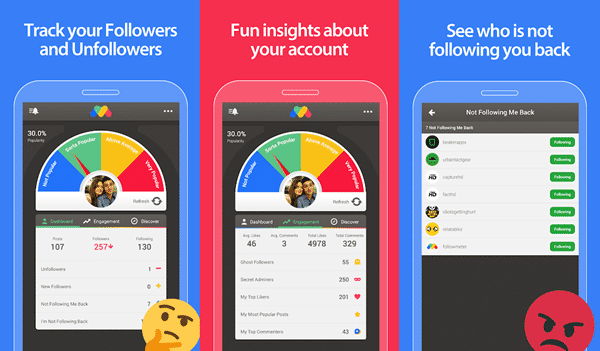 Warm Tip: When you come across some excellent Instagram stories, you can download these photos and videos from Instagram on Android. So that you can save them on your phone and view them whenever you like. And you don't need to worry about that they will lose from your phone, because this Android Phone Recovery tool can help you recover deleted photos, videos, audios, contacts, messages and more from Android phone memory even without backup file.
PART 2. Who Viewed my Instagram Apps for iOS devices
IG Analyzer is an app that lets you perform a detailed analysis of your Instagram followers. It gathers details about your friends and followers that stalk you constantly on Instagram and present them in a report to you. You can view this report whenever you feel like and this app also sends you notifications when someone views or engages on your Instagram story.
The main benefit of using this app is that it is fast and the user interface is simple and convenient to use. Moreover, all the features are clearly elaborated and presented that makes it pretty convenient for the beginners as well. Therefore, if you too are curious about how to see who views your Instagram profile, then you can certainly utilize this app.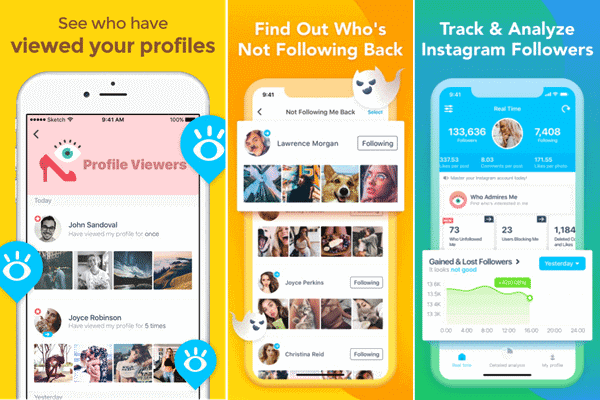 If the question of who watched my Instagram profile or pictures is haunting you then you can download SocialView. This app is the best as it gives you details about the stalkers that view your profiles and pictures on Instagram on a regular basis.
Moreover, the good part is that this app is absolutely free so you can enjoy all the features without any worries. Also, the user-friendly interface of this app makes it much easier for the users while accessing its different features. This app is only dedicated to the users of Apple devices and they can download it by clicking on the below above.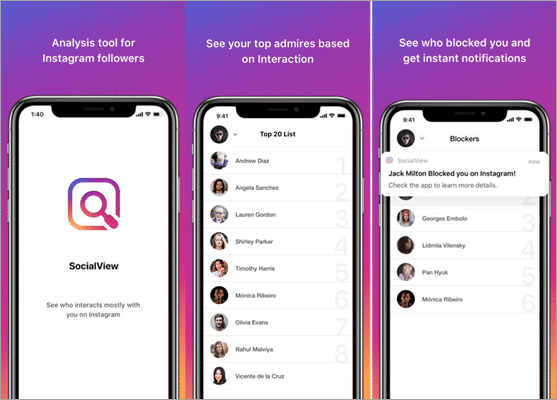 Many people are worried whether these apps provide accurate data or not. However, they do not have to worry now as SocialPlus app is designed to provide you accurate and precise results about the stalkers who visit your Instagram profile on a frequent basis.
The best part of this SocialPlus is that you can download this app for free and it is pretty easy to install and use as well. It gives your precise results about the persons who watched and viewed your Instagram stories and these results are reliable too. As a result, you need not go anywhere if you want to know about your Instagram profile visitors and stalkers.
Conclusion:
These are some of the Instagram visitor apps that provide you reliable and accurate results when you want to know "who visited my Instagram" or about the regular profile visitors for Instagram. If you know about some other apps you can let us know in the comments section. Have fun spying around your stalkers!