3 Methods to Search for Keywords in Multiple Word/PDF Documents
Q: I know how to search for a word in MS Word. The Ctrl + F shortcut is really convenient. But sometimes I need to find an accurate result but other times a vague one, and I don't know how to customize it. Besides, is there a way to search for a keyword across multiple documents, like PDF and Word? That would be super helpful to me if possible. Thanks in advance.
Searching for keywords in one or multiple documents is an important way to review and alter the content efficiently. The problem is, however, how to find the wanted results quickly and accurately. In this tutorial, we are going to introduce several methods for searching words in PDF, MS Word, and other documents, without even opening the files.
Part 1. How to Search for a Word in a Word Document
Ctrl + F shortcut key is well-known even among Windows computer beginners. The counterpart in a Mac computer is Command + F. That is, press Ctrl (Command) key and F key together, and you will see a Navigation pane on the left where you can enter keywords in the box and search for matched results, pages or headings (if a style is applied). The search result covers text, comments, pictures, etc. A similar feature is also available in MS PowerPoint, Excel, Google Docs, etc.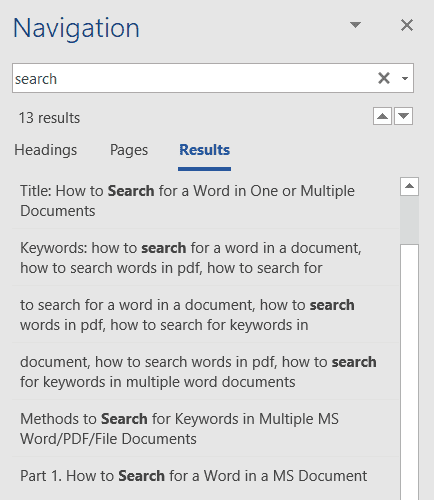 As mentioned above, the search shortcut is a basic command used by many people almost every day, and the results displayed on the left pane are often helpful for common documents. If an English word appears hundreds of times in different forms in a large document, however, you may need to know how to search for a word in a more advanced way. In Home tab, look for Find in the upper-right corner, click on the triangle next to Find, and then choose Advance Find.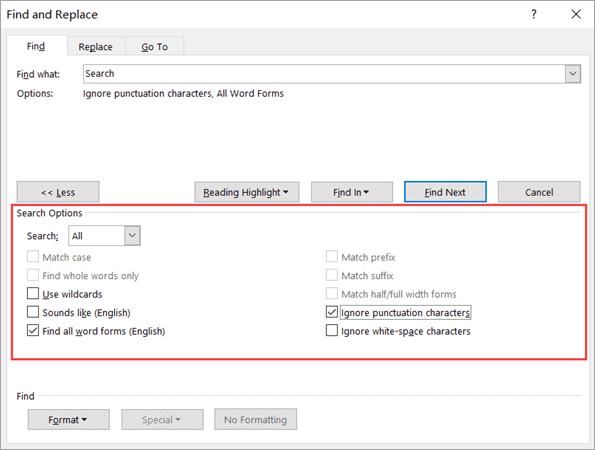 Under Search Options, you can tick and apply further filtering options, such as case of letters, wildcards, and word forms, to find your wanted results as accurate as possible. This feature is super useful when it is necessary to check a paper or report for possible typos or grammatical mistakes. As the Search Options are compatible for both Find and Replace, these errors can be corrected by a click.
Part 2. How to Search Words in PDF
Ctrl + F is used not only in MS Office tools but also browsers and other document editing software. There are a lot of PDF readers and editors for Windows and Mac which are embodied with various functions and features, but the search shortcut key is usually universal. Besides, advanced search is already a standard feature in these tools, including Adobe Acrobat.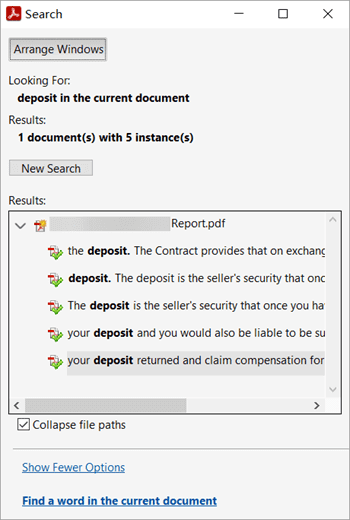 To say the least, most PDF documents can be opened in web browsers, like Chrome and Edge, where Ctrl + F is also valid for searching for keywords, though for basic search only.
Note: Scanned content, text on pictures and other similar items won't appear in the search result. Recognizing those content requires extra OCR software to convert images to text.
Part 3. How to Search for Keywords in Multiple Word Documents (without Opening)
The methods above are good enough for searching for keywords accurately in a single document. If there are several documents in the same folder, it will take you a few more minutes. However, if the keywords to be searched exist in dozens of files or you don't even know the specific location of the files, is there a quick method?
Yes, AnyTXT Searcher was designed for this purpose. With it, you can search for a keyword in all supported files, including TXT, PDF, MS Word/Excel/PowerPoint, WPS, MOBI, EPUB, HTML, etc., in a hard drive partition. Don't worry about the range. AnyTXT has been proven to be able to give search results across different kinds of documents in several seconds from the whole computer hard drive.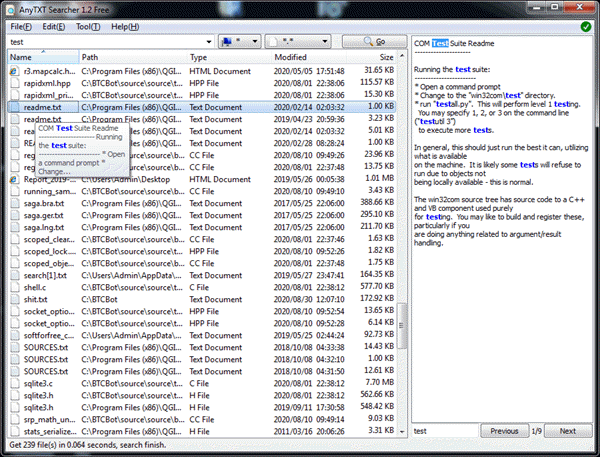 Free and powerful are two of the best tags to this tool, and AnyTXT offers more benefits, such as full text index support for Microsoft Office, eBook, WPS Office, as well as multi-language document and UI. It should be noted that the program itself is powerful enough to provide result preview of document content on the user interface, but your computer has to be strong enough to switch between results smoothly.
Tips: If AnyTXT fails to find the document you're looking for, it was possibly deleted by mistake or intentionally. In this case, you're suggested to use Jihosoft File Recovery to restore lost files from Windows or Mac.
Bottom Line
In this article, we talked about how to search for a word in different and multiple documents in 3 ways. Both the in-built features and the free third-party tool are able to find a specific keyword accurately and quickly in indexable files. Don't hesitate to share your opinions with us in the comment and tell us your favorite option.