How to Download Long Videos from YouTube for Fluent Viewing
Do you love watching long videos on YouTube? It could be the music video of your favorite artist. Or, just a movie you found awesome. Sure, they are great to watch when you are at home. However, what do you do when you are outside?
Unfortunately, when you go offline, you won't be able to view it. So, what do you do?
On a side note, did you know that the longest video created and uploaded on YouTube of all times, for instance, clocks in at 571 hours, 1 minute and 41 seconds?
The Inconvenience of Watching Long YouTube Videos Online
Long videos just aren't that great if you want to watch it online. Here is why.
The issue of a slow playback because of poor internet connection
Start and stop options often don't work as intended
Worrying about copyright issues
If more people are using the network, your video quality wouldn't be as good
YouTube Restrictions on Video Downloads
Google, YouTube's parent company, profits through advertisements. If you download videos, you won't be able to see the ads, which the search giant doesn't want. It's why YouTube downloads just aren't allowed.
Is it unlawful to download videos from YouTube?
For individual use, no, it isn't unlawful to download YouTube videos. It's why while Google tried to take the popular media MP3 converter site youtube-mp3.org to court, it later withdrew. The site in question allowed users to download and convert YouTube videos to the mp3 format.
However, here is the thing, while it is legal to download and convert a YouTube video, it's against Google's terms of service. The one thing that you do need to remember is that the videos on YouTube are owned by someone else. So, it could be a copyright infringement if you download the videos and try to make a profit of it.
Again though, downloading it for your use isn't illegal. It's just that Google doesn't like it, for its own reasons. It's why the search engine attempted to sue the mp3 converter site. It could not, because it's only Google's ToS that prohibits online downloads, and so youtube-mp3.org wasn't at fault if a user was making use of its site to download YouTube videos.
Theft and copyright security
Remember that you do not own the copyright to any content that you download. Else, you can fall foul of copyright issues. You may believe it's all right to download accessible music or video for nothing, yet media organizations aren't going to think so.
Any video you download from the web, for which you don't claim the copyright, must be for your own use. You cannot circulate the video, unless with the express permission of the owner.
The Top Two Methods to Download Long Videos from YouTube
We will take a look at two different options to download long YouTube videos today. They are both great when it comes to downloading videos from online sites, though one does offer more options than the other.
Jihosoft 4K Video Downloader is a ground-breaking download chief intended to enable clients to download videos and music from popular sites like YouTube, Facebook, Twitter, and Instagram.
The list honestly, is endless. For instance, the site also allows downloads from plenty of other popular sites like Dailymotion, Metacafe, Vimeo, Reddit, and SoundCloud, along with many other hot video streaming destinations.
With this free YouTube video downloader, you can download long videos on YouTube or your preferred recordings to your PC in only two straightforward strides to watch them whenever, at any place. This proves to be useful when you are voyaging, or you're in a spot with no web connection.
This YouTube long video downloader helps you download videos in any resolution you like. Choose the normal SD resolution, a higher HD one, or even 4K. You can quickly download recordings of any goals from other popular sites like Facebook, Twitter, Instagram, and more.
Besides downloading YouTube videos, this free video downloader can also download your favorite YouTube channel and playlist. With only two snaps, you can download every recording in a channel or playlist, which is efficient.
Here is what we loved about it:
You can download 4k videos quickly.
Add in the subtitles to the videos you download too!
Have a favorite YouTube channel or Playlist? Download it all at once.
Pick your favorite YouTube channels, right from the Jihosoft software, to be able to download quicker.
Edit videos to personalize it to your liking. You can add audio, add watermarks or filters, and do more!
You also have a free version of Jihosoft, though it does come with limited options. For instance, you can only download videos from sites like Facebook and Twitter five times a day, an unlimited feature with the pro version.
How to download long videos from YouTube with Jihosoft 4kvd:
While the software offers extensive options to download, the process is simple and easy. All it takes is three steps to get the videos you need, right on your device!
Step 1. Locate the video you want to download on YouTube, and copy the URL.
Step 2. Paste the URL into the YouTube long videos downloader, and choose the quality of the video you need. You have different customization options, something we will take a look at below.

Step 3. Just click the Start Download button, and wait for the process to complete.

Step 4. Once the download is done, just open it on your favorite media player, and play it whenever you want. No more looking for an internet connection to play your favorite videos!

Customize Away!
Also, it permits to download just the video, contain unique sound, convert YouTube to MP3 audio, download subtitles, video covers, and so on. You might be sick of picking your download options.
With the Jihosoft 4K Video downloader, it's easy. Set your preferences once, and the framework will apply your settings to all future downloads, which means there won't be pop-ups when downloading various long YouTube videos.
Y2mate enables you to change over and download long videos from a few other sites apart from YouTube. You can download Facebook videos, for instance, as well as content from Dailymotion, Youku, and more in HD quality. The only major worry about this site, compared to Jihosoft, is that it's fairly simple. You don't have as many customization options for one.
Additionally, the site seems made primarily for YouTube videos, and the number of sites to download from is not that extensive. That being said, if you are looking for a simple YouTube long video downloader, this one does seem to job nicely as well. Also, you can download both music and video.
Key features of Y2mate:
Download videos in popular formats like MP4, M4V, 3GP, and more
Download multiple videos in a single click
Don't worry about the network connection going bad. Download multiple files and resume them, if they are interrupted.
Save your videos wherever you want
Manage your downloaded videos the easy way
How to use It?
Step 1: Visit the "Y2mate.com" website on your computer.
Step 2: Enter the YouTube Video URL you want.
Step 3: Download Long YouTube Video.
Step 4: Move videos to any folder you like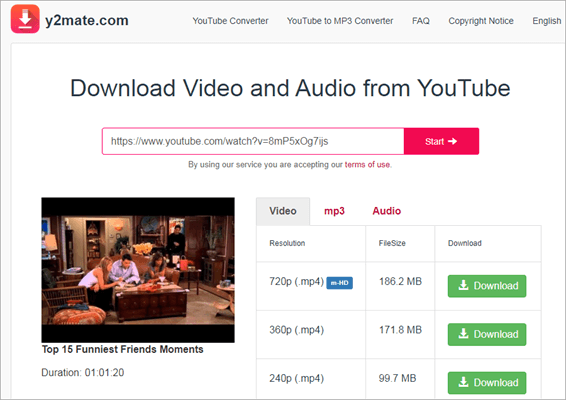 What do you need to be careful about?
Y2Mate is an ad-supported site that redirects users to dangerous pages. Sometimes, these ads can direct you to malicious content, which you surely wouldn't want. As they say, free isn't always better!
Conclusion
If you were facing difficulties in downloading long videos from YouTube, this article would help you out. Use any of the two methods above, and you're fine. Remember, downloading videos for yourself isn't something you need to worry about.
If you follow the tutorial on how to download long YouTube videos, watching videos by downloading from YouTube will get quite easy. What do you think?