Kies Extractor: How to Extract Data from Samsung Kies SBU Backup
Accidental data loss happens frequently with smartphones. If you own a Samsung Galaxy device and made backup with Samsung Kies, not all is lost and you can restore data from the backup. However, what if you crated a .sbu backup file years ago and now the new Samsung Kies can't open it? For example:
"I have made a backup file containing contacts, messages etc with the help of Samsung Kies when I owned a Galaxy Ace Plus. But now I have a new Galaxy S6 and have updated Kies software. The Kies does not show any data which can be restored to the new S6. Please help me out of the problem."
Don't worry. Just try Kies Extractor. The Samsung Kies backup .SBU file contains contacts, calendar, SMS messages, memos, call logs, photos, videos, Email accounts, settings, bookmarks, and more. With the SBU Extractor, you can access all Samsung Kies backup files on your computer, then easily extract and restore data to your new Samsung Galaxy device like S6, S6 Edge, Note 5 or other Android devices.
How to Extract Contacts, Messages, Photos, etc. from Samsung Kies Backup File
1. Download a free trial version of Samsung Kies Backup Extractor. Install and run it on your computer.
2. Click on "Restore From Backups" and select the Kies icon, the extractor will scan all your Samsung Kies backup files on the computer and display them in list.
3. Choose the Kies backup file you need and connect your destination phone via USB cable.
4. After that, select the data to be restored and tap on "Start Copy", the Kies Extractor will start to extract data to the connected device.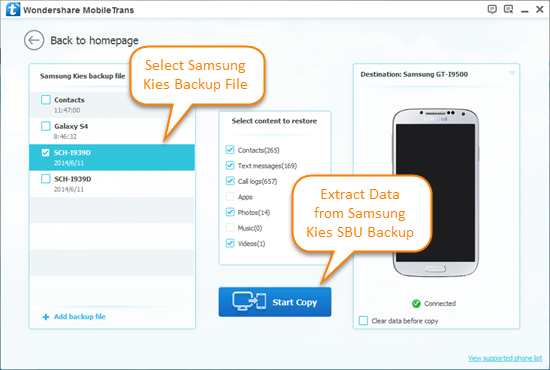 Samsung Kies Backup Location: Where does Samsung Kies store backups?
When you are going to extract Kies backup to restore Samsung devices data, then you possibly ask the question where the backup is stored. Well, the location of the backup is not in the install folder of Samsung Kies, but in the folder "My Files". More specifically, you can find the backup .sbu file made by Samsung Kies under the following directory on your PC:
My documents (your name) > My Documents > Samsung > Kies3 > backup > your smartphone model number